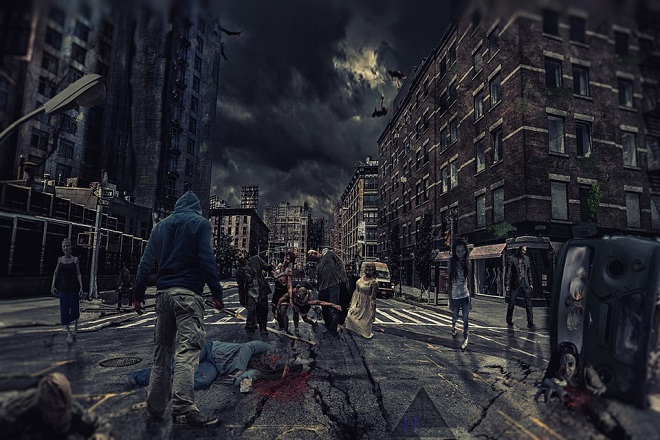 I have been absolutely loving zombie games lately – a friend of mine got me to start playing and now I'm totally obsessed. While these haven't totally replaced my love for tower defense games yet, I'm thinking I might have a new favorite mobile game genre soon. I started playing with just one game he recommended to me, but then he sent me a link for a list of the top 10 zombie game mobile apps, and I have been having a blast playing them all!
According to the website, these games are the best of the best – something that I would agree with so far. I decided to pick my favorite three games to share with you today. If you're new to zombie games or you're looking for something new to mix it up, I suggest you start with these.
Zombie Gunship – Rating: 4.6, Downloads: 100K
Zombie Gunship is one of my favorites because it gives you the opportunity to take down zombies in a realistic fashion; the game design is really immersive. There is zombie-detecting technology that lets you spot the undead creatures before they arrive, so you have plenty of time to prepare and choose your favorite weapon. Plus, you can also collect bounties and upgrade weapons and armor to make your character the strongest in the game.
There is a free version of the game you can play, but you're probably going to be prompted at least once to pay for the in-app upgrades. I don't mind spending a bit of money on a game I really like to upgrade my character, but you might feel differently – so this is just something to keep in mind.
Pros:

You can fully customize your character in a real-world, immersive experience.

Cons:

You may be prompted to pay for an upgrade.

Overall:

Super fun and really hands-on but the free version is slightly limited in terms of upgrading your character.
Into the Dead 2 – Rating: 4.6, Downloads: 10M
Into the Dead 2 drops you into a world where the zombie pandemic is alive and well and the decisions you make actually influence the outcome of the game, so the gameplay really puts you at the helm. Not to mention, the environment is incredibly immersive – like you're really there – and the storylines, where you're in full control, are constantly changing so you're kept on you're toes not knowing what to expect next.
There does seem to be a bit of a bug that I've noticed a couple of times while playing. Once in a while, a zombie will seemingly pop up out of nowhere and kill you. This is frustrating, but it doesn't happen very frequently, so it hasn't made me want to stop playing. I think it's really up to you to determine if this is something that will ruin your experience or not.
Pros:

You decide the outcome of the game so it's very hands-on.

Cons:

Occasionally glitching zombies.

Overall:

Really fun with loads of different ways to play but the sudden appearance of a glitched zombie can be annoying.
Last Day on Earth – Rating: 4.5, Downloads: 50M
With Last Day on Earth, you have the ability to learn and craft skills that will end up saving your life. This game has an interesting take on the zombie apocalypse that I really haven't experienced in many games before because there are no allies; the only person you can trust is yourself. You have to defeat both zombies and other survivors, search abandoned homes and military camps, and gather supplies in order to survive, which makes the game feel very high-stakes.
This is a big game, so it's going to take up quite a bit of space on your mobile device and downloading itself might take a while. I would recommend keeping your device plugged into a power source and downloading the game when you have some spare time to set aside. Definitely don't expect to start playing immediately but if you give the game a little bit of time to get set up, you should be good to go.
Pros:

Higher stakes and no allies is a unique approach to zombie games and makes gameplay more exciting.

Cons:

The game will take a while to load to your mobile device.

Overall:

The high-stakes world is really fun and innovative, but you'll need to set aside some time to let the game fully download before you can start playing.
Conclusion
My friends and I have been having so much fun competing against one another to see who comes out on top as the ultimate zombie slayer. If you or someone around you loves action and adventure games and wants something new and fun to occupy their time, these games are super sweet and are definitely worth checking out!