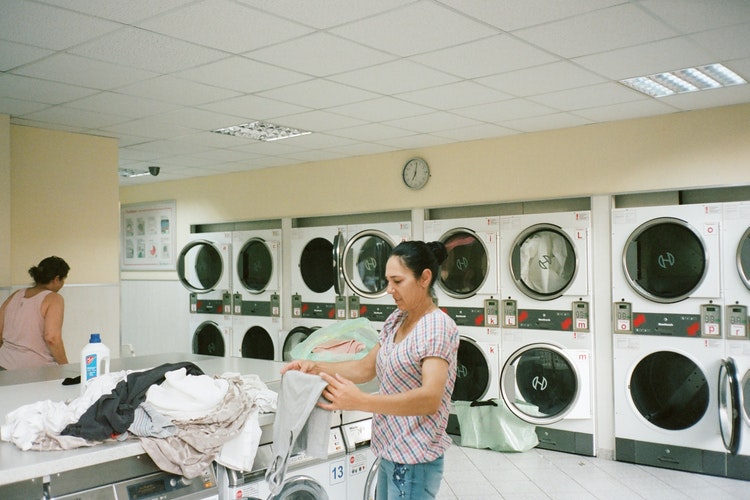 Laundry services may be one of those things you'd never think of starting up—but they make a lot of money and are very viable. In the US, laundry service businesses are often a great fit for people who want to work from home but have no experience in this field.
Many people want to hire laundry services instead of doing their laundry. That's why the laundry business grew with a 95% success rate.
A small business can quickly start at a low price and then develop a huge business. Whether you're ready to jump into starting your very own laundry business or if you're already running one, here are 11 steps to make sure it's a profitable venture.
How to Start a Laundry Business?
Even though you don't need any special qualifications to run your own laundry business, you should have a little experience in the industry when starting it. You may find it helpful to work in a laundry facility to learn more about the trade and customer preferences.
Let's discuss the steps a bit in detail involved in the process!
#1. Carry Out Market Research
You can determine whether there is a market for laundry services in your area by conducting market research before you begin your venture. Your new experience will benefit from leading market research to determine how customers respond.
#2. Types of Laundry Services
Many types of laundromats such as wash and fold, self-service, fully-staffed, and dry cleaner. They all offer different benefits for both the business owner and the customer.
Wash & Fold
In areas with many families and a higher income, laundromats offer wash and fold services. Companies do everything like washing, drying, and folding clothes with a wash-and-fold service. Some businesses even provide delivery services for the ease of their customers.
Self-Service
The customer cleans and dries the laundry without staff assistance with self-service laundromats. Most of them are located in areas with a large population of college students and younger customers.
Fully-Staffed
The fully-staffed laundromat is the business model for those who want to offer their customers a more "luxury" experience. Apart from coin-operated machines, these laundromats also provide wash and fold and dry cleaning services.
Dry Cleaner
A dry cleaner is a full-service establishment where clothes are cleaned and preserved in a chemical solution instead of water. Owning a dry cleaning business can be profitable, as dry cleaning clothes cost more than regular laundry.
#3. Choose a Business Name & Logo
Now, select a laundry business name and create logo that is simple or catchy. To ensure that your company's message is clear to customers, make your company name and logo well-designed. Whatever idea you have for a laundry business?
Business names should be clever and memorable, and they should describe what you do.
#4. Select a Business Entity
A business entity is another decision you'll have to make early on about your laundry business. The entity you choose for your business makes a difference in your taxes, risk exposure, organization of your business, and more.
When you start your laundry business, a limited liability company gives you and your business colleagues liability protection. You would not be protected from liability if you opted for a partnership or a sole proprietorship, but you wouldn't have to register the business.
#5. Secure Permits & Registration
An application for a business license is available through your city clerk's office. Consult your municipality to determine if a permit or license is needed from the city's health department or fire department. Ensure that your city clerk has collected the sewer connection and wastewater fees.
#6. Write A Business Plan
Prepare a detailed write-up of your business plan, including all the services you are about to offer.
Study how well other laundry businesses in your area meet the needs of your target market (apartment building residents, college students, and busy professionals).
Make a list of ways to differentiate your competitors, such as offering fewer prices, specializing in a particular service, or having an attractive location.
Include your marketing plans, pricing, and supplies (washers, folding tables, dryers, and detergent vending machines) you will need.
#7. Find A Prime Venue
Your laundry business can be run from home if you have a place where customers can drop off and pick up their clothes. If you can't find a prime location for your new business, consider a busy street for your business start-up.
It is more convenient for customers to drop off and pick up in spaces that include off-street parking. This cost will need to be deducted from profits and accounted for as business expenses.
#8. Get the Proper Equipment
Once you've secured the space, your next task is to purchase the equipment you need to operate your laundry business. According to the size of the laundry business, 20 washers and dryers are enough. Some laundry pieces of equipment are:
Washers
Steam Boiler
Fliers
Linen folders
Dryers
Door hangers
Lint control devices
Extractors
Thermal fluid heater for ironer
Chest-type ironers
Laundry carts
Detergent vending machines
Coin-machine
Laundry scales
Dry-cleaning equipment
Laundry sinks
Air compressors
Most of the items on our list speak for themselves, but it's important to remember to stock up on change, as not every customer will have a credit or debit card.
#9. Open A Business Bank Account
Setting up your company's financial accounts is what you need to do before opening your laundry business. To separate your business finances from your finances, you must first open a business bank account.
In addition to simplifying taxes, this strategy protects your assets if your business is sued. Besides establishing business credit, a separate account will enable your business to qualify for an expanded array of financing options when it comes time to expand.
#10. Hire the Staff
Now, it's time to hire the employees of your laundry business. Have a look at the people that you'll need:
Cashier
Driver for delivery boy
Laundry attendant
Manager
Repair person
When onboarding new employees, make sure you choose carefully and not rush the process! It will save you time and money later if you hire the right people.
#11. Promote Your Business
Here's the last step to learning how to start a laundry business. It's now time to begin welcoming customers and attracting people to your business. To market your business, here are some suggestions:
Create social profiles
Partnership with local businesses
List your business on Google
Invest in digital advertising and content
If you place your marketing materials in areas your target audience frequents, you are more likely to gain their attention. Perhaps you might want to pass out flyers at coffee shops or bars frequented by college students if many of your customers are students.
What Could Be the Possible Hurdles when Starting Laundry Business?
Let's take a look at the possible obstacles in the laundry business so that you'll be prepared to deal with them in advance.
Competition is the biggest problem in the USA because it has more than 35,000 laundromats and dry cleaners. To be competitive, lower prices and attractive service packages must be your distinguishing features.
A proper sewage system provides clean water and is important to the operation of your laundry business. If your water or sewage system fails for one day, you may lose your customers and reputation. Therefore, you should be concerned about this.
The equipment depreciates gradually, but regular and proper maintenance can double its lifespan. At the very least, you can monitor and assess the situation with the help of appliance repair knowledge.
You need to deliver the customer's clothes on time. If you fail to meet the deadlines, you will lose customers. As a result, you will lose both credibility and trust.
Many problems can result from a lack of organization, such as ruined clothes, missing clothes, etc. This kind of issue requires proper documentation and tag management.
However, this should happen every once in a while instead of every day. A tarnished image and frustrated customers could harm your business.
An electric and water-intensive laundry business requires a lot of electricity and water. Gas (for the hot water) and electricity are used for the washers and dryers.
Providing heat or air conditioning is also a requirement for the owner. You can reduce utility costs to 15 percent to 25 percent of gross income despite energy-efficient machines.
How Does Long Island Laundry Work?
Long Island Laundry (LIL) is a business providing a laundry service for its customers to help them with their busy schedules. The company, possessing over 18 years of experience in processing customers' laundry, operates throughout Long Island.
The main services include:
Wash & Fold Service
Commercial Laundry
Pick-up & Delivery Services
Self Serve Laundromat
Towel Rental Service
Dry Cleaning Service
This laundry company has provided quality services in the specific area to its residential and commercial clients for a long time. Having a reputation for delivering top-notch services that meet customers' expectations, the LIL laundromat is always staffed with helpful attendants.
Equipped with the newest washers and dryers that wash clothes better and dry them faster while being detergent, water, and energy-efficient, Long Island Laundry is always the latest technology-updated to ensure satisfactory services.
FAQs
What is the start-up cost for a laundromat?
To open an average-sized laundromat, entrepreneurs usually spend between $200,000 and $500,000, regardless of whether they're starting a new company or buying one. It depends entirely on the type of laundromat you plan to open and how much money you'll need to create one.
Is the laundry business profitable?
The laundry business is recession-proof and makes a lot of money since it has an overall 95% success rate. There's always a new customer in the laundry business, a real never-ending story.
Sum Up
Learning the basics of the laundry business is far better than jumping in blindly. Laundry businesses require a large amount of money and effort to start up.
Although it's easy to raise money and acquire low-cost raw materials, they can easily fall apart if you don't know "how to start a laundry business."
Take your time to gain knowledge and do your best to stand out. Plus, make sure you know the legalities of starting a laundry business in your state.