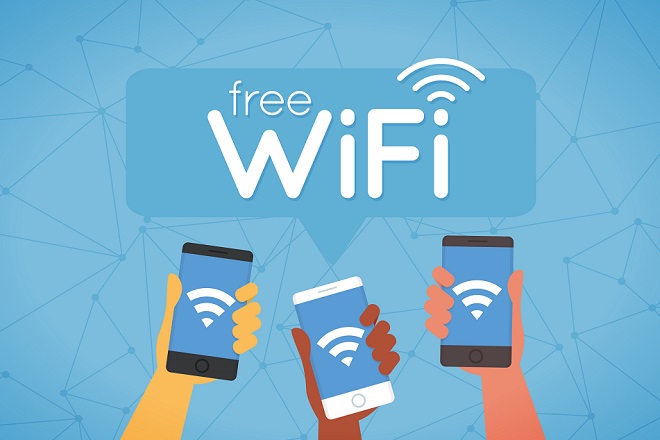 Internet connectivity has become an unsaid requirement nowadays. For once, one can live without electricity but not the internet. Interenet connection refers to ethernet and WiFi. By providing one's customers with a fast, safe, and reliable Wi-Fi connection, any business can add immense value to its service. So, new businesses must know how to provide free Wi-Fi to customers? Let's take a look at how to do the same.
The world over the past five years has become mostly digital. In this digital world, the role of the internet is very significant. The Covid-19 lockdown last year has made the society of developing countries like India to adopt online methods for transactions in almost every way. And in regards to this, the most important part for a country to go digital is the internet, and the most comfortable connection is the wireless connection, which enables the user to connect their mobile devices and laptops to the internet. Such wireless connections are also known as Wi-Fi.
Wireless data networks have several advantages with it such as mobility, which therefore increases its demand among the people.
Offering free Wi-Fi to the customers had become the most critical part of the customer's experience. When a business place offers free Wi-Fi to the customers, then that particular business place is giving the pocket salesperson to each customer because the customer can browse through the internet to get the information regarding the products available in that particular business place or store. The customers who are on the fence and are unable to decide whether to buy the product or not in such a situation they have the option to get access to the Wi-Fi available in the business place and browse regarding the product. They can learn about the cons and pros of the product and decide accordingly.
Offering free Wi-Fi to the customers had become a most important part of the business because around 40 % of the customers run price checks between the online price and the in-store price of that particular product available in the store, 35% of customers lookup for online review, 36% customers go for their friends' opinion.
The set up of free Wi-Fi for customers is the most important element in this regard, which means that if a person has set up a Wi-Fi hotspot at a business place, then the Wi-Fi will be available to the customers of the company too, which will be free for them. Here, hotspot means a physical location with an accessible wireless network.
Why is having a free Wi-Fi connection for customers essential?
More often than not, businesses fail to understand the requirements of their customers. Well, you for sure should not be one of them. By understanding your customer's needs, you make sure that they leave satisfied and come back again. Over 60% of businesses claim to get more customers when free Wi-Fi is offered, and this also translates to an average person spending more.
But offering a thing for free that is not good enough is not acceptable. Ensuring that your Wi-Fi connectivity is fast, reliable, and safe is also very necessary. If customers are complaining, listen to them, figure out what the problem is and fix it. This will help in boosting sales and, more importantly, keep your customers happy and satisfied. Here are some other aspects of a free Wi-Fi connection that add to the customer experience.The main reason for offering free wifi to customers is to increase the time they spent on-premises. Customers tend to stay longer to access the internet via wifi. Although the availability of free wifi can help grow the business, this perk may work against you if it reduces your customers' experience.
Get a high bandwidth reliable connection
When setting up your Wi-Fi, it's essential to get a bandwidth that can cater to the average number of guests you generally have. At the same time, it is also important to have multiple routers so all your customers can stay connected at the same time. Your Wi-Fi should generally be strong enough to give proper browsing and social media experience to users.
Let's say you have ten tables at your café, each of which can seat a maximum of 4 people. This makes the maximum number of customers you can have at a time is 40. Considering that you would like to provide at least a 2mbps connection to everyone, an 80-100 Mbps bandwidth is necessary.
It is also crucial that the Wi-Fi connection is stable so that people can work peacefully. If users continuously complain about the internet speeds or having "no-internet," it's probably time to change your ISP.
Limiting bandwidth for users
If there are many customers at your store or cafe, it's probable that some might get good speeds and some might not. This can be because a few customers are consuming more data. In that case, two things can be done. The first is blocking sites that often use more data like torrents, YouTube, and other streaming platforms. And secondly, you can precisely set your router to allow the desired speed you would like everyone to have.
According to me, the second option is a better choice. This allows customers to use whatever they want and at the same time doesn't hinder the experience of others. This also means you can increase or decrease the speeds depending on the number of customers you have.
Having a secure and separate connection
One of the most important things to consider when offering free public Wi-Fi is security. For this having a router that supports all the standard security protocols like the WPA and WPA2 is essential. Simultaneously, users should also be cautioned not to use the Wi-Fi for banking or other sensitive purposes for data security. Your customers should feel valued that you care about their personal interest.
It is also vital to have two separate connections for customers and the business. This helps keep the business data secure and have a faster connection even when many customers are around. Also, remember to turn your Wi-Fi off after closing your store/ Café, so no one hacks the network during the night.
Choosing a reliable ISP
The first basic and most important step is to choose the best ISP provider. This ISP will provide you with an internet connection. There are different ISP offering types other than Wi-Fi broadband like satellite, Fiber optic cable, etc. Some of the Internet Service provider companies are AT&T, Verizon, Comcast.
Choose a service plan for a better internet connection
Nowadays, everyone expects a fast, reliable internet connection. So while offering a free wifi connection, make sure your wifi is fast and reliable to the customers as it directly affects the business. If it's not, that will make customers frustrated. For this, ISPs offer multiple plans. While choosing the service plan, remember that it offers the highest speed and high-bandwidth at a reasonable and affordable cost. So that while accessing the internet, the customer shouldn't experience slow browsing because of low bandwidth. Not only can this give your company the reputation of being unprofessional, defeating the purpose of your offering, but irritated customers are less likely to spend their hard-earned money with you.
Keep your connection secure
Many customers connecting to public Wi-Fi sources use their mobile devices, containing a significant amount of their personal information. The security of the customers' personal information should be treated as you treat your own business information. Make sure to install the latest firmware updates and consider having an IT network security specialist. And make sure to separate the public wi-fi front from the corporate network used by the employees because hackers may get attracted into your company's network via public wifi and can access your clients and employee information.
Set up a captive portal
A captive portal is a web page for customers before permitting them to access free wifi. By agreeing to the terms and conditions, the customers can access the internet. It is also known for a security purpose so that the company providing free wi-fi will not be responsible for a customer's unlawful activity.
Five simple steps to set up free Wi-Fi
We have already seen why providing free Wi-Fi to customers is necessary. At the same time, the things that should be kept in thought in doing so. Now let's take a look at the five simple steps to set up free Wi-Fi for customers:
Choose a reliable ISP provider and invest in a good router. If your place is big, make sure that you have Wi-Fi boosters, so the range is good.
Get a plan that has adequate bandwidth and at the same time well-with-in your budget. Also, make sure you control the bandwidth every customer is getting.
Use the latest Wi-Fi protocols so that the Wi-Fi is secure to use.
Make sure that before getting connected to the free Wi-Fi, customers agree to the terms and conditions. This makes sure if the network is misused, you won't get into trouble.
Use a chalkboard to write the Wi-Fi password and change it daily, so only customers can access the network.
Conclusion
If you want to avoid bandwidth hogging, program the captive portal to prevent visiting of the sites that may hog bandwidth. Blocking visits helps you to ensure a fast connection for everyone on site.