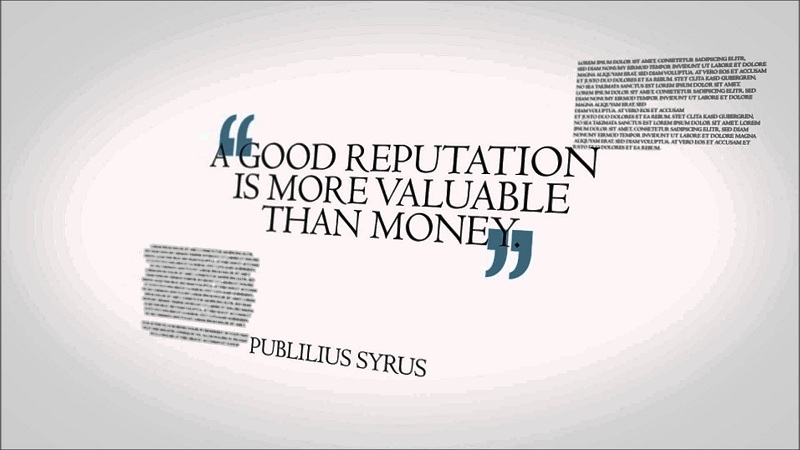 When an individual or organization establishes a business online, its main purpose is to prolong its reputation. For this purpose, business owners struggle hard to provide quality products and services to their customers and clients, to build trust and credibility among them. But as you go ahead, your rivals start pushing or degrading your reputation. This is the most frustrating or challenging situation for your business. As you have to think wisely and show positive behavior to manage your business reputation.  Because your one wrong step will pull down your overall hard work and success.
In this critical situation, how will you manage your business reputation for a long time? What methods or ways should you adopt to persist your business reputation? Worry not! In this blog post, I'll walk you through business reputation management methods professionally to stay ahead of the competition.
Explain Business Reputation with An Example
Business reputation is considered as an overall perception, opinion, and sentiments a customer, stakeholders, or general public thinks about a business. It shows collective feelings, beliefs, and thoughts associated with one's business and its offerings.
For instance: 
A popular XYZ cloth brand manufactures and sells high-quality clothes to its consumers according to the weather. Like warm clothes in winter and soft clothes in summer. With these high-quality products and also on-time delivery, this brand builds a high reputation in the online marketplace. It builds and gains the trust of consumers and the general public.
As this brand has been successful in building a positive reputation online Google provides authority and search engine visibility to it. It gains a positive reputation due to the following factors: excellent customer service, quality products, on-time delivery, staying updated, and positive reviews. Due to this, the brand enjoys the following benefits such as customer loyalty, competitive advantage, investor confidence, and word-of-mouth recommendations.
But if this brand gets negative reviews and provides low-quality products, all of its hard work will be in vain. It affects its overall performance such as low sales and less ROI, brand image will be damaged, loss of customers, and face difficulty in attracting visitors. So, it's important to stay positive and act positively.
Why does business reputation management hold so much importance?
Business reputation is everything for business owners. It's the most important factor but how you manage it is the most critical factor. As every business owner doesn't adore such skills and that's why he/she faces difficulties in building brand image.  Once a business establishes its online presence, customers, clients, and others start rating its content, and based on this business's reputation grows or falls. Every business should care about its reputation.
Let me share with you the important factors why it holds immense power in business and the rest is up to you whether you care or not about it.
Better search engine ranking
When you get a positive review from your clients or customers, the search engine algorithm monitors your performance.  After that, Google upgrades your website domain authority and provides search engine visibility to your business.
When Google gives you authority it builds as well as enhances your professional image. As people get to know more about your business and put their trust that this business is not fake.
Increase trust and confidence
In most cases, when a business provides high-quality products and services, maintains an active social media presence, and gives response to customer comments and messages on social media; it naturally builds trust and confidence among potential customers.
Your company will generate more sales if you offer better performance and better responses to your customers. In other words, it means higher sales and higher revenue.
Best social media preference
Due to positive reviews, more users will talk about your brand or business. Most users would like to search for you on social media. When such a huge number of users search for you on social media platforms, their algorithm pops you up on the search console.
What are The Ways to Manage Your Business Reputation?
If you're seeking for executing the best ways for managing your business reputation, then go through the below professional steps:
Conduct regular brand audits
Regular brand audits involve evaluating and assessing various facets of your brand's perception, performance, and effectiveness. It assists in identifying advantages, disadvantages, and opportunities for growth so that a focused brand management strategy can be created.
Develop a clear brand identity
Illustrate your brand identity, this includes defining your mission, goals, perceptions, and selling proposition. You can further provide consistent brand messaging through all your social media channels. So that customers get up-to-date information from you.
Engage in thought leadership
It means if you have thoughtful leadership qualities and skills then manage your business accordingly. You can share valuable insights, knowledge, and expertise so that others enhance their knowledge by adopting your footsteps.
Encourage and manage online reviews
You can ask potential clients and customers to leave a review on a review page platform. If you get a positive online review then you should encourage it by showcasing their reviews on social media platforms. You should monitor both positive and negative reviews actively.
Build strong media relations
With the help of social media platforms, you can start building your relationship with your customers, consumers, and others. You can engage with them through comments, messages, and feedback they are giving on your brand's business. This builds trust and credibility among you and your customers.
Address negative feedback
Sometimes your potential customers don't get satisfied with your performance so they leave a negative comment which affects your performance. Make sure to address them, listen carefully, and show positive behavior so that you can satisfy them.
Implement effective crisis management
Effective crisis management requires having plans and procedures in place to deal with and lessen potential situations that could endanger reputations. In order to safeguard the reputation of the brand and uphold stakeholder trust, it helps to minimize harm, communicate openly, and swiftly resolve issues.
Collaborate with influencers
Influencers are a great source to enhance your brand visibility to the overall world. As they have a higher following base and most people are following them. You can collaborate with them and provide a handsome amount so that they can monetize your brand wisely. You can also provide a script to them so that they perform each act according to your way.
Monitor and optimize search engine results
You should regularly monitor search engine results if you find any misleading or wrong content about your address Google so that they can take action. Make sure to add SEO-optimized content and optimize your websites too to rank high in Google search results.
Monitor online conversations
You can use social listening tools to keep an eye out for mentions of your company, goods, or services on blogs, forums, and social media. Keep up with customer feedback, deal with issues, and give prompt answers to questions.
How Does Reputation Management Affect Business Growth?
Reputation management has a significant impact on business growth. It helps businesses to stand out in the market to generate more sales and revenue. Here's how it affects business positive performance:
It helps businesses to build a strong relationship of trust and loyalty among customers, stakeholders, and public users.
With the help of positive reviews and success, you can set a sense of differentiation from your competitors.
A strong reputation attracts new customers through positive online reviews and word-of-mouth recommendations, serving as powerful social proof.
Managing your reputation includes monitoring, influencing, and maintaining a positive online presence to improve search rankings and increase organic website traffic.
A positive reputation attracts top talent, driving business growth through a strong company culture, fair treatment, and growth opportunities.
Effective reputation management minimizes the impact of crises by implementing proactive strategies to mitigate damage, restore trust, and ensure business growth.
A strong reputation attracts investors and partners, fostering business growth and expansion opportunities through trust and reliability.
Additional Tips To Manage Your Business Reputation
Most of the time business owners want to perform additional tips to secure their reputation. Here are some additional tips to enhance your business growth, success, and reputation.
Use various channels to proactively communicate with your audience in order to keep them interested and build relationships.
Spend money on employee education to make sure they are aware of the significance of reputation management.
To spot opportunities for differentiation, keep an eye on the reputation and online presence of rivals.
To spread the word about your brand and reach more people, work with influencers.
Keep up with current online debates and business trends to interact with your target market.
Customer feedback should be taken seriously and used to inform improvements and prompt problem-solving.
Conduct your business with honesty, integrity, and moral behavior.
Observe and respond to online mentions, including tags and reviews on social media.
Ensure that the brand's values, messaging, and customer experience are consistent across all touchpoints.
Think about collaborating with reputation management experts for advice and assistance.
Final Thoughts
Online business reputation is not about covering bad reviews or providing false information about your business to consumers. It's about providing accurate and reality-based information so that a sense of trust and credibility increases.
It gives you a chance to understand your reputation in-depth and also understand your business issues. It helps you to navigate all your issues and establish a strong market strength for your rivals. When you deal with problems you emerge as a more successful business in the market.
For online reputation management, neither a sizable budget nor a specialized team is required. You can do it at home with the aid of online tools and resources.
So when you want to manage your business reputation you should explore it first if you think that you can't handle it individually then you can hire a professional reputation management expert for your services.