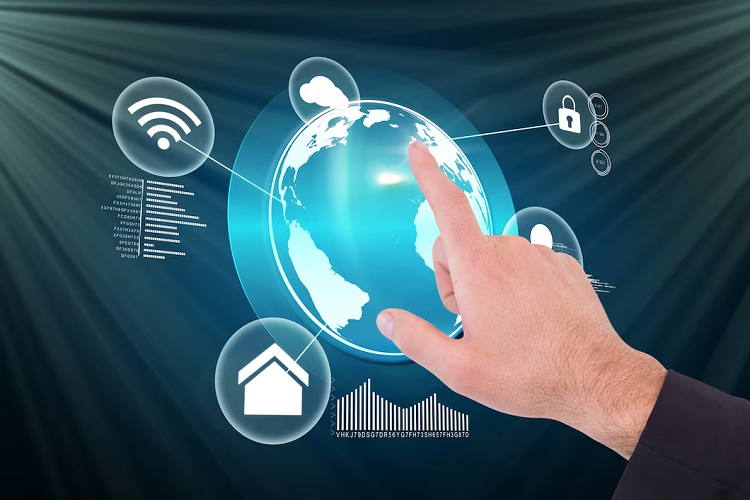 As time trickles by, you start to notice changes around you – one of them is your parents getting older. It is not easy to witness that and the anxiety that follows this realization is undeniable. You also can't be there 24/7 to help or watch over them. In some situations, age brings diseases and ailments that could render seniors helpless. Fast internet can provide a comprehensive and convenient way to ensure their safety, comfort, and overall quality of life.
How Fast Internet Can Help You Care for Aging Parents?
Fast internet can play a significant role in helping you care for aging parents in several ways:
1
Remote Monitoring and Communication
High-speed internet enables you to set up video calls and monitor your aging parents remotely. You can use video chat platforms to have regular face-to-face conversations, check in on their well-being, and ensure they are safe and comfortable at home.
2
Telehealth and Virtual Appointments
Fast internet allows you to schedule and participate in virtual doctor's appointments, consultations, and therapy sessions for your aging parents. Telehealth services can provide medical advice, prescription refills, and treatment recommendations without the need for in-person visits.
Internet-connected devices and apps can help manage medication schedules. You can set up reminders and alerts to ensure your parents take their medications on time. Some smart pill dispensers can even dispense the right pills at the right times, reducing the risk of medication errors.
High-speed internet enables the use of smart home devices that can make daily tasks easier for your aging parents. Smart thermostats, lighting, security cameras, and voice-activated assistants can enhance their comfort, safety, and overall quality of life.
5
Emergency Response Systems
Fast internet can support the use of medical alert systems and wearable devices that can quickly connect your parents to emergency services or caregivers in case of a fall or health emergency.
6
Online Shopping and Deliveries
With fast internet, you can help your parents order groceries, medications, and other essentials online. This can reduce the need for them to go out and potentially expose themselves to health risks.
7
Entertainment and Social Interaction
High-speed internet allows your parents to stay socially connected by participating in virtual social gatherings, online classes, or hobby groups. Streaming services and online games can also provide entertainment and mental stimulation.
Fast internet provides access to a wealth of information and resources related to aging, caregiving, and health. You can research and find relevant articles, support groups, and forums to better understand your parents' needs and challenges.
Online banking, bill payments, and financial management tools can help you assist your parents with their financial affairs remotely, ensuring their bills are paid on time and their financial accounts are secure.
High-speed internet enables your parents to engage in mindfulness exercises, meditation apps, and virtual exercise classes, promoting their physical and mental well-being.
Fast internet can greatly enhance your ability to care for aging parents by enabling remote communication, access to medical services, home automation, emergency response, online shopping, entertainment, and access to information and support.
With Xfinity internet speed, you can rest assured that you'll always be connected to your loved ones. Even if you step outside your home, you'll be connected to one of the 20 million Xfinity hotspots spread all over the U.S., making it easier to be in touch anytime, anywhere.
Xfinity Internet
Xfinity is a brand of broadband and cable television services provided by Comcast, one of the largest telecommunications companies in the United States. It offers a range of high-speed internet plans that can be beneficial for various purposes, including caring for aging parents. Here's how Xfinity's fast internet can help:
Reliable Video Calls: Xfinity's high-speed internet can support stable and high-quality video calls through platforms like Zoom, Skype, or FaceTime. This enables you to have virtual face-to-face conversations with your aging parents and visually assess their well-being.
Telehealth and Virtual Appointments: Xfinity's fast internet ensures a smooth experience for telehealth appointments, allowing you to connect with medical professionals and specialists to address your parents' healthcare needs remotely.
Remote Monitoring: With Xfinity's high-speed internet, you can set up home monitoring systems, such as security cameras or smart home devices, to keep an eye on your parents and ensure their safety.
Online Entertainment and Social Interaction: Xfinity's fast internet enables your parents to stay socially engaged by participating in online classes, virtual events, and streaming services. This can provide entertainment and mental stimulation, enhancing their overall well-being.
Home Automation: Xfinity's internet service can support the use of smart home devices, such as smart thermostats and voice-activated assistants, which can help your aging parents manage their environment more easily.
Emergency Response Systems: Xfinity's high-speed internet allows for the use of emergency response systems and wearable devices, ensuring that help can be quickly summoned in case of a medical emergency.
Online Shopping and Bill Payments: Xfinity's internet service facilitates online shopping and bill payments, making it easier for you to assist your parents with their everyday needs and financial management.
Access to Information and Support: With fast internet, you and your parents can access online resources, support groups, and healthcare information to stay informed about aging-related concerns.
Before choosing an Xfinity plan, make sure to consider factors such as the internet speed you need, coverage in your area, and any additional services or features that may be relevant for caring for aging parents. You can reach out to Xfinity customer service to discuss your specific requirements and find the plan that best suits your needs.
Xfinity Camera
Cameras to Watch for Any Signs of Danger
Whether your parents live with you at home, or separately, you can never know when an emergency will strike! Hence, it's important to have monitoring devices to check in with your parents whenever necessary.
Of course, since privacy concerns will exist, you could always place such Wi-Fi-enabled cameras in common areas like living rooms or kitchens but not in bedrooms.
You can monitor all activity through live streams on your phone (you'll need to download the free Xfinity app to sync cameras with your device). The moment you feel like something is wrong or a parent expresses a concern of any sort, you can act immediately and help prevent any disasters.
One of Xfinity's best options is their Indoor/Outdoor camera which costs up to $120. It comes with a live HD video option that can help you keep an eye on all activities, suspicious or otherwise. Not only is it weather resistant, but it also has night vision. This way, you can keep track of people coming over and leaving your parents' home, or view activities indoors.
With just an additional $10 monthly, you can even get access to 24/7 video recording.
You can also opt for additional services by Xfinity, for as low as $40. With the 'Pro Protection Plus' plan, Xfinity's highly trained team will alert authorities in any event of security risks. They will also review up to a week's worth of video recordings and inform you of any unusual activity. With around 1 million U.S. homes under their care and protection, Xfinity's security measures are applaud-worthy.
How to Pair Your Xfinity Camera
Pairing your camera up with your Xfinity app is very simple.
First, you must download the free Xfinity app.
Once you've done that, make sure that the Bluetooth on your device is turned on.
Sign in with your Xfinity ID and credentials into your Xfinity app.
The application will ask you for permission to access your location, in order to make the connection to your camera. Please make sure that you've given them that before moving on to the next step.
You should be able to see the 'Security' tab once you're in the app, and once you click on it, press the 'Add devices' option.
You should get an option to add 'Xfinity Camera' so click on that.
Your camera should take a few minutes to connect and once that's done, you're all set!
You can even opt for Motion Notifications to receive updates on your device, by simply going into Gear and turning notifications on. This will alert you anytime there is movement on video and you can immediately go to the Xfinity app to view who triggered the sensor.
Xfinity Home
Xfinity's Smart Home security system will not just alert you, in case of emergencies, but also the relevant authorities.
Using Xfinity Home's touchscreen, anyone can send out a quick alarm with just a tap. Simply clicking and pressing the emergency button for 2 seconds will alert the local police and authorities of the crisis. You can even choose the emergency assistance that you require – whether that's the fire department or medical emergencies or the police.
You can contact the Xfinity 24/7 helpline to get more details on their Home Protection plans. Their experts will be able to suggest the best plans, catered specifically for you and your needs.
In Conclusion
All these precautionary measures will help to ease your mind when you have to leave for work or to run some errands outside. You can be away from your parents and still be able to answer at once, at the first sign of trouble.
With a reliable and fast internet connection, worrying about bad service or defective Wi-Fi signals is a thing of the past! Xfinity keeps you connected all the time and with millions of accessible hotspots available all across the country, you're never too far away from your parents.