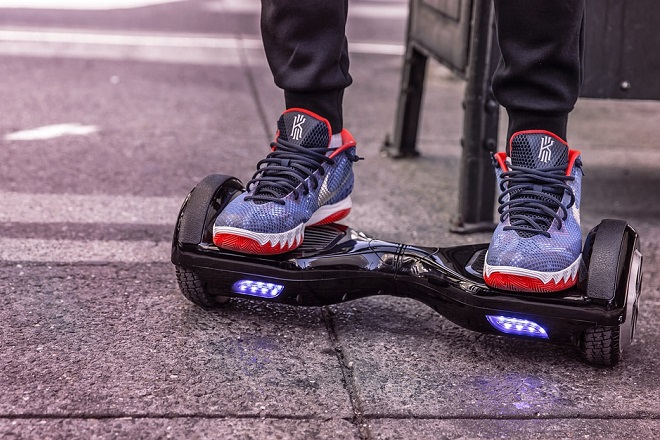 There was an era when the hoverboards were the part of novels and movies. People used to see these big budget hoverboards in the novels and wanted to take a ride over these hoverboards. Moreover, the prices of these hoverboards do not allow every pocket to enjoy the best off-road hoverboard.
But now it's not like that. With the continuous struggle and collaborative effort of top hoverboard manufacturing companies, now you can have a hoverboard and enjoy a ride. Because now the best quality hoverboard is available at affordable rates.
The 5 best off-road hoverboards 2019
---
Halo Rover off-road hoverboard
Made with an aluminum body this off-road hoverboard has created a buzz among all the hoverboard lovers. Its tires are 8.5 inches thick that has made it a powerful hoverboard. Not only this, it comes with some exciting features. Let's have a look at the amazing features of Halo Rover hoverboard:
Halo Rover has built-in sensors and Bluetooth connectivity feature
Its battery is UL certified and can charge fully in 2.5 hours
Halo Rover is water resistant and is IPX4 certified
The speed of this best hoverboard is 10 mph
Comes with LED lights, making it easy to travel at night also
And much more!
Truly speaking, Halo Rover is considered as the best off-road hoverboard because of its amazing features. Moreover, it offers a safe and secure ride even at night also. The only downside with this hoverboard is that it is a little bit expensive. But when you look at its features and enjoy the ride over it, you will realize that you will get back against your every penny.
EPIKGO hoverboard
Getting the safe hoverboard is what everyone looking for. Due to the few terrible hoverboard accidents, people are in search of the safe and secure hoverboards. To assist all the people, I have found the best quality and safe hoverboard. Now you can buy this top quality hoverboard for your kid without any worry.
EPIKGO hoverboard is UL 2272 certified and its battery is also certified. You will be surprised to know that this hoverboard has passed 159 safety test. Its dual motor and 400 W battery have made this hoverboard powerful.
As a matter of fact, the company is improving its gadgets day by day. The advanced technology of EPIKGO has made it faster, powerful and safest hoverboard to buy.
TOMOLOO V2 Eagle
TOMOLOO V2 Eagle is another top quality and bests off-road hoverboard for kids. In a very reasonable price, you can get the supreme quality hoverboard. TOMOLOO is a well-known brand in the market of hoverboards. No doubt, every gadget provided by this renowned company is of top quality. But TOMOLOO V2 Eagle is something really exciting. It beats all other hoverboards by TOMOLOO and other hoverboard providers because of superior quality features at a reasonable price.
Key features of TOMOLOO V2 Eagle are:
Comes with a blistering speed of 12 mph
TOMOLOO V2 Eagle has dual 350 W motors
Provide the facility of GPS, battery tracking and speed tracking
Long lasting tires of 8.5 inches
In short, if you are tight of the budget but still want to have a supreme quality hoverboard than try TOMOLOO V2 Eagle. Once you ride over this off-road hoverboard, you will love it. So, buy this quality hoverboard now and enjoy the best ride.
SWAGTRON T6 hoverboard
SWAGTRON is a popular name in the archery market. If you are a lover of hoverboard than you must know that this company always come with the best quality hoverboard. This time it introduces SWAGTRON T6, the best off-road hoverboard.
The feature that distinguishes SWAGTRON T6 hoverboard from others hoverboards is that it uses 10 inches wheels. Due to which it can carry more weight without losing its performance. Moreover, it offers a safe ride on all types of grounds like mud, sand, and ground. Due to the powerful and strong features, SWAGTRON T6 hoverboard is highly recommended for adults and youngsters.
SWAGTRON T6 uses a lithium battery that has added to the value of this off-road hoverboard. The usage of the high-quality battery allows the speed of 12 mph. Wait! The features of SWAGTRON T6 does not end here!
With this durable and powerful off-road hoverboard, you can enjoy the music of your own choice while riding. Because this top quality hoverboard comes with built-in Bluetooth feature.
Levit8ion off-road hoverboard
Every hoverboard lover wants to travel over this new beast that provides exciting features at affordable price. If you are also looking for the same then try Levit8ion off-road hoverboard.
Levit8ion off-road hoverboard provides all the exciting features that a person is looking in a hoverboard. It is powerful, durable and long lasting. Moreover, it is UL 2272 certified that ensures that Levit8ion off-road hoverboard will offer a safe ride. It is also water resistant and is IP54 certified.
Not only this, It uses a lithium battery and comes with the Bluetooth feature. What else you need? Hence, before wasting any further time, go for Levit8ion off-road hoverboard and have an exciting ride.
To end, I must say that all the above hoverboards are best off road hoverboard 2019. Still, I recommend you to do a research and then buy the best quality hoverboard that can meet your requirements.