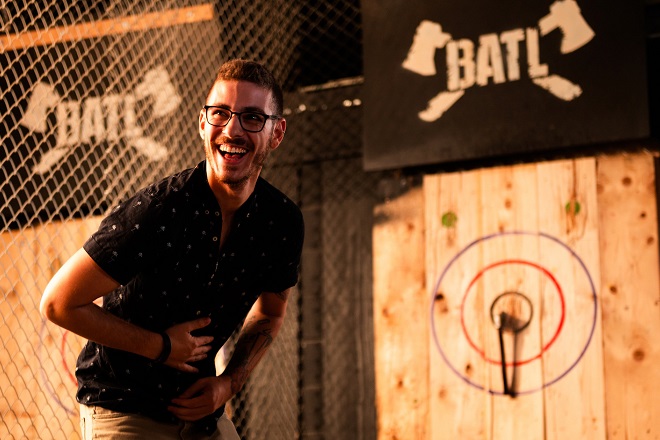 When axe throwing was first developed, it didn't really have lofty ambitions. It was just a way for a few friends from Canada to pass the time while vacationing at a cottage. As it took off, however, the sport – played in tournament fashion, with competitors taking turns throwing their axes at a wooden target – started amassing a following.
On the one end, you had people who loved the novelty. It became a hit with birthday parties, bachelorette and bachelor parties and corporate teambuilding events, because here was a new sport that took an otherwise "dangerous" item and gamefied it.
On other end, axe throwing developed a following of players who took it seriously as a sport. Why just throw axes every couple months at a birthday party when they could join an axe throwing league and partake in legitimate competition? These axe throwing die-hards took the recreational concept of the game and turned it into an internationally competitive sport.
In either case, the attraction boiled down to three main things: it's a good workout, a great way to blow off steam and one hell of a good time.
Get a Light Workout
Any repetitive action, over time, is going to constitute exercise. With axe throwing, because the game demands you to constantly pull back and throw a weighted object, it winds up being a decently good workout for your core and upper body. And because you're leading with your legs, it's also a good quad and glute workout.
A lot of people want to get in shape but have a complicated relationship with the gym. It's too boring, too intimidating, too crowded… Axe throwing allows you to work out a few key muscles without having to slog it out at the gym.
Blow off Some Workweek Steam
Ask an avid axe thrower what they love about the sport and they'll probably cite its stress relief benefits. Aside from the physical activity you get (which can lower your cortisol, the hormone responsible for stress) there's something elementally cathartic about axe throwing. Throwing a real-life weapon across the room and listening as it chops into a wooden target is a surprisingly effective way to vent frustrations!
Try it at least once with friends, but don't be surprised if you get addicted to the feeling.
Play With Friends, or Make New Ones
Finally, imbedded in the sport is a social aspect. When you're not throwing axes, you're on the sidelines chatting with other throwers, be they friends or fellow league members. Axe throwing places also often serve beer and other alcoholic drinks, which makes the atmosphere a little more conducive to socializing than, say, other sports like basketball or tennis.
If you join a league, you're bound to make a few friends. The axe throwing community as a whole prides itself on inclusion and approachability.
It might have started modestly, but axe throwing is taking off in a big way, thanks to its fitness and stress-relief benefits, as well as its fun, social atmosphere.