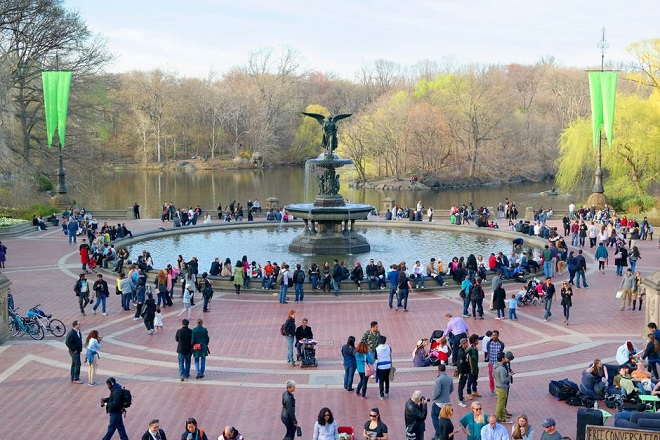 Are you planning for the much-awaited road trip to New York? Then there is a bit of planning required in order to make it the most memorable and enjoyable trip for you as well as the entire family and folks with you. New York happens to be the most happening destination in the world with a huge number of tourists from all across the globe flock to this place throughout the year. While traveling with family and kids, you may have to plan for some activities to entertain them also.
The good news for the New York travelers is that the city is not all about the skyscrapers and business suits as you may have seen in movies, there are a lot of spots where you can relax in the lap of mother nature and explore the cultural and architectural wonders.
Exploring New York is also not as costly as you think with plenty of transportation modes available. Say, for example, if you are planning to rent an e-bike to ride to places as you wish, you get this experienced at a very meager price. As it turns out, New York is a fun and family-friendly destination, and here we will explore a few top family fun activities to be enjoyed in New York.
Rental bikes to take a ride
As in many other cities, bikes and e-bikes are available on rental at New York City, which is ideal for the family fun lovers to rent one and explore the city spots on wheels. Compared to renting a cab or a bus, cycles offers access to more places, and you can ride through the smaller streets as well, where you can do some cheap shopping too. Along with the much-needed physical activity, cycles will help you to explore places at your own place. Bike rental will be an exciting affair for the energetic kids too.
Many providers are offering e-bike rental services in New York at attractive pricing. On planning to visit Central Park, there are bike rentals which you can book in advance or on arrival with attractive offers. On a family trip, it won't burn a hole on your wallet as well.
If you are a New Yorker or from a nearby place and planning to visit the city frequently, it won't be a bad idea to invest in a bicycle of your own. However, while renting or owning a bicycle, always get a good bike lock also as theft is always a risk for the e-bike owners. If you are planning to rent an e-bike, there are a few more things to consider. Let's go a bit more into those details before discussing the other family fun activities at NYC.
The range of an electric bike
You need to consider how far you are planning to ride before renting an e-bike. The range of an e-bike is actually explained in terms of the distance it can cover on a single full battery recharge. This is an important consideration to make. Decide your route and distance as well as other usability factors in order to calculate the range. You may also consider pedal vs. motor usage in the pedelec models.
There is no point in running out of the juice on halfway uphill on your off-road trip, right? If you are looking for a short round trip, then getting a bike with a shorter range may be enough, which won't cost you much. However, if the plan is to go for longer rides, then seek for a bike with a longer range than typical usage.
Bike tours at Central Park
Coming back to family fun activities at New York City, Central Park is an inevitable attraction. Located in the middle of the city, this vast expanse has everything inside it. Inside Central Park, bike tours are ideal to consider in order to explore the park attractions in full in limited time.
Stopping at Central Park Zoo
Enjoy animals, both wild and domestic like never before. Not only kids but adult people also love animals. It is a wonderful sight to explore them at their natural habitats, and the Central Park Zoo provides you this experience at best. Central Park is a huge expanse of many attractions, and the zoo is one place which grabs the most attention of the kids. There are more than 180 species of animals housed here. You can also see the wonders like ant farms, frog housing, polar penguins and more here.
The Belvedere Castle
Belvedere Castle is a nostalgically revved up version of a plain old playground. It is formed in the shape of an old castle, which will be fascinating for young children. The elderly can lounge in the grass meadows around and take in the sun while the kids can explore all nooks and corners of the castle. There are also telescopes to be used to get a scintillating view of the castle surroundings and hilltops.
Central Park Carousel
The carousel at Central Park has been functional from 1871 onwards. A mule and a blink horse powered the old original carousel. Now, the currently existing carousel had been manufactured by Stein & Goldstein Brooklyn Company for another trolley terminal at the Coney Island. This is a wonderful structure which attracts the attention of many.
The Dairy
It was once a functional dairy, which now functions as a visitor attraction at Central Park. You can find touch-screen kiosks offering information about the various sites and Central Park and activities for kids. An official gift store of the Central Park also functions at The Dairy.
The Mall
It is one of the few places at the park which is dedicated to a social gathering. The walkway is bordered with the sculptures of the famous authors and celebrities. The green meadows around is an ideal destination for family groups to relax and enjoy some fun activities. Park benches are also there alongside the walkway.
Other destinations to cover at an e-bike tour of Central Park are the Bethesda Terrace & Fountain, Loeb Boathouse, Sheep Meadow, Conservatory Water, Shakespeare Garden, Conservatory Garden, Skating Rink, etc. Check the official website of Central Park before planning a trip to know about the events, activities, and closure timings.