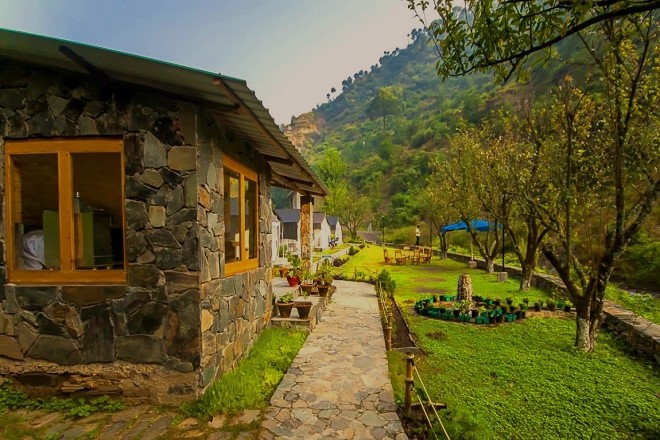 We all lead hectic lives and are either always working or stressing about work. With full-fledged working weeks with no gaps and time to enjoy and let ourselves loose, it is not a surprise that our weekends become precious to us. The entire week goes in the anticipation of the weekend and we spend hours planning for the perfect two-day break after the difficult and hard-working weeks we have.
In such a scenario, weekend getaways are the most popular and they are the most fun when it comes to relaxing with friends. There are many places you can choose for a weekend getaway, and if you are in Chandigarh, you are in for a treat because the best spa deals in Chandigarh are perfect for making your weekend delightful and relaxing! There are also many places around Chandigarh that you can visit to take a break from your routine. Some of them are:
Parwanoo
Located 35 km from Chandigarh, Parwanoo is ideal for a family picnic or a get-together after a long week or month. A resort, Timber Trail, is great as it offers many services including spa and Jacuzzi along with adventurous activities like the cable car and the ropeway. In fact, to reach the venue, it is essential to take the ropeway which overlooks the beautiful mountain ranges.
Kasauli
A small hill town, Kasauli is 58 km from Chandigarh and is home to colonial-era houses, orchards and the green-roofed Christ Church, which dates back to the mid-nineteenth century. The Monkey Point, which is situated at the southern edge of town, overlooks dense forests of horse chestnut and Himalayan oak. There is also a temple here, along with the Gliber Nature trail which one can undertake to explore the lush countryside rich with birds.
Nahan
Not known to many, Nahan is around 79 km from Chandigarh. It is a mesmerizing hill station and is small in size. As it is relatively lesser known, it offers a tranquil atmosphere for the tourists so that they can enjoy their weekend without the hustle-bustle a crowd brings. Nahan was the capital of the former Sirmur princely state, and is culturally and historically rich.
Shoghi
For groups that are looking for trekking and camping, Shoghi is the perfect destination. Around 100 km from Chandigarh, it offers a beautiful view when it comes to the picturesque landscape and atmosphere. The atmosphere is light and one can indulge in shopping and the nightlife of Shoghi.
Chail
Around 106 km away from Chandigarh, Chail is another hill station worth making a trip to. It is a beautiful option when it comes to looking for places to spend your weekend in. It is also relevant because India's highest cricket ground is in Chail. This tiny hill station is magnificent as it is surrounded by pine and deodar trees, and there was a time when this was the summer retreat of the Maharaja of Patiala.
With well-defined paths and many unexplored corners, Chail is the perfect location for trips with huge groups as you can spend your days playing cricket, lazing around under the sun, and checking out new and exciting tracks for trekking.
When it comes to Chandigarh, it is perfect to spend a weekend here or around it as it offers many options. One can simply escape to some of the best hotels in Chandigarh near the airport, like The Lalit, to enjoy a luxurious weekend, or choose from any of the above mentioned destinations for a road trip and a weekend in the lap of nature.