Current scenario of startup industry and why most of startup fails now a days?
There are two types of people living on this planet earth. One who becomes the part of problems and one who becomes the part of solutions. One who becomes the part of problem is called ordinary people and one who becomes the part of solution is called Entrepreneur who is having patient, persistence and diligence. These are the people who have the vision to solve people's problem and to do so, they jump into a dark well which is called startup industry.
According to a NASSCOM report, only in India, there were total 1200 startup pop up in 2018. But what concert most is, how many of them were successful. According to the force, 90% of startup gets failed. You must wonder, what are the reason for this much of failure rate. Answer has hidden lesson for you. Lack of Innovation and lack of funds are very common reasons, but poor management of their Intellectual property is the reason which nobody is talking.
In this blog, we are going to discuss all possible things about Intellectual property (IP) and why it is significant for your startup to grow.
What is Intellectual Property (IP)?
---
Intellectual property (IP) has a direct coupling with the creation of mind which refers to the ideas, product and services people have in their mind or in physical form. In any industry, specifically, in the software industry where most of the innovation nowadays are happening, IP plays a significant role for a company.
By putting the restriction on your rivals to use any innovation you have done, you can acquire a unique recognition and financial benefits. To do so, IP tools are there to save your intellectual property.
How to manage Intellectual Property for your startup?
---
Assume, you are David, who just invented a unique design of smart tiffin box by investing a lot of time and money. Under that product, you started a startup company.
You are in your initial phase and want a growth as fast as possible. Now, at the same time, you also don't want that someone else will make replica of your product and earn money bases on your idea. What you can do?
Of course, you will shortly figuring out, how can your intellectual property be managed in order to get a safe distance from 'bandits'. So, here is the full graphical guide David can follow to manage his companies Intellectual property.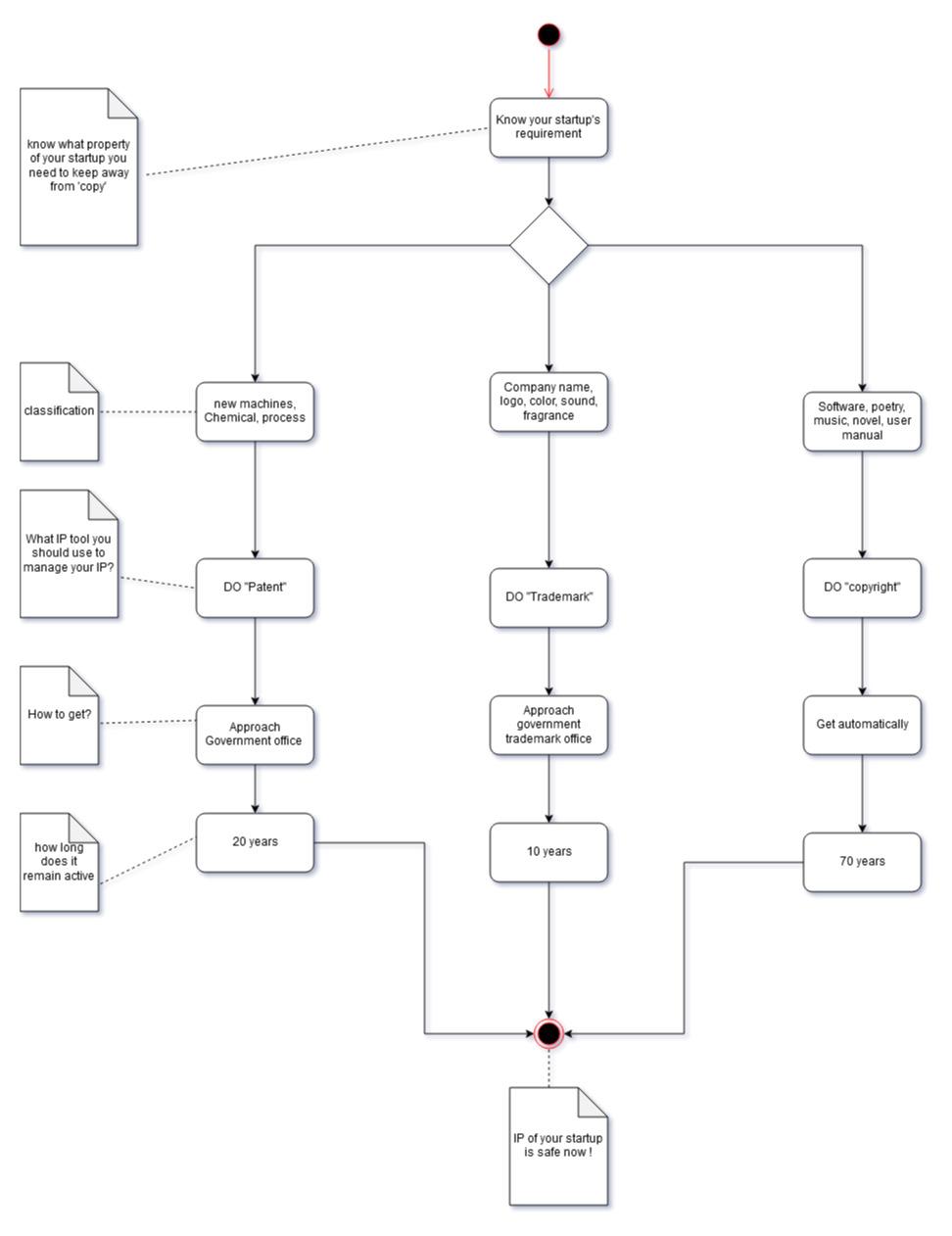 Things to consider while applying for patent and trademark
---
Make sure you are are clear about whether your idea, product and services hold legal rights to get stamp of patent and trademark on.
It is very complicated process. So always play safe and hire a lawyer.
Don't declare all secret of your invention or business in application form.
Keep secrets away from your staff too.
Be ready with the explanation, your application will rejected first time.
Benefits of successfully managing Intellectual property
---
O

f course, the ownership

After launching a product under a startup company, if after some years someone makes the replica of it and you don't have any legal document to prove your ownership, how great lose it will happen with your startup business. I am making this point because it is very common now a day to steal someone's idea and make money from it. If your idea or product is secured under the IP tools, then you will have a strong back in the case of infringement.
M

ake a brand value of your business

As it is very obvious that nowadays competitors are coming under the same roof, making the space for the market very small, it is a pivotal need for your business to stand out. With unique name, logo, and colors you can develop a totally different image in your customer's mind which eventually results in more brand value for your business.
M

ore ways of earning will open up

While your company is in its initial phase, the prime objective does it have is to build a customer group. So to make as more number of customer group, it is always advise for startup to thing legally! By getting patent of your idea and product, doors of more earning ways and more public engagement are opened. You can sell product globally and be a small in export business. You can also seek franchise agreement once your IP is secured. This will automatically, add revenue in your pocket.
Y

ou will be in investor's bucket list

To make a big organization from a small startup, you are highly rely on investors. You will easily make a entry in investor's list if your idea or product is secured under IP tools as it will give idea to investors about the rareness and originality.

Final words

So, after knowing the ways to protect your intellectual property and what are the benefit you will get by doing so, don't think twice to protect your ideas and innovations and get as much as rewards from it to grow your startup from a small company to a big organization.