Enterprise asset management (EAM) is the procedure of managing the lifecycle of the physical assets in a business to save money by maximizing their use. It entails the improvement of efficiency and quality, safeguarding safety, health, and the environment.
Though EAM can be used on desktop software or on paper, it's most commonly utilized in the form of specialized EAM software. An EAM is generally used in industries that are highly dependent on complex and expensive physical assets, such as heavy equipment, plants, and vehicles.
As such, prominent users of EAM include the shipbuilding, oil and gas, mining, government, energy, utility, and aerospace and defense industries.
Difference between EAM and CMMS
Josh Fletcher, the renowned growth marketer, and strategist points out that EAM is frequently referred to as CMMS (Computerized Maintenance Management System). Even though both these systems come with a similar goal, they have a difference.
The CMMS benefits come in handy mainly for handling operations during the lifetime of the assets. The lifetime, in this case, refers to the time when the equipment is well-functioning and running.
On the other hand, EAM comes with a more complex and robust system that manages the complete asset lifecycle. It looks at a bigger picture compared to the CMMS. EAM is about outlining your goals and achieving them by taking factors like worker skills, account budget, and so on into account.

Main features of enterprise asset management
EMS has four main functions, the combination of which is crucial to the seamless working and maintenance of your company's assets. These four functions have been outlined as follows:
Maximizing asset utilization
The software supports the real-time collection of data from IoT devices. Analytical and diagnostic tools are used for optimizing the usable, reliable, and available lifecycle of the assets.
Managing aging infrastructure and assets
EAM extends the lifecycles of equipment through optimization of your maintenance strategy. Through embedding risk management into the business procedures, there is a significant improvement in returns on investment.
Elevating maintenance management
It helps to enhance equipment maintenance practices through artificial intelligence and the internet of things. The increasingly complicated safety, health, and environmental requirements are met by the software using traceability and tracking needs.
Consolidating operational applications
EMS helps in establishing a unified technology system for the virtual management of all types of assets. It unifies and standardizes procedures for a wide range of asset functions across the entire enterprise.
Benefits of implementing enterprise asset management
Enterprise asset management helps to ensure that the high-value assets operate the way they are meant to. In this way, both costs and risks are minimized, while there is an optimization of business value.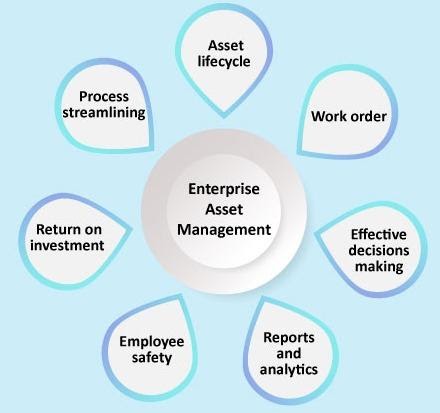 For instance, such software might help in alerting operations managers about the impending failure of a particular part of a machine. It will also provide details and scheduling tools necessary for dispatching a repair person. So, the part gets taken care of before it even breaks down and causes greater damage.
Such attempts at timely maintenance can help in avoiding the risks of faulty operating equipment getting the workers injured or spewing harmful pollutants into the environment. And this is only the beginning of the multiple benefits of the software.
Effective business strategies taken at all levels is one of the cornerstones of becoming a company that grows relentlessly. There would be questions raised in the business about saving costs without comprising on quality. In such situations, an EAM system will bring you the answers that you need.
EAM helps in keeping the costs under control through the automation of the supply chain. The optimal inventory of materials and parts helps to avoid rush orders or any need to rely on less reliable or expensive suppliers.
Consequently, EAM works to boost business value. For instance, analytics can help recognize opportunities for reallocating equipment inside industrial plants for supporting new business lines.
Factors in choosing the right enterprise asset management software
The functions and benefits of the software have already outlined the importance of it for your business. You will only get to enjoy all those benefits when you select the right software. Given below is a brief guideline to point you in the right direction:
Ability to open the system to different contractors
When choosing the software, you have to be ready to ask the hard questions regarding how it can be extended to the suppliers engaged in different stages of the asset lifecycle. There has to be a simple way to let all your contractors gain necessary access to the EAM system.
Robust maintenance with high levels of usability
The software needs to offer robust maintenance for asset-intensive organizations. You should check the core functionality for enabling various modes of maintenance. The advanced maintenance functions have to be simple and straightforward enough for the users to rely on it to avoid any oversight.
Adequate levels of agility and versatility
The software should have the ability to adapt and accommodate a wide spectrum of vertical industries and business models with different types of regulatory needs and assets. Besides, the companies are going to scale over a period of time. Thus, versatility and agility are the key components of the EAM system that you choose.
Increased levels of visibility and clear reporting
EAM software should ideally have the ability to organize and offer operational data in an actionable and clear format. Decisions taken about productive assets involve both environmental and financial risks. EAM system has to show a comprehensive view of all kinds of changes on the assets.
The bottom line
You are now well-informed about all that is there to know about enterprise asset management. So, it's time to start considering the implementation of an EAM system for your business.
Keep in mind that the right software can reduce risks and costs while preparing your organization for disruptive changes. Your organization will evolve with the advancements in methodologies and technologies more confidently with an EAM system in place.