In the fast-paced world of an ever-advancing internet, trends keep changing year after year. This change also prompts a shift in the interests, needs, and online experiences of internet users.
In order to cater to this change, marketers must come up with efficient strategies as a way to more effectively promote their content through different online channels.
Bearing in mind this constant need to apply the changing best practices, we've compiled a list of do's and don'ts that we recommend you to follow as part of your digital content strategy in 2022. But first, let's start with the basics:
What is a Digital Content Strategy?
A digital content strategy helps build a roadmap for your content plan, which provides you with directions for obtaining maximum results from your marketing efforts.
It's important to bear in mind that marketing is not only about the content, rather, it's also about the timing. Kind of similar to how comedy works, at times the joke may not be anywhere as hilarious as it sounds, were it not for a comedian's perfect timing in making the punchline.
So, it's crucial not to apply the same old content strategies and to remain up-to-date with the industry best practices that keep changing from time to time. Because what may have worked for one project, may not work for the other.
Why is a Digital Content Strategy Important?
Having a digital content strategy is crucial for businesses because to meet your marketing goals, you must first be sure of what you're aiming for, i.e. what's your target, and how you intend to achieve it.
For this very reason, you need to have a digital content strategy, so that it can help you determine how successful you have been in achieving your goals, based on a multitude of performance metrics such as organic web traffic, conversion rates, and brand awareness, etc.
Moreover, the importance of having a digital content strategy goes far beyond assessing your KPIs in terms of how well you've achieved your goals. In fact, there's the entire process from start to finish that needs to be taken into consideration before putting yourself into action.
This is because businesses can't operate without a roadmap that gives direction to their marketing efforts; how they'll create, publish, and manage content, is all part of why a digital content strategy is needed.
Another reason for having a digital content strategy is that consumer behavior shifts market dynamics and that calls for a renewed digital content strategy based on these changes. Thus, the do's and don'ts of a digital content strategy are highly dependent on the aforementioned changes.
Do's and Don'ts of Digital Content Strategy in 2022
The following sections discuss our top picks on the Do's and Don'ts of Digital Content Strategy in 2022.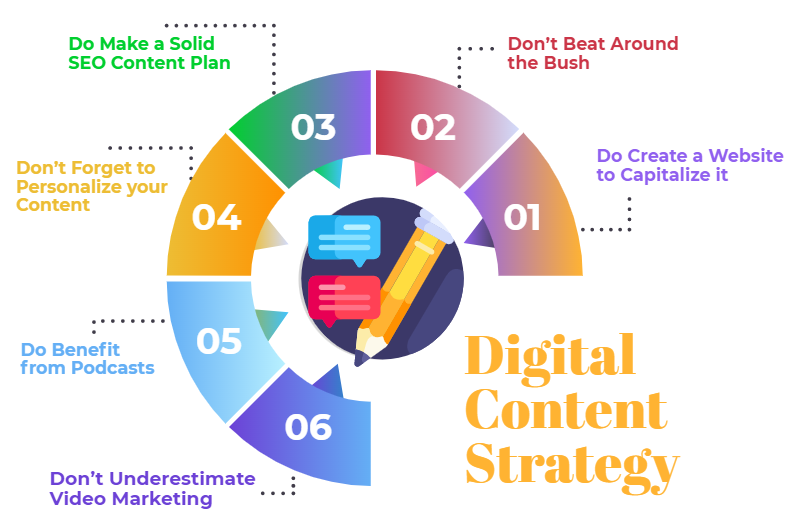 1
Do Create a Website to Capitalize it
Renting out someone else's property means that you have to obey rules set by the owner of the property. The same goes for rented space on a website. So, before you happily sign up for that deal, you must be sure of what your limitations are.
That's because running your business through content shared solely on social media is a risky business. That's because not abiding by the rules of the platform, be it deliberately or unknowingly, can result in your page getting blacklisted or temporarily banned.
This shows how social media networks can force you to bear a huge loss just because your content is against their guidelines. Also, even if your page does not violate any community policy, the fact that giant social media platforms like Facebook, Instagram, and WhatsApp had a complete blackout for several hours, makes one question whether it's reliable to entirely rely on these platforms.
Having your own website is thus the best option to ensure that you have full control over your digital content. In doing so, you're no longer subject to the strict policies of social media networks and can stand by your cause without feeling powerless against social media giants.
2
Don't Beat Around the Bush
Get to the point, and don't beat around the bush when it comes to an effective content marketing strategy because with so much content to consume, audiences do not appreciate when their time is not valued.
Moreover, attention spans are also far lower than what one could expect from people. This means that your content not only needs hooks, but you also must learn to keep the audience engaged. Of course, long-form content is valued by readers and search engines, as it proves the content's topical authority.
However, establishing that your article despite its length does not engage in unnecessary content and redundant details can help prevent users from leaving your webpage which increases bounce rates, and also the site relevancy score over time.
3
Do Make a Solid SEO Content Plan
While privacy regulations become more and more strict, causing massive changes to the way we market through business tools, i.e. third-party cookies and other behavioral tracking services have been shunned by Apple.
This growing awareness of privacy makes SEO more relevant as it's a more straightforward and transparent method of showing relevant data. This inability of Facebook to tailor ads as perfectly as it did, would increase the trend of leveraging Search engine optimization.
4
Don't Forget to Personalize your Content
The one size fits all approach to content creation will not prove effective in 2022. That's because content marketing trends are known to change rapidly; similarly, today they're rapidly advancing and there are ways to ensure that you provide your audience with tailor-made content.
This is especially important when your business operates on a global or national level. From email campaigns to website landing pages. A more personalized experience, wherein people get to see the content that is most relevant to their locality, needs, and interests are at the heart of digital content strategies in 2022.
To share a piece of content with Canadians that is primarily focused on consumers residing in Asia is quite honestly a waste of their time and your resources. It may even lead a regular reader towards unsubscribing or not reading your articles as regularly as they did. Thus, only share what adds value to each person.
Another example of personalization comes in when handling the sales funnel. The content shared with a user can vary depending on which stage of the sales funnel they are in. For an intermediate-level jazz player, receiving a beginner's basic guide to learning jazz could be a waste of time. So focus on creating personalized content for a higher engagement rate.
5
Do Benefit from Podcasts
With Spotify making multi-million dollar deals with celebrities like Joe Rogan, it's clear that podcasts have become the internet's new favorite thing. What caused its popularity? The need to connect with the content producer on a more humanistic level rather than reading a wall of text.
This conversational medium is what calls for the adoption of podcasting in your digital content strategy. What this indicates is that businesses are at the least willing to adopt a more conversational tone, giving consumers a break from the robotic and stale style of content writing.
The good thing about podcasts is that it also gives you the opportunity to breed new ideas and be inspired by the knowledge of other guests; making it easier for you to brainstorm new ideas for the helpful content.
6
Don't Underestimate Video Marketing
Video marketing plays a common part in the creation of a digital content strategy, which undoubtedly helps attract a larger audience. Of course, while both podcasts and videos are powerful tools for attracting audiences, it's important to consider which of these two best suits your market niche.
In case your content is based on graphic designing, discussing TikTok logos on a podcast would not make sense. Moving forward, let's have a look at some stats that can help you understand how videos can help in the creation of a successful campaign.
In 2022, it's amazing that videos are 53x more likely to make it to the first-page of SERP ranking.
84% of consumers are convinced to purchase a product after they watch the video catalyze video on the internet..
The good thing about leveraging the medium of videos is that it can help attract a larger audience based on their preference for a certain medium. These sessions in turn can help you create lots of content for your website such as articles, videos, infographics and more.
To Sum It Up
Digital Content Strategy is the way forward in 2022. Today, due to the ever-growing market competition, it's not as easy as it earlier was, to successfully bear the fruits of your content marketing efforts, unless you focus on building a robust content strategy that caters to the changing dynamics of the market.
For this very reason, it's crucial to keep in mind the do's and don'ts that we've discussed in this article, as these changing trends can massively help marketers in devising a successful content strategy in 2022.