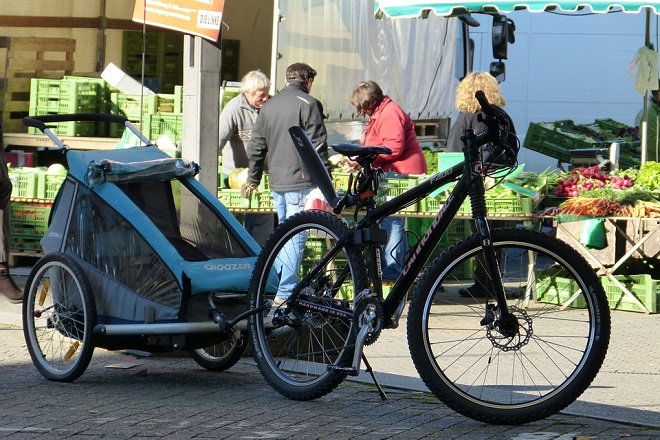 The debate over bike cargo trailers versus bike-mounted bags is generally addressed from the perspective of bike touring. However, the comparison between these two modes of bike transport is just as important to bike commuters and anyone using their bike for errands and chores.
Wisely choosing between a bike cargo trailer for dog transportation or a set of bike bags will likely be measured in achieving the best overall use of the gear you invest in. For example, if the majority of your use of bike cargo carrying equipment is carrying large items around town, a two-wheeled bike cargo trailer might suit you best.
This trailer could also serve double-duty for a week-long bike tour, and though it may not be perfectly suited for this singular use, the multi-use aspect will provide long term value. For someone who can benefit from and budget, the expense of setups chosen for both bike touring and bike commuting, the specific gear for the two different yet closely related activities will often end up being used interchangeably and in combination.
I suspect that many bike expeditions are begun after the cyclist blindly chose new panniers and racks or a new bike trailer without having had the opportunity to really test, compare, and understand the differences. If you are comparing bike-mounted bags and bike cargo trailers in preparation for anything longer than a 2-week bike tour, I strongly recommend that you borrow or rent both types of setups for a serious comparison. See if you can borrow a bike with a full setup of front and rear racks and panniers and take it on an overnight bike tour. Then do the same with bike cargo trailers, where, if possible, try out both a single-wheel trailer such as a BOB or Extrawheel and a two-wheel trailer such as the Wandertec BONGO or Burley Nomad.
If you do not have the time or opportunity to test and compare before embarking on a long-distance bike tour, careful consideration should be made to narrow down your choices. For bike commuting or doing errands by bike around town, the weight of the choice is less critical. But on a 3,000-mile cross country bike tour, a setup that has handling characteristics that first seem "less than ideal" can quickly turn into a major annoyance.
Whether you are preparing for a bike tour and you are making a last-minute decision or spending time on a well researched, educated choice or if you are preparing for bike commuting or other local utility cycling, this article will help you to narrow down your options and understand the most important differences between bike-mounted bags and bike cargo trailers.
Terrain:
The variety and types of terrain that you ride on are something that will quickly narrow down and often be the most important determining factor in your choice between bike trailers and bike bags. With the spectrum of bicycle styles capable of handling such a wide variety of terrain, a discussion about all the nuanced types of roads and terrains that various bicycles might go on can get bumpy quite quickly. So I've classified four general categories of terrain.
Wide & Smooth:
Includes maintained paved roads and paths. Wide & Some Roughness: Includes maintained dirt and gravel roads, unmaintained paved roads and paths, maintained cobblestone roads and roads with frequent curb hops and potholes. Narrow or Wide and Rough: Includes a relatively smooth single-track trail, most unmaintained dirt and gravel roads, and unmaintained cobblestone roads. Narrow or Wide and Very Rough: Includes a very rough single-track trail, very rough unmaintained dirt and gravel roads, and riding off-trail.
There are going to be some fuzzy lines between these four terrain classifications. For example, where is the exact line between maintained and unmaintained paved roads? And it is important to mention that it is not very common that a touring or commuting cyclist will be riding exclusively on just one terrain type. Most bicycle tours that follow off-road routes will likely have quite a few smooth sections as well. Meanwhile, bicycle tour routes following smooth roads and paths might only rarely venture onto sections that are slightly rough, such as maintained dirt roads. But being prepared for rougher conditions is a good idea as route information can be inconsistent and might change quite quickly.
Whatever the intended terrain that your equipment is for, becoming aware of the capabilities and limitations will be very useful when unexpectedly rougher conditions come along or if the inspiration to venture on roads less traveled should arise.
Wide & Smooth:
For smooth tarmac riding, all styles of bike trailers and bike-mounted bags will perform effectively, and the choice comes down to a variety of other comparison factors discussed later in this article.
Wide & Some Roughness:
When the going gets a little bumpier, all styles of bike cargo trailers and bike-mounted bags will perform well and are suited to handle some shaking, jarring, and vibration. Two-wheel bike trailers offer the greatest challenges with this type of terrain because they are difficult to navigate through bumps and potholes. Often, you will navigate your bicycle between bumps, but one or both of the spread-out trailer wheels will roll right into the bumps that you carefully avoided.
Narrow or Wide and Rough:
When the going gets rough, and the trail gets narrow, your cargo-carrying options narrow as well. The narrower the trail, the narrower you will want the profile of your bike and equipment to be. This usually eliminates two-wheeled trailers as a viable option. Conversely, single-wheel trailers have a narrow profile, roll through rough spots, follow the path of the bicycle, do not tip over, and support most of the weight of the cargo load. Bike panniers are frequently used on a single track, however, they may catch on rocks and snag on bushes on the side of the trail.
Panniers vibrating in rougher conditions can sometimes cause them to pop off. Riding on rough trails with heavily loaded panniers can put a lot of extra stress on a bike's wheels, suspension, and frame. A new style of bike-mounted bag setup that mounts inside of the bike frame's triangle and combines with oversized handlebar bags and saddlebags is becoming increasingly popular for mountain bike and ultra-light touring. This setup is lighter and offers a narrower profile yet also has limited capacity, and the full-size frame bags are difficult to standardize and are generally custom made. Cyclists often augment the limited capacity of this setup with a cycling-specific backpack.
Narrow or Wide and Very Rough:
One way to summarize this type of terrain is to say that when it is encountered, many cyclists will choose to walk through is. However, with a good mountain bike and the right bike cargo trailer or bike-mounted bags, very rough terrain can be navigated through. A single-wheel trailer, like the BOB, can handle much of these conditions. But even the BOB Trailer can have issues with the front of the cargo area catching against rocks.
The Extrawheel Voyager Trailer is perhaps the best-designed bike cargo trailer for these types of rough conditions with its short length and ability to roll over anything the bike rolls over. With bike panniers, the issues of catching on the trailside obstacle or popping off are further amplified the rougher it gets. While it is possible to use racks and panniers in very rough conditions, it should be done with moderation and caution. An ultra-light mountain bike touring setups (explained in Narrow or Wide and Rough) is well suited for rough conditions, especially if the overall weight of the load is kept down.
Load Size:
By size, I mean the total volume and weight of the cargo being transported.
Load Requirements:
While the options defined by terrain are quickly narrowed by clear limitations, especially if you are considering riding in rough or very rough conditions, choosing between options that satisfy your load requirements is much more about satisfying your preferences. The challenge is to reconcile your personal packing style with the available options for your cargo load's requirements in regards to size, shape, variation, organization, additional or specialized carrying capacity, weather protection, and theft protection.