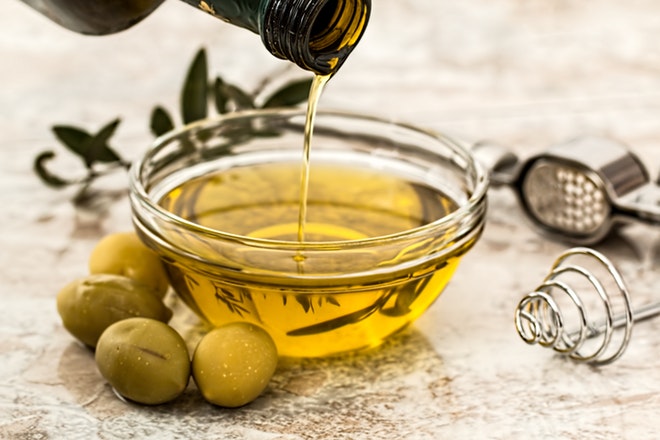 Experts agree that the best way to get CBD into your system fast is to drop the oil beneath your tongue — but sublingual administration isn't all that fun. If you aren't terribly concerned about dosage and you enjoy experimenting in the kitchen, consider trying out any of the following top-rated CBD recipes.
A Note on What CBD Products to Use in Cooking
Before you start playing around with CBD recipes, you should learn a bit more about CBD and the CBD industry. While it's cannabinoid cousin THC is federally illegal and exceedingly regulated to prevent overdoses and other risky consumption, CBD isn't deemed dangerous, and thus it is available everywhere and in almost every form.
On one hand, this means you should feel comfortable experimenting with CBD in your kitchen without fear of threatening side effects; on the other hand, it means that everyone and their mother is peddling CBD products, and you need to be a bit choosy with which products you buy and use. Because the CBD is utterly unregulated, many so-called CBD sellers put little or none of the cannabinoid in their products, and others add toxic substances like lead and arsenic. It is of the utmost importance that you vet your CBD provider before your buy, so you can be sure you are getting the right amount of CBD and none of the poisonous extras.
You can read more about CBD — what it does, how it works and why it's legal — here: https://weedmaps.com/learn/dictionary/cbd/. Then, without further ado, we can get onto the recipes.
CBD Guac
3 avocados, peeled, pitted and mashed
1/2-cup diced onion
2 Roma tomatoes, diced
3 tablespoons chopped fresh cilantro
1 jalapeno pepper, seeds removed and diced
1 lime, juiced
2 garlic cloves, minced
1 teaspoon salt
3 teaspoons CBD oil
In a medium bowl, combine all ingredients. Refrigerate 1 hour before serving. To prevent guac from turning brown, keep in a sealed container.
(Modified recipe from Downshiftology: https://downshiftology.com/recipes/best-ever-guacamole/)
Penne Rosa
1 tablespoon olive oil
4 cloves garlic, minced
1 pinch crushed red pepper flakes
8 ounces button mushrooms, sliced
2 medium tomatoes, (about 1/2 lb.) chopped
Salt and pepper, to taste
4 cups fresh spinach
1/2 cup marinara sauce
1/3 cup plain Greek yogurt
6 tablespoons CBD oil
12 ounces whole wheat penne, cooked
1/4 cup grated parmesan cheese
Heat olive oil over medium-low heat, add garlic and red pepper flakes, and cook until garlic begins to soften. Add mushrooms, tomatoes, salt and pepper, and cook until mushrooms begin to release water. Add spinach and cover, allowing spinach to wilt for about 2 minutes. Remove the lid, and stir in marinara sauce. Remove from heat, and rest for 5 minutes. Stir in Greek yogurt, CBD oil and cooked penne until everything is amalgamated and coated. Serve topped with parmesan cheese.
(Modified recipe from Wholefully: https://wholefully.com/penne-rosa-5/)
Hemp Protein Bars
2 tablespoons chia seeds
6 tablespoons water
1 1/2 cups rolled oats
3/4 cup walnuts, chopped (or any other nut)
1 cup dates, chopped (or any other dried fruit)
1 cup coconut flakes
1/2 cup hemp protein powder
1/4 cup sesame seeds
2 tablespoons poppy seeds
2 teaspoons cinnamon
1/2 teaspoon salt
3 ripe bananas
1/4 cup sunflower oil (or any cooking oil)
2 teaspoons CBD oil
2 teaspoons vanilla extract
3 tablespoons maple syrup
Preheat oven to 350 degrees Fahrenheit. Mix chia seeds and water in a small bowl, and set aside to soak. Combine all dry ingredients in a large bowl. Use a food processor to blend bananas, oils, vanilla and maple syrup, and then add the chia gel. Pour wet ingredients into dry ingredients, and stir until combined. Spread the batter evenly into a baking pan, and bake for 20 to 25 minutes or until golden brown. Refrigerate in an airtight container.
(Modified recipe from My New Roots: https://www.mynewroots.org/site/2011/07/totally-baked-hemp-protein-granola-bars-2/)
Homemade Eggnog
6 large eggs, separated
1 cup granulated sugar
2 cups whole milk
1 cup heavy cream
1/2 to 1 1/2 cups
3/4 teaspoon CBD oil per mug, as desired
Freshly grated nutmeg, for serving
Keep both egg whites and egg yolks in separate bowls. Whisk yolks with sugar until smooth, creamy and lightened. Whisk in milk, cream and CBD oil. Cover and refrigerate for at least 1 hour. Whisk egg whites into stiff peaks, and fold egg whites into eggnog base. Serve with grated nutmeg and more CBD oil, if desired.
(Modified recipe from The Kitchn: https://www.thekitchn.com/how-to-make-homemade-eggnog-cooking-lessons-from-the-kitchn-214298)
These recipes should get you started on a long and satisfying journey into cooking with cannabinoids. Once you get the hang of using CBD in the kitchen, you should experiment with your own recipes to find the dishes that bring you joy.