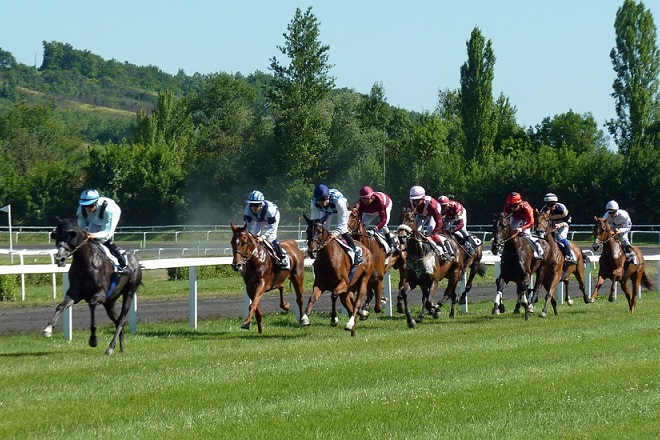 For anyone new to horse racing, the terms, race types and complicated betting may seem daunting. The good news is that this exciting sport isn't as complex as it first appears, and you can quickly gain the knowledge you need to watch and bet on horse racing with ease. Here's a brief guide to the fascinating world of horse racing.
Types of Races
In the UK, there are two key categories of horse racing which are known as flat or National Hunt racing. The simplest of these two groups is flat racing which requires the horses to run on a flat racetrack on either a straight or curved course until they pass the finish line. National Hunt racing, however, is a bit more complicated and requires the horses to tackle hurdles, fences or ditches as they make their way around the track. National Hunt races can be categorised into a further two groups – hurdles and steeplechases. The more complex of these two race types is the steeplechase, which includes higher fences, open ditches and water jumps, making for a truly exciting race.
Both flat and National Hunt racing includes a series of classifications which determine the level of prestige the race has and also influences the size of the purse or prize money available to the winners. The highest classification in flat racing is Group 1 which brings in the very highest calibre of horses and also the highest prizes. Group 2 and Group 3 are the following classifications, followed by listed races and handicap races. Handicap races mean that the horses are assessed in terms of their ability and a weight is assigned for them to carry – the better the horse's ability, the more weight they are expected to carry, which provides an exciting but more importantly balanced race.
Terminology
There are a lot of terms and phrases that come with watching horse racing that may be confusing to you if you're watching a race for the first time. While some you can get away with not understanding straight away, others are key to understanding what is happening in the race and also what you're betting on.
The Classic races refer to Grade 1 competitions which are open to three-year olds and above in the UK. There are five Classics – 2,000 Guineas, 1,000 Guineas, Oaks, Derby and the St Leger.
Colts and fillies refer to male and female horses respectively, while a novice is a horse which is racing in its first season of that specific code of racing, as races often have age-specific conditions.
A chase is the race which is run over fences, while allowance refers to the deduction in weight that a horse has to carry. This may be because of the age of the horse or the gender, or even because the jockey is an amateur or more experienced.
Finally, when it comes to placing bets, you may hear the term outsiders. This refers to horses which have an unlikely chance of winning, which may affect the odds placed on them, it's not so different from casino games.