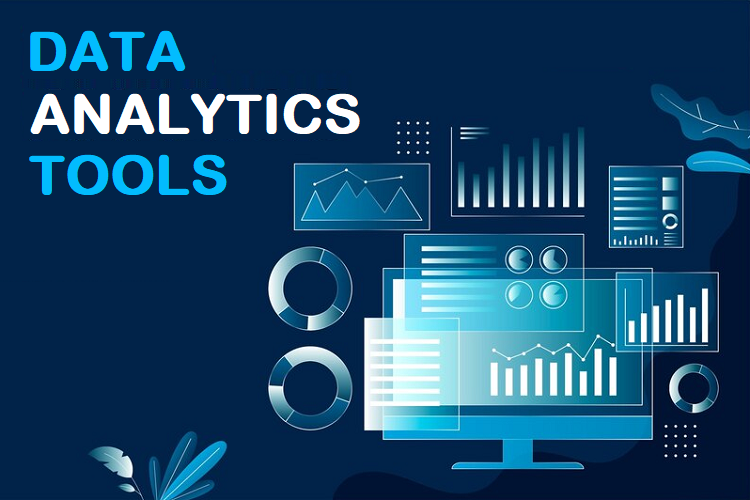 Are you still making decisions randomly?
Think again! You would be surprised to know that the corporate world has shifted its reliability to data-based decisions. Manual and random strategy-making is minimized. The reason is the convenience, effectiveness, and dynamic features that come up with data analytics tools.
These tools can take you to another world of thinking where minimal efforts would be required to input in order to obtain realistic strategies. They can let you think beyond what you do. But, it is a must to include algorithms that are correctly drawn and tested. You will be surprised to see that data actually speaks. Various charts and graphs introduce this capacity into them.
Considering the market size of data analytics in 2023 will reveal that it is $85.28 billion and is likely to reach up to $215.14 billion by 2028. This figure could reach up to $393.35 billion by 2032, as per a report.
It's obvious that the demand for AI-driven data analytics tools is going to be skyrocketing. Let's check out top 10 data analytics tools for easing analysis.
Top 10 Data Analytics Tools in 2023
Let's catch up with a few of the most interactive data analytics tools for data scientists in 2023.
Tableau is popular for being able to visualize data. The concept of data visualization is based on simplifying and making data highly interactive. The overall purpose of using this tool is to introduce easiness in understanding complex datasets. Many strategists and data scientists use it to create insightful dashboards, which reduce the hassles in creating strategies and models (for machine learning and artificial intelligence).
This tool is itself machine learning-driven, which can help you foresee what's going to happen in your business, market, or anywhere.
Key Features
Convenient Visualization: Its drag and drop option make it convenient to visualize data in no time.
Real-Time Data Flow: With this tool, you can attract real-time data from various databases. It powers swift processing for business intelligence.
AI-Driven Insights: Being equipped with AI-driven insights, it enables proactive decision-making.
This data-based tool is a big support for scientists who deal with datasets. As its name suggests, it can quickly mine algorithms for machine learning, which helps in foreseeing future trends. Being an automatic tool, it can make data mining effortless for beginners and experts. Those who are in this domain won't have to put many efforts in drawing and deploying predictive models.
Key Features
AutoML: Drawing patterns from a pool of datasets is no less than a nightmare if you have to do it manually. This tool makes it more streamlined and easier.
Scale Up Data: This tool has a capacity to house as many datasets as you want at any point of time.
Pre-Built Libraries: Pre-built templates consist of all source files in a project that can be further used to compile and link in various projects.
This tool is basically used to bring the whole set of data into visual formats so that intelligence can be drawn effortlessly. This is mainly popular among the community of Azure Machine Learning experts. The reason is its extraordinary features and ability to see beyond datasets, seeing business forecasting, detecting anomalies, and more.
Key Features
Easy updates: It comes up with product updates every month.
Draw insights: This automatic tool lets you draw insights from a large pool of data.
Visualization: You won't have to put a ton of efforts to create custom visualizations with R and Python. Even, you can create insightful maps through data.
Compatible Tool: As informed, it can be incorporated with Azure machine learning.
This tool requires no introduction because of its popularity and widespread use. Excel has been used to create insightful reports using its broad spectrum of functions. And the best part is its ever-evolving functions, such as Power Query and Power Pivot functionalities, which appear in a crucial role in processing datasets.  Besides, it provides great scope for the integration of Python and R scripts so that machine learning-driven advanced analytics can be powered through it.
Key Features
Famous Choice: Being in usage for ages, corporate users are fond of it.
Collaborative Tool: As aforesaid, data science practices can take place using Python and R as it allows their integration.
Easy Summary: Now, summarizing data won't take hours or days because of its pivot tables.
KNIME (Konstanz Information Miner) is extremely popular for being studded with its inherent modular workflow. Data specialists store documents here to process and get into insights. It also comes up with a robust integration of multiple extensions so that machine learning libraries can access relevant data effortlessly. This ensures that you obtain intermediate results quickly.
Key Features
Expand Easily: This tool is enriched of scalability feature, which helps in data handling with sophistication so that automatic caching of data continues to go on.
APIs : You can find well-defined APIs for plugin extensions, which ensure quick data extraction.
Multitasker: It allows you to execute multiple processes simultaneously on multicore systems.
Libraries: You can see a comprehensive range of nodes in its prebuilt libraries for proactively transforming data.
With this tool, data scientists, various strategists, and decision-makers won't have to struggle in getting into insights. Its effortless visualization allows these strategists to go through and discover algorithms, which later become machine learning patterns. In case of having multiple databases located differently, it enables users to call them at a place so that its cognitive engine can discover useful information.
Key Features
Associative Model: It can incorporate multiple data sources so that the user can view and get into insights from original sources. You can observe associations through interactive selections and smart search option. This tool showcases associations through a specific colour scheme, which helps in measuring results like a breeze.
Smart Visualizations and Analytics: Visualization refers to increasing interactivity and understanding through charts, graphs, and other visuals. This tool meets all aesthetic standards and the capacity to adjust visuals as per changes and screen size. For instance, its  Qlik GeoAnalytics feature can let you perform advanced mapping and calculations through visuals.
Self- Service Creation: Being able to prepare and load data itself through a drag and drop option, data scientists don't have to struggle with scripting and passing queries. Even if you're not a data scientist, this tool can perform end-to-end Extract, Transform, and Load functions automatically.
Centralized Sharing and Collaboration: This tool allows sharing reports and application with other users, who can be individuals or a group, through a centralized database. Simply put, it creates a shared network to support remotely located teams or individuals.
Data Storytelling and Reporting: It comes with storytelling via data feature, which provides intelligent and contextual details to generate visuals for data analytics. So, this software strengthens the way to build a picture and give a perspective on the whole data for quick analysis.  Once done with this, it can be used to create an insightful report, save, print, and export it as a PDF, Powerpoint Presentation, Excel Sheet, etc.
Mobility: Its compatibility with every device allows you to access it anywhere, and at any time. You can explore its gesture-based touch user interface to control and manage data effortlessly.
Embedded Analytics, Custom Applications, and Extensions: Creating a customized and guided application with this tool is easy because it carries a standard API. For a deep analysis and visualization, it has a provision to use extensions and plug-ins like Visual Basic.
Data Preparation and Integration: For preparation and mining, data have to go through the ETL process. This tool has several checkpoints to load, cleanse, transform, associate, and integrate datasets with other sources. Non-technical users can use its drag-n-drop features, whereas data scientists can use the ETL script for a challenging integration task. The software itself offer suggestions for ideal associations. Or, one can use its products like Qlik Connectors or Data Market to prep up and integrate datasets from third-party extensive libraries, cloud or web-based resources.
This is an open-source platform for rapid data processing. To further discover its features, read below:
Key Features
Fault Tolerance: This tool has a capacity to manage work node failures through DAG and RDD (Resilient Distributed Datasets). You can explore DAG, consisting of a series of transformations and actions, to complete this task. Overall, it can rerun the steps from the existing DAG to achieve fault tolerance.
Dynamic nature: It has an 80+ high-level operators that ensure building parallel apps.
Lazy Evaluation: This tool does not transform data in a lightening-fast speed. Instead, it uses lazy evaluation format because the DAG witnesses the transformation, and the final results emerge only when actions are called. This kind of slow processing ensures optimized decisions to make.
Real Time Stream Processing: The real-time data can stream processing in it by using its language-integrated API. It is similar to writing batch tasks.
Speed: This tool enables Hadoop-based applications to work a 100X faster in memory and upto 10X faster on disk. It simply happens through minimal disk read/write functions, This hack lets the results store in the memory, and starts performing disk operations when needed. DAG, query optimizer, and highly optimized physical execution engine successfully execute it.
Reusability: Its code proves a milestone in batch-processing, where it joins real-time data against archived details. With this happening, ad-hoc queries run simultaneously on streaming details.
Advanced Analytics: This tool is indeed helpful in big data processing across multiple industries. Machine learning algorithms together with graph processing libraries simplify complexity, and hence, resolve problems. This tool comes with a significant feature of scalable clustered computers. It integrates databricks to power advanced analytics.
Supporting Multiple Languages: This tool supports multiple languages, such as R for data analytics, SparkSQL for SQL developers.
Integrated with Hadoop: Its integration capacity allows it to gel up with Hadoop file system (HDFS), supporting multiple file formats, such as parquet, json, csv, ORC, Avro etc.
Cost efficient: This open-source tool is actually affordable because there is no licensing fee associated with it. If you consider its hardware, it may be pricey. But, it's economical when it comes to utilizing inbuilt features for streaming data, which ends up in processing, ML derivation, and graphic processing.
This tool is created by Looker Data Sciences, Inc. It's an American software company based in Santa Cruz, California, which became a part of Google in 2019 as its Cloud Platform. It is actually useful for being a multitasker, such as visualizing data and filtering business intelligence.
Key Features
Data Exploration: This tool comes up with tools that enable exploration for filtering, sorting, and drilling down into specific data points.
Drag-and-Drop Interface: Like Visual Basic, this tool has a drag-and-drop interface. With this tool, tailoring an understandable report and dashboard is way easier. It's that simple to use that even a non-technical person can access and use it.
Data Modeling: Like other advanced tools, it has abilities to prepare data models while establishing relationships and intelligence within that data. For this purpose, it collates data from different ways across an organization. This creates a shared network to use a large and complex set of databases.
Customization and Branding: So, you can offer customization and branding options, which can help organizations to integrate brand colours, logos, and other elements that match the brand's identity.
SAS is also famous for being able to manage a huge volume of data. With the support of this information, you get enough source to generate intelligence through advanced analytics. This platform has this much capacity. Data scientists trust it for having an array of tools that ease data analysis and deriving patterns. Now, its upgraded version is available, which is rich with artificial intelligence and machine learning.
Key Features
Data Integration: For simple integration, it allows users to efficiently call in and out (import and export) data for further cleansing and transforming datasets from various sources. This is how one can prepare data for further study and strategies through diverse datasets.
Statistical Analysis: Herein, you can be happy to use a wide range of statistical techniques, descriptive statistics, regression analysis, hypothesis testing, and more, and procedures so that it becomes comprehensive.
Data Visualization: An individual can access it visualization capacities to create comprehensive graphs, charts, and reports. This can make it a few minutes' task to analyze complex datasets.
Machine Learning: Machine learning features, such as classification, predictive analysis, or  clustering with deep analysis help in strengthening artificial intelligence. It produces predictive models, which are realistic and working.
Security and Compliance: This tool has encryption capability, which secures data and also manipulates for safe auditing.
This is an analytics suite, which has artificial intelligence and machine learning working in the background to automatically analyze data. Its interactive features allow users to tailor their dashboards while enclosing visualized data in the form of charts, graphics and other visuals.
Key Features
Data Preparation: The machine learning capacity necessitates fast pre-processing and ETL process.
High-Performance Analytics: Through a comprehensive range of visuals and real-time insights, it's way easier to get deep into them and draw valuable and realistic solutions.
Integration Options: This platform is indeed rich and collaborative, as you can club data from internal and external sources here.
Custom Dashboards: It has an extensive range of tools to create an interactive dashboard that can be tailored for quick understanding.
AI-Driven Insights: With it, one can easily utilize machine learning, which helps in foreseeing and specifically analyze data
Data Security: You won't easily face any trouble in securing your sensitive data in it, as it has in-built robust security features.
Mobile Accessibility: Its compatible to mobile phones wherein you can open and use it smoothly.
Scalability: For growing data needs, this platform is ideal. It means that you can have as many datasets as the project requires.
Collaborative Environment: You can use its rich features that enable easy sharing and collaboration among team members.
The aforementioned checklist of top data analytics tools can help you a lot in determining what data states. This is how informed decisions can be made without any hassles. With insights in place, you can predict, detect anomalies, segment databases, carry out natural language processing (NLP), and even provide personalized solutions to end users. It's all because of automation that these tools can help with.
Conclusion
Data analytics tools have become the need of the hour in the present scenario, wherein every decision has become crucial. And the best part is that we have automation-driven tools that can win half the battle for any businesses. Here, the concern is to find the best data analytics tools that can prove really helpful. So, here is the list of top 10 data analytics tools, Tableau, RapidMiner, Sisence, SAS, Looker, Qlik, Apache Spark, KNIME, Microsoft Excel, and Mircosoft BI, etc. This list can be helpful for those who are actually looking for some valuable resources to visualization.