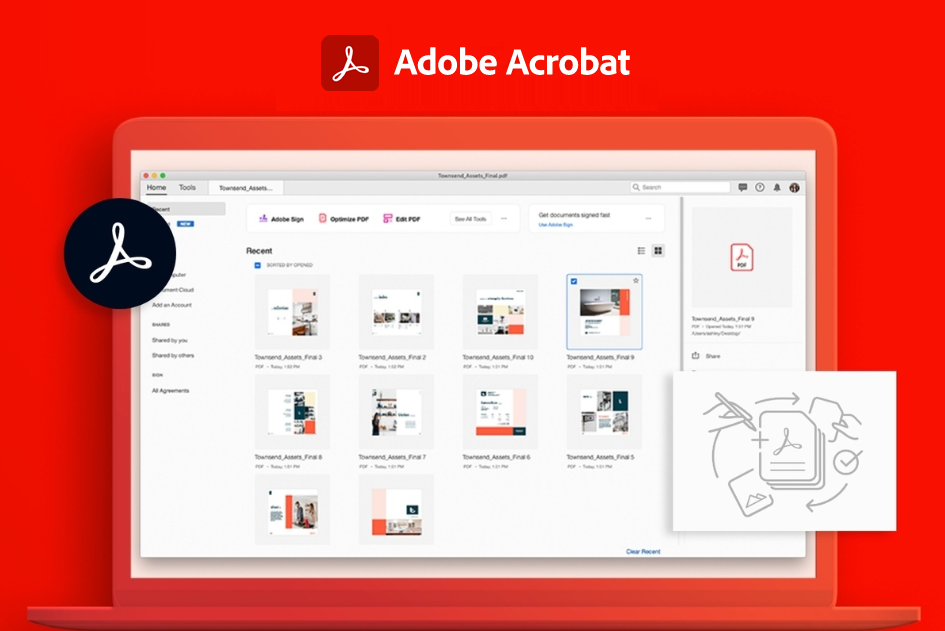 Are you unsure whether to purchase the version of Adobe Acrobat Standard DC or Adobe Acrobat Pro DC? To help you decide, we've compiled a detailed comparison and differences between Adobe Acrobat Standard vs Pro. Adobe Acrobat DC Standard is available for $12.99 per month, while Adobe Acrobat DC Pro is available for $14.99 per month.
What is Adobe Acrobat?
Since its initial introduction, Acrobat has been a workflow pillar in the publishing business. Adobe Acrobat is utilized in numerous fields, including education, administrative services, business, and information technology documentation. It is utilized to produce applications, registration forms, survey forms, user guides & manuals, and classes.
Adobe PDF documents preserve all fonts, graphics, images, color, and layout from any source document, independent of the platform or application used to create it. Adobe Reader is a freeware tool that enables users to view, share, print, navigate, and save PDF files.
History of Adobe Acrobat Versions
Adobe Acrobat Reader 1.0, the first edition of Adobe Acrobat, was published for $50 in 1993. This software was criticized for being very slow, despite the fact that it could create PDFs and make text searchable.
Adobe systems worked on the issue, and it was upgraded to versions 2.0, 3.0, 4.0, and 5.0 before being renamed Adobe Reader in July 2003. Customers continued to criticize the program despite the modifications, alleging that it was still sluggish and that the plug-ins were irresponsible. Adobe Systems enhanced Adobe Acrobat XI in 2012 to improve the software's quality and performance.
Editing, an intuitive user interface, and compatibility difficulties were incorporated. They progressed from Acrobat Standard to Acrobat Pro to Acrobat Suite. These versions must be compared in a table in order to obtain comprehensive guidance and developments.
Currently, Adobe Acrobat offers the following advantages:
Create PDF Files from Almost Anything
Using an integrated virtual printer in Windows 10 and macOS, you can print nearly anything as a PDF file. However, the technique has several restrictions and downsides. When I attempted to print web sites as PDFs, for instance, I received jumbled visuals, missing or cut-off text, and a host of other problems. I either learnt to accept it or adjusted the print settings to improve the quality.
Edit PDFs from a Single Platform
If you only need one document, you can save it in PDF format using Microsoft Word, PowerPoint, or Excel. If you need to make changes, you will have to return to those applications and download and resave many files separately, especially if they are saved on cloud storage services.
Acrobat 2020 allows you to manage all of your documents, including those on Google Drive, OneDrive, Dropbox, and other cloud storage services. Pages can be rotated and changed, and rich material such as video and audio clips can be embedded.
Collaborate Easily
Send for Review (Send for Comments on macOS) helps you organize information from numerous sources. Reviewers receive an email invitation with a link to the review document, which they can update using a variety of tools. Utilize the Sticky Note and Highlight features to write notes and highlight portions that require editing.
Both give a number of color possibilities, as well as the ability to adjust the opacity of notes and the line weight of highlights to make them stand out more. Markup functions include underlining, striking through, and adding text with pop-up notes, which allow you to write in suggested information without modifying the document. To save time on typing, you can even record and add an audio comment to a document.
Adobe Acrobat Standard vs Pro – Similarities
Because the majority of the most significant features are included in both editions, it's easiest to begin by comparing Acrobat Standard DC and Pro DC. For example, both Standard and Pro versions permit the generation of PDFs.
Converting documents and images to PDF, producing PDFs from any application that prints, integrating several documents into a single PDF file, and converting web pages to interactive PDFs with live links are just a few examples.
Additionally, both versions offer rudimentary PDF editing. Incorporate Page numbering, bookmarks, headers, watermarks, convert PDFs to Microsoft Office files, and various picture formats.
Use Acrobat Standard DC and Pro DC to exchange and collaborate on documents. Send them an email attachment or a link to the file on Adobe Document Cloud. They can comment, markup, sign, and receive real-time activity notifications.
Adobe Acrobat Standard vs Pro – Differences
After you've learned the essentials, a few critical differences between Acrobat Standard DC and Acrobat Pro DC may affect your selection.
Scanned and Searchable Documents
Numerous customers rely on the capability of scanning paper documents and converting them to searchable, editable PDF. Adobe Acrobat Pro DC is required. It recognizes text in many languages, making it straightforward to locate and modify data within a document.
Enhancements to the Editing Process
It includes a few extra functions than Acrobat Standard DC, which may be necessary for some scenarios. Unlike Acrobat Standard DC, Pro DC allows you to redact sensitive information from documents to hide them from particular visitors.
Acrobat Pro DC now includes the ability to include audio, video, and interactive objects in PDF documents. Pro DC is the only edition that supports Bates numbering if you work with legal documents.
Acrobat Pro DC enables text and graphic editing on your tablet or phone, reordering, deleting, and rotating PDF pages, and filling and e-signing PDFs.
Document Comparison
If you send many documents out for review, you'll need an efficient means to confirm that all essential changes have been made. Only Adobe Acrobat Pro DC enables simultaneous comparison of two PDF versions. Additionally, you can read and print a comparative report and a summary of changes by filtering the types of changes you want to see.
Operating System Support
For Mac users, this will be the decisive point. Only Acrobat Pro DC is cross-platform compatible with Mac OS and Windows; Acrobat Standard DC is available exclusively for Windows.
Pricing
Both versions are available monthly or annual subscriptions, with Acrobat Pro DC significantly more expensive. Acrobat Standard DC is available on a monthly subscription basis for $23. If you sign up for a yearly subscription, the price reduces to $12.99 per month or $155.88 per year. Acrobat Pro DC membership costs $25 per month, but when purchased annually, the price drops to $14.99 per month, or $177.88 charged annually.
Quick Comparison
Features
Acrobat Standard
Acrobat Pro
Interact with PDFs
View, interact and comment on PDF content
✔️
✔️
Store, manage and share files online
✔️
✔️
Track activity for agreements sent for signing
✔️
✔️
Access, edit and store in your Box, Dropbox, Google Drive and Microsoft OneDrive accounts
✔️
✔️
Take advantage of MacBook Pro Touch bar support
❌
✔️
Compare two versions of a PDF to review all differences
❌
✔️
Measure the distance, area, and perimeter of objects in PDFs
❌
✔️
Manage, organize, and search for PDFs from a single place in home view
✔️
✔️
Create PDFs
Convert documents and images to PDF files
✔️
✔️
Create PDFs from any application that prints
✔️
✔️
Create, protect, and send PDFs in Microsoft 365 apps for Windows
✔️
✔️
Combine multiple documents and file types into one PDF file
✔️
✔️
Convert web pages to interactive PDFs, complete with links
✔️
✔️
Prevent others from copying or editing information in PDFs
✔️
✔️
Create a password-protected PDF
✔️
✔️
Recognize text in scans and then preview and correct suspect errors with a side-by-side view
✔️
✔️
Automatically fix photos of documents to remove backgrounds and adjust perspective
✔️
✔️
Turn Adobe Photoshop (PSD), Illustrator (AI) or InDesign (INDD) files into PDFs from your desktop or mobile device
✔️
✔️
Create and export PDFs on your mobile device
✔️
✔️
Turn scanned paper documents into instantly searchable and editable PDFs with fonts that match the original
❌
✔️
Use one-click creation of rich PDFs and other Acrobat features within Microsoft 365
❌
✔️
Prepare PDFs consistently with guided actions
❌
✔️
Convert and validate PDFs for compliance with ISO standards like PDF/An and PDF/X
❌
✔️
Create technical PDFs in Microsoft Project, Visio or Autodesk AutoCAD
❌
✔️
Create and validate PDFs to meet accessibility standards for people with disabilities
❌
✔️
Edit PDFs
Edit PDF text and images with full-page paragraph reflow
✔️
✔️
Turn PDFs into editable Microsoft Word, Excel, or PowerPoint files
✔️
✔️
Convert PDFs to JPEG, TIFF, or PNG image formats
✔️
✔️
Insert, delete, rotate and reorder pages in a PDF
✔️
✔️
Split a PDF by extracting one or multiple pages
✔️
✔️
Add bookmarks, headers, numbering, and watermarks
✔️
✔️
Permanently remove hidden sensitive information in PDFs
✔️
✔️
Redact to permanently remove visible information in PDFs
❌
✔️
Add audio, video, and interactive objects to PDFs
❌
✔️
Add Bates numbering to legal documents
❌
✔️
Add or edit text and images on your tablet and mobile phone
✔️
✔️
Reorder, delete or rotate PDF pages on your iOS or Android device
✔️
✔️
Share and sign
Share links of PDFs for viewing, reviewing and signatures
✔️
✔️
Get real-time status and activity notifications for documents sent for viewing, comments, or signature
✔️
✔️
Collect group feedback in one PDF file with no reviewer log in required
✔️
✔️
Add comments to PDFs with a full suite of commenting tools including text editing, highlighter, and sticky notes
✔️
✔️
Collect legally binding e-signatures from others and track responses in real time
✔️
✔️
Digitally sign, certify, and verify documents
✔️
✔️
Fill, sign and send forms faster using data from your autofill collection on your computer or mobile device
✔️
✔️
Turn paper or Word docs into fillable PDF forms
✔️
✔️
Choose comments and export to Word
✔️
✔️
Mark PDFs with stamps, such as "approved" or "draught"
✔️
✔️
Enhance PDF forms by adding interactivity with JavaScript
❌
✔️
Automatically optimize PDFs to reduce file size and customize settings
❌
✔️
Preflight and prepare files for high-end print production
✔️
✔️
Table Source – https://www.adobe.com/in/acrobat/pricing/compare-versions.html
Which is the Best Choice?
The choice between Acrobat Standard DC and Acrobat Pro DC is a function of the services and features required by your organization. The rest is up to you all, you'll be the one who uses it.
Adobe Acrobat DC
Adobe Acrobat DC has a long and distinguished history as a market-leading PDF editor. Despite its ups and downs, the application has remained one of the best available PDF editors. It offers a lot of possibilities, which may be a little intimidating for some newcomers. However, it's still an excellent tool for those familiar with Acrobat DC.
Suppose you're searching for a straightforward, easy-to-use PDF editor for straightforward tasks. In that case, this is probably not the best solution. Acrobat DC is now one of the better solutions for users that require a high level of sophistication.
Key Features
Create and view PDF documents
All text, images, and forms are editable.
Enhance PDFs with highlights, comments, and stamps.
Completing PDF forms
Scan paper documents to create searchable PDFs.
Collaborate on Adobe Acrobat PDFs
Create, organize, and share a collection of documents.
Comparison of two PDF versions side by side
Convert Microsoft Office files to PDF.
A PDF file can be created using any application that supports printing.
Extract text from a PDF file.
Acrobat Standard DC is a cross-platform application that runs on Windows and Mac OS X.
Pros
Both Mac OS X and Windows are supported.
No further fees or subscriptions are required.
Provides a robust collection of PDF editing tools.
Cons
It is unsuitable for professional use due to its restrictions.
This software does not allow you to fill out PDF forms, e-sign PDFs, or gather e-signature signatures.
Adobe Acrobat Pro
Adobe Acrobat Pro is the industry's most comprehensive PDF management solution. Adobe Acrobat enables your job and organization to innovatively produce, share, and safeguard critical documents.
Adobe Acrobat Pro enables the creation of PDF files from any application that supports printing. Additionally, you may organize scanned images into PDF files and convert PDF files to various Microsoft Office file types for improved accessibility.
To combine numerous files into a single PDF document, download Adobe Acrobat. Include multimedia material in your PDF documents to increase their appeal. Finally, you can readily tell the difference between various PDF document versions.
Adobe Acrobat's password protection, access controls, and digital signatures assist you in safeguarding your business papers. Additionally, redact sensitive information from PDFs to restrict access to them to authorized individuals.
Adobe Acrobat Pro can generate fillable forms from a range of different sources. Convert scanned documents, Word documents, Excel spreadsheets, and PDFs to develop data collecting tools. With spreadsheet exporting options, you can filter and analyze data.
Key Features
The versatility of PDF
PDFs are beneficial for a wide variety of purposes.
Unmatched Safety
Allow for increased engagement.
Created with the benefit of groups in mind
Pane contextual
Preflight Variables
Pros
Simple to Use
Conversion in a Matter of Seconds
Preferences in Design
Collate
Password Security
Notes & Annotations
Completed forms
Document Scanning
Cons
Restricted features
Buggy
There is no method to change the format of the file.
There is no option for in-depth editing.
It's clear that Adobe Acrobat DC has many advanced features that are missing from Acrobat Standard. However, this software is not suitable for professional use due to its restrictions. It is great for businesses and individuals who want to view PDFs and quickly make changes.
Acrobat Pro is far more expensive than Acrobat Standard DC. In spite of its high cost, it is suitable for professionals. It is the perfect choice for those who need to edit PDFs and collaborate on documents.
To Sum it Up,
Acrobat Standard DC will suffice if you're a Windows user who utilizes PDF only for document creation, modification, and transfer. Acrobat Pro DC is best suited for business users and those with specific requirements, such as data protection. Additionally, it is the sole choice available to Mac users.