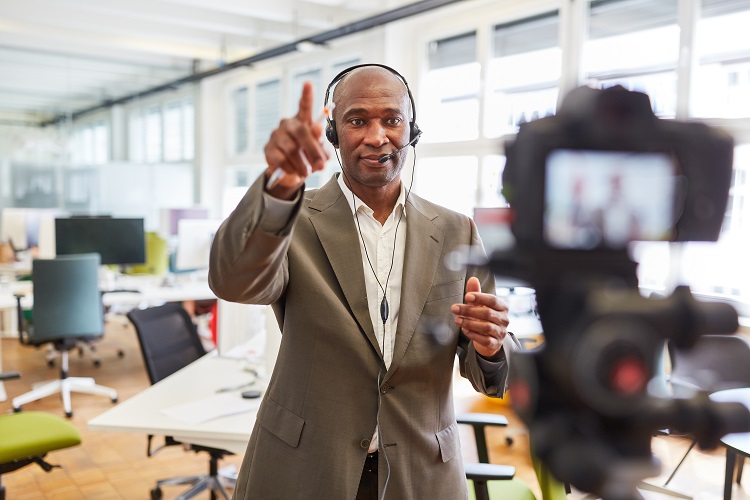 From exercise tutorials on YouTube to cooking shows on television, one can say that training videos are at every corner. Likewise, they also hold a powerful position in company training. 76% of employees that work in organizations of various sizes across different industries think that videos are an effective tool to ensure that new information is kept.
There are many reasons why training videos are more effective than other training means. First, it's versatile. There are a lot of approaches you can choose from, and the options for information dissemination are endless when you opt for videos. Second, it's more engaging than website articles, documents, and emails. Employees will not get bored learning new knowledge.
Lastly, they are measurable. By having a video hosting provider like YouTube for your training videos, you can measure the effectiveness of your training. It is done by looking at metrics shown by the video hosting provider.
Types Of Training Videos
Before we delve into the how's of making employee training videos, let's first know some types of training videos.
Animated
These training videos are videos that use fully animated videos to exhibit content. They come in various forms such as whiteboard animation, kinetic text, video, stop-motion, moving infographics, 3D, and explainers.
Presenter
This is where a speaker directly addresses the audience without any illustration in front of the camera.
How-To
Also called demonstration videos, these are training videos that illustrate a task and where learners are directed throughout the activity.
Interactive
A training video that integrates interactive elements, allowing learners to take the lead in their storylines and connect themselves in the process.
Screencast
These are screen-recorded training content that is most well-known with software demos and tutorials.
Overall, if you want to know about various training video examples, you can find them online.
4 Tips to Create Engaging Training Videos for Employees
Altogether, there are some ways to make truly engaging employee training videos that will help with their overall productivity. So, know them by reading on.
Set Goals and Objectives
Before making a engaging training videos, you must first delve into the broader training plan and understand the business objective. You should know the end goal of why you're creating it in the first place.
First, you and your instructional design team must know essential information about your audience and research their demographics to speed up the design process. After that, you and your instructional design team must jointly reassess the analysis for training needs. This approach will help you know the goal of the training video and how it's connected to the overall strategy.
Likewise, the reassessment with your instructional design team also allows you to access resources such as training support documents and presentation materials. These resources might assist in the video development procedure and amplify the effectiveness of creating a new training resource.
Overall, keep the objective concise, clear, and relevant, and let learners know about them before watching the training video.
Develop a Plan for The Training Videos
Now that you have set clear objectives, it's time to draw a plan. Though time-consuming, you must develop this plan as it helps make the training video a successful one. Here, you must know the subject matter and video type, build a team, and ensure that you have all the equipment to turn your training videos into reality.
Select a Video Type
You must decide what type of training video you're going to make. Is it a how-to? Is it an interactive one? Likewise, it depends on your goals, audience, stakeholders, message, and existing resources.
Build a Team
If you have a broad scope for the project, you may need assistance. Though one person can do some single tasks, other projects necessitate the need for a team composed of five to ten people. The delivery timeline and the number of training videos are factors to the size of your team.
It's ideal to have the right team capable of handling the tasks. It can be good if the people within the group are well-versed in videography, instructional design, graphic design, and video editing. It will help ease the process and make the training videos more effective.
Arranging All The Equipment
The video you have chosen will determine the equipment you'll use. For instance, your video project might require you to have multiple cameras, or you might need a license to maximize the features of a video animation software.
Use Effective Storytelling
Everyone loves a good story, and when it comes to training videos, poorly created and storyless content can result in your employees having less interest. And so, to prevent such kind of scenario, you must add intensity to your content by incorporating simple storytelling elements that will engage them and provide a fascinating experience.
Try to avoid making your online video courses too textbook-focused to start with this approach. Try to deliver exciting stories and thought-provoking ideas to help the learners to follow through with the topic and maintain essential knowledge.
For instance, if you want to instruct them on using a piece of equipment, begin by developing fictional characters presently having such issues. After that, you can start to provide some possible solutions to address them.
Personalize The Training Videos
Incorporate details into your training videos to allow your employees to participate more. Some examples of how you can do this are adding your company logo to the videos, turning your CEO into a custom cartoon character, and referencing the current friendly bowling rivalry between the sales and HR. Tiny details such as these can take your audience back in and assist in keeping their focus across the whole training video.
Another way to personalize the videos is by using animations. You can use some digital tools that give you the ability to import your assets or select from a library of stock photos and videos. Overall, animations help provide understandable instructions for too broad or complicated subjects. Similarly, it allows the corporate videos to be more fun and livelier.
Takeaway
Besides self-help tutorials, training videos also hold a crucial role in company training. Many employees think that videos help them retain new information. Similarly, there are other reasons why videos are ideal. Reduced training costs and better engagement are some of those reasons.
Overall, some essential things to consider when creating engaging training videos for employees include having objectives, setting a plan, incorporating storytelling, and adding personalization.