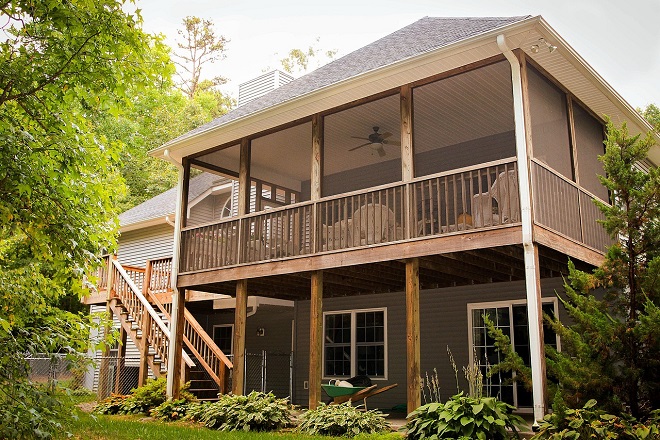 When you bought your home, the deck was likely a major selling point. Decks are attractive features on a home's exterior, inviting those who see them to relax and enjoy the outdoors. Decks make for excellent entertaining spaces, where friends and family can gather, grill or gab while the weather is wonderful.
However, if you haven't done anything to care for your deck since you bought your home, it is likely that your outdoor living space needs some TLC. Here are some ideas for improving the look and functionality of your deck this spring, so you can enjoy your deck fully all summer long.
Check Your Deck for Signs of Wear
If you do nothing else on this list, you need to perform regular maintenance on your deck to ensure that it is safe to use. Every year, you should inspect the structure for signs of weakness, which typically take the form of soft, rotted or wobbly boards and posts.
You can use this deck inspection checklist to make simple, inexpensive repairs to your deck, but you can also hire a deck professional for annual inspections to ensure your deck is safe and secure. If your deck is sound but a bit scraggly, you might refinish it, which involves cleaning, sanding and staining the wood.
Install a Deck Cover for Shade and Protection
Both sun and rain can make a deck unusable — unless you have a covering over your deck. Deck covers provide shade, which make an outdoor living space cooler and more enjoyable during the hot months, but they also protect you and your outdoor belongings from various types of precipitation that might otherwise drive you indoors.
Even better, you can install outdoor ceiling fans and overhead lighting beneath a deck cover, to improve the comfort, functionality and ambiance of your deck. Deck coverings come in all sorts of styles, from awnings and pergolas to extensions of your roof, and each option has its own benefits to consider.
Upgrade the Railings Around Your Deck
The railings around your deck are a necessary safety feature, but they can be stylish, too. In fact, changing your railings might be the most efficient way to enhance the look and feel of your outdoor living space. Some fashionable deck railing ideas (as of this writing) include:
Cable railings. Stainless steel cables provide a sleek, modern look while allowing a near-uninterrupted view of the surrounding landscape.
Lattice. Lattice railings improve the privacy of your deck while adding some architectural visual interest. You might also allow plants to climb your lattice railing for a lush, garden look.
Glass. Though not always practical, glass railings are incredibly modern. You can choose clear glass for a perfect view or opaque glass for greater privacy.
Seating. You might consider building bench seating into your railing, which gives the railing a greater practical purpose and organizes your entertaining space.
Decorate Your Deck With Living Plants
Your deck allows you to step into an outdoor space without fully abandoning comfort. To draw attention to the beauty of the outdoors, you should add more living plant life as décor for your deck, especially during the spring and summer seasons. Some ways to decorate your deck with plants include:
Railing planters. You can buy or make hanging plant boxes that rest on your railings. This is a good way to spruce up your railings if you don't have the savings to fully upgrade them yet.
Containers. Plants can grow in almost any container, from old shoes to large baskets. You can buy or make your own containers that fit your design aesthetic for your deck.
Arbors. For a more luxurious plant look, you might buy or build trellises to semi-enclose your deck in greenery. You should choose a climbing plant that suits your climate, like bougainvillea or sweet peas.
Build a Better Outdoor Kitchen
Indoor-outdoor living is an incredible trend in which homeowners are enhancing their outdoor spaces with amenities that greatly enhance comfort and style. A good way to include indoor-outdoor living in your home is to add a fully functional outdoor kitchen to your deck. A small refrigerator, a built-in grill, a sink and counter space allows you to cook and entertain outdoors throughout the warm-weather seasons. You should also include a table and seating in your outdoor kitchen design.
A deck can be so much more than a deck — but only if you put in the time to make it safe, functional and beautiful. This spring, you should commit to improving your deck in at least one way, so you can enjoy your outdoor space to the fullest.