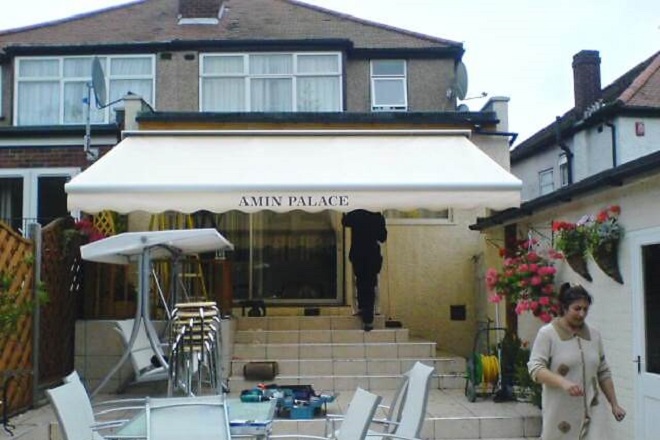 We all love those summer evenings which we can spend outside on patios and balconies. Having a barbecue in the garden with family and friends is also one of the most popular ideas for relaxing in the spring and summer, especially in a new house.It's the perfect way to enjoy the beautiful weather and high temperatures after long months of winter.
However, spending time outside is definitely more pleasant if you can hide from unexpected rain or from the sun when the weather gets too hot but. The best solution is installing an awning in your new balcony, patio, or garden.
There are many different types of awnings and canopies. We're here to help you find out more about the materials, frames, and selection of canvas.
Balcony Awnings
A large balcony will give you a cozy look with the highly customizable and waterproof awnings. Waterproof materials provide comfort and safety even in heavy rain and wind. When you decide to buy a balcony awning, you can sit outside having coffee in the morning and enjoy nature without worrying about the weather. It's the perfect combination of sunshine and shade to give you maximum pleasure out of sitting on your balcony. 
Patio awnings
If you own a patio, you should definitely consider a special awning to make this space even more comfortable. These are made with the purpose of shading the patio from the sun and rain and still allowing you to spend time outside. Imagine having a barbecue when suddenly rain comes, but you don't have to hide in the house in hurry -that's what you get with patio awnings.

Retractable awnings
These technologically advanced awnings can provide you with shade at the press of a button. You can operate it using a remote control and have an amazing time in your garden and patio. Depending on your budget, you can choose between one operated manually or mechanically. This is very helpful when it comes to controlling the amount of sunlight that comes in, as well as protecting you from the rain. We all know that British weather can be quite volatile: one moment you're enjoying perfect sunny weather, and 10 minutes later there is heavy rain.With retractable awnings, all this is a non-issue.
Full cassette awnings
This type of awning is made with a special technique. Its main feature is an encompassing cassette for storing the fabric and aluminium arms. This provides you with the best protection against sun and rain. Full cassette awnings are operated using a remote control, with optional light and wind sensors. You can freely customise your awnings, incorporating unique designs and fully adjustable sizes. 
Electric / Motorised awnings
Nowadays, with nearly every household item being technology-based, we can operate home awnings with just a press of a button! Choose an electric sun canopy if you would like to enjoy sitting outside on the patio or garden, rain or shine. You can easily retract the canopy and use it again later if you currently don't have a need for it. You can be certain that electric awnings will last for years and your house will both look stylish and serve their purpose well!
Spring and summer evenings are just the perfect time to sit around with family and friends. It is even more special if we can enjoy these precious moments on the patio and in the garden. Since we can buy and install special awnings, the weather is not a problem anymore. Get some shade and hide from the rainfall. Choose between many different options and find the best canopies for your balcony, patio, and garden. Fully retractable fabric awnings are the perfect way to create an even better outdoor place in your new home and adjust your space to the weather.