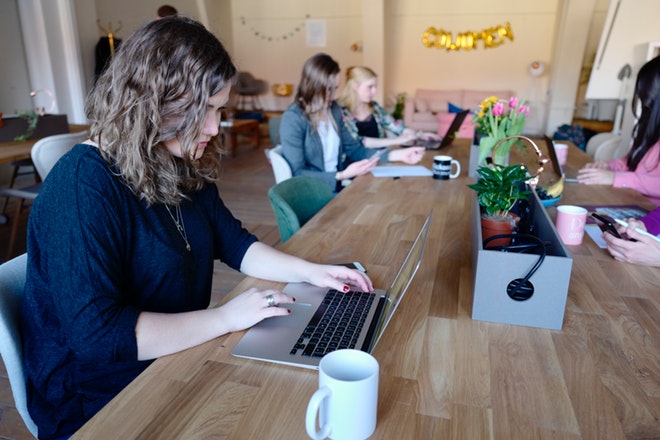 If you're someone who can't decide whether they want to work from home or in a traditional office, then perhaps considering a coworking space is something for you. A coworking space is a location or cubical that you can rent by the day and be surrounded by like-minded hardworking individuals. It's ideal for startup companies and entrepreneurs who don't want to spend a significant amount of money renting an entire office, yet it allows them to have more efficient, structured work hours.
According to AllWork, coworking spaces are becoming increasingly popular, with 32000+ coworking spaces around the world today, thanks to the many benefits they offer.
They Foster Innovation
---
Coworking spaces are great for lighting that creative spark, allowing you to discuss things with other people for inspiration without creating competition. The next great idea might just come from meeting someone new at one of these spots.
Structure
Whether you live in one of the Calgary townhouses or somewhere else, working from home on your own clock is great, but there are also plenty of distractions that can interrupt. It might be family demands or just the temptation of one too many TV breaks. With so many possibilities, trying to do things from home can be counterproductive. Coworking spaces provide the comfort of being on your own within a professional work environment to stay productive and get things accomplished.
Diversity, Community, and Networking
One of the best things about working in a coworking space is that you'll get to be surrounded by so many people from many different walks of life and a wide variety of different businesses and industries. While some may be in your own industry, there's a good chance that you'll get to collaborate with others from all types of other fields. This makes coworking spaces a fun and professional way to network.
Flexibility
Many new entrepreneurs or startup businesses can't financially commit to renting out long-term office spaces, which is why coworking spaces are the perfect solution. With affordable monthly or daily rates, you can often pay as you go and find a payment plan that works well within your budget.
Productivity
Just imagine being able to work somewhere that's as comfortable as your own home, yet it keeps you as productive as your last professional office. The biggest difference is that there won't be members of management constantly checking in on you, or other distractions that can often happen in a traditional workspace. Being around others who are just as productive as you are can give you that boost of motivation you've been missing.
Increased Wellbeing
By now most of us realize the importance of having a balanced workspace and home space. It's vital to our personal happiness, but sadly many traditional offices don't have an environment to support that. Coworking spaces on the other hand, often come with amenities that can help you thrive in every way possible, such as yoga studios on site, dog-friendly locations so that you can bring your furry best friend and simply a more relaxed overall atmosphere.