Are you getting bored with your natural blonde hair? Have you considered a stunning shade of dark blonde hair color? Dark blonde is just a sexy as lighter shades of blonde and can also be sophisticated as well.
Dark blonde hair has never been as popular as platinum blonde hair, but thanks to advances in color technology, it is quickly becoming more popular. Style techniques such as ombre, highlights and balayage are redefining hair color. There is no better way to add depth and dimension to your natural hair color. And dark blonde is no exception.
There are many gorgeous shades for dark blonde hair, including many warm, cool and neutral tones. It can range from a dark caramel blonde to a cool dash ash blonde. Warmer dark blondes shades are perfect for summer and spring. However, cooler and neutral shades are perfect for winter and autumn. And with the cooler weather upon us, it may just be the perfect time to dye your hair a stunning shade of dark blonde.
Whether you opt for a dark blonde base with light blonde highlights or a multidimensional balayage blend of cool and warm dark blonde, there is no end to the possibilities.
In addition to highlights you can opt or black or brown lowlights for added depth and dimension.
One of the best things about dark blonde hair is that is a smooth transition between dark and lighter hair shades. It also tends to last longer between colorings than platinum blonde, depending on what other hues you mix in. You won't regret the decision to try a chic and sexy shade of dark blonde!
Dark Lowlights and Dark Buttery Blonde Wavy Tresses
---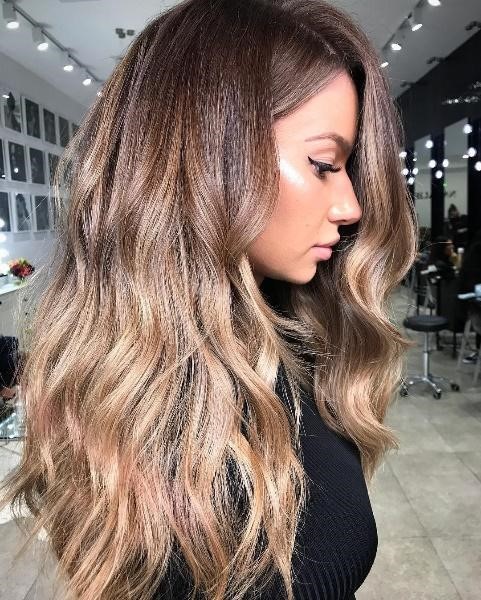 This stunning dark to light blonde ombre is stunning with its soft dark blonde buttery hues that seem to melt into a smooth dark golden blonde. It you want a look that defies dimension, then this dark blonde hair color might be exactly what you have been searching for!
Start off with a smooth and silky  dark caramel blonde and fade slowly to buttery golden blonde highlights. This is perfect if you can't decide between cool or warm tones so why not have the best of both worlds with creamy blonde highlights on a dark blonde base? Soft, beachy waves will add even more depth and movement to this breathtaking dark blonde ombre fade.
If your hair is naturally wavy, all you need to do is spritz it with sea salt spray or curling mousse, scrunch and let it air dry. If your hair is straight, blow dry it with a round brush and make soft, romantic loose waves with a medium barrelled curling wand or your flat iron. Run your fingers through your curls to separate them and give them a beachy vibe.
Natural Dark Blonde with Loose Waves
---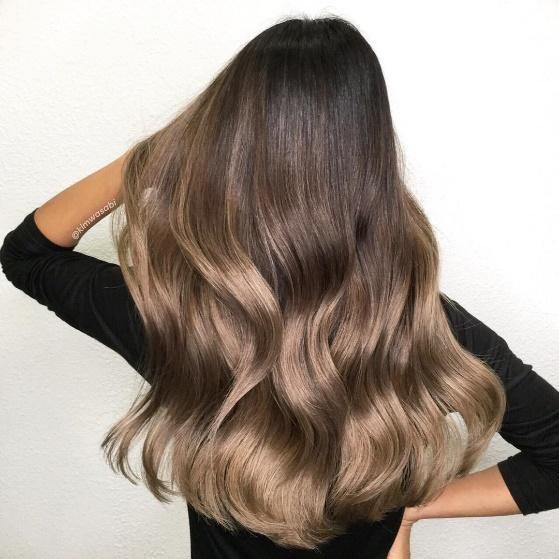 If you want a look that is as close to natural dark blonde as you can get, this dark blonde with dark caramel hues is simply stunning. You can barely tell where one color begins and the other ends. Start off with a very dark ash blonde and then slowly fade to a caramel ash blonde that is just a few shades lighter for a subtle contrast that will look gorgeous in natural light.
Blow dry your hair and add large curls at the bottom half of your hair. Use a large curling wand and let the bouncy waves cascade gracefully down your back for a soft and romantic flair. 
Dark Blonde and Honey Blonde Sombre
---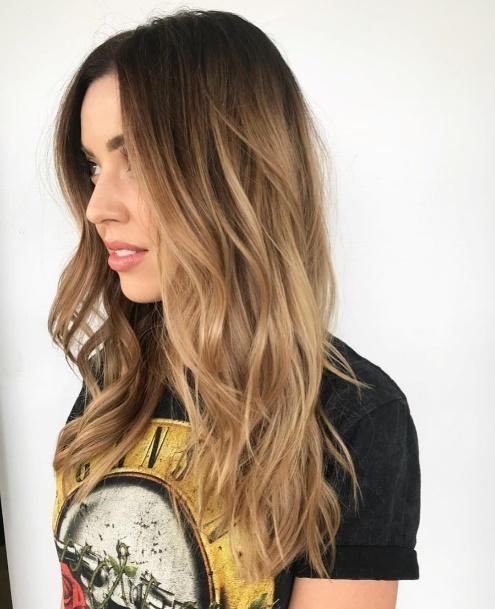 Want a look that really shimmers? How about this gorgeous shimmer dark blonde and golden honey blonde sombre? The soft balayage blend is so subtle that it could easily pass for your natural hair color.
Sombre hair color is a softer version blend of ombre. It is ideal for those who want a more polished look and don't want to experiment with bold colors.
Start off with a dark brown base and then blend in dark ash blonde hues. Then go heavy on the honey blonde highlights to transition from dark to light tones for the perfect blend of warm and cool hues. This look is especially pretty on longer wavy locks.
Blow dry your hair and style in a messy, carefree waves for a slightly tousled effect that shows you are ready for anything that life throws your way!
Wavy Dark Golden Blonde Highlights
---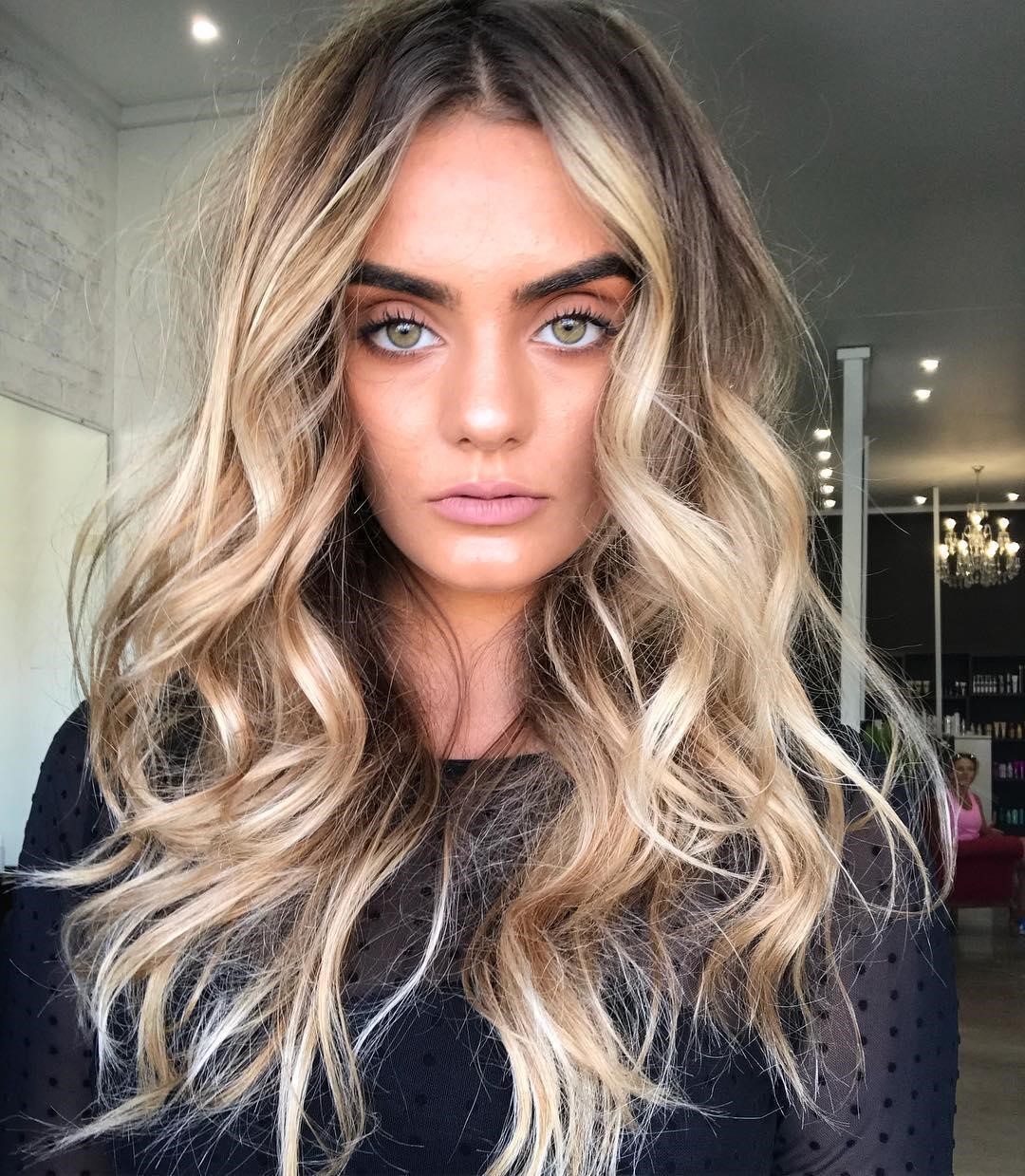 Can't decide between light and dark blonde hair color? How about embracing the best of both? Start off with a dark blonde base and ask for chunky light golden blonde highlights to create a soft look that is full of depth and texture!
This look will require a bit of upkeep as lighter shades need occasional touch ups. But we promise that it is worth the effort! People will stop and stare at your breathtaking buttery blonde and dark blonde hair wherever you go!
And what is a better way to showcase your multi tonal blonde tresses than sexy beach wave! These beachy waves add a ton of volume and movement to your hair and will make your golden blonde highlights even more noticeable! Get ready to be the talk of the town with this sassy style!
Dark Blonde with Light Blonde Highlights
---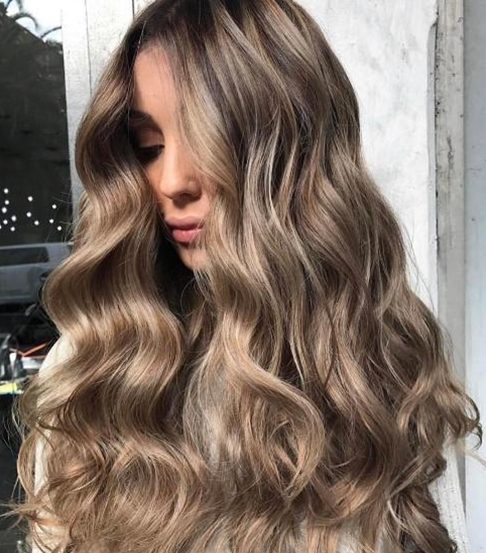 If you have natural light brown hair and want to kick it up a notch, you can mix in some light dark blonde hues for a breathtaking, multidimensional balayage blend. People won't be able to tell if your hair is dark blonde or light brown. This color is so silky and it flows so naturally with the subtlest hint in the change of color. You will have to look very closely to distinguish between the two shades.
Don't you just love these big, bouncy curls? What better way to add volume and movement to this gorgeous blend of dark blonde hues?  If your hair is not naturally curly, you can either use large soft foam or hot rollers to achieve these voluminous curls. Or use a large barrelled curling wand to make large, flowing waves. Top off this look with some natural makeup and a soft pink lip gloss for a chic and sexy look.
Have we inspired you with these gorgeous dark blonde hair colors? Call your stylist today and get ready to show 'em that dark blonde is the new platinum blonde!