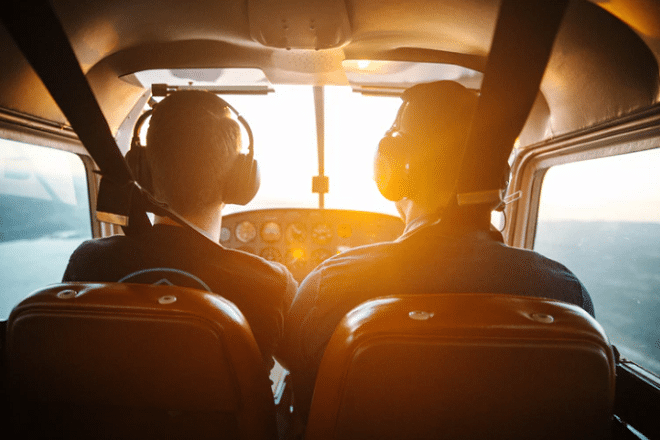 So, you have decided you want to be a pilot. What's the next step? The answer to this question may seem obvious—enroll for a flight training course. While that's a basic plan, to be a successful pilot who completes the course on time, you need a more comprehensive plan. Here are 8 steps to planning your flight training.
Find the right flight training school
The first step towards your pilot dream is obviously finding the right flight training school. Do a quick search on the internet and get a list of schools nearby or a place you prefer relocating to. Then, look at their location, the premises, syllabus, instructors, site and flight maintenance, fees (and financial demands from them), and reviews.
Set a goal and schedule
Part of achieving any goal is setting one and then planning out the schedule to get there. Like most training, pilot training is not something you can just wing at the last moment. You need to dedicate some time to the craft each day and week. Look at your current situation and see if you can be committed to this training.
Choose the right instructor
Choosing the right flying instructor is just as important as finding the right school. Therefore, make sure to start with a list of instructors and test each of them for knowledge, skills, and tools before selecting any. Since you'll be spending most of your training time with them, it's only smart to get the best.
Pass the exam
To be a pilot, as you've dreamt of, you need to pass a knowledge test and a practical test. The knowledge exam is a written paper, but chances are you will take this exam online. Passing these tests is necessary to secure the first pilot certificate. Thus, you need to start preparing for it.
Ace your first solo
The moment of truth is here—your first solo flight. This is momentous and a rite of passage for pilots of all kinds. This exercise is meant to give you the boost of confidence you need to fly professionally. You get to this stage after your training, passing the written test, and finishing the required hours of aeronautical experience exercises.
Find a mentor
While an instructor plays an important role in your training period, a mentor is a need when trying to be a pilot. This mentor can be someone from the company you want to work for or even a relative. They can guide you through your course and syllabus options along with answering your queries.
Work on your skills
After your first solo, it's time to experience what the skies have to offer you. Go on more flights, learn to fly in different conditions, and learn the essence of being a pilot. All of these help you improve your skills and become a better pilot with each flight.
Prepare for the check ride
After building your skills and confidence, it's finally time for your check ride—the practical exam to become a certified pilot. This is where you will apply all the theoretical and practical knowledge you have amassed during your training period. Once you pass this test, you will get your certificate and be a pilot officially!
Conclusion
Making your flight school and pilot dreams are not as hard as you might think. All you need are determination and the right plan for flight training. From finding the right school to getting that first solo ride, following the 8 steps given above can help you plan out your pilot lessons and achieve your dream of skies with ease.