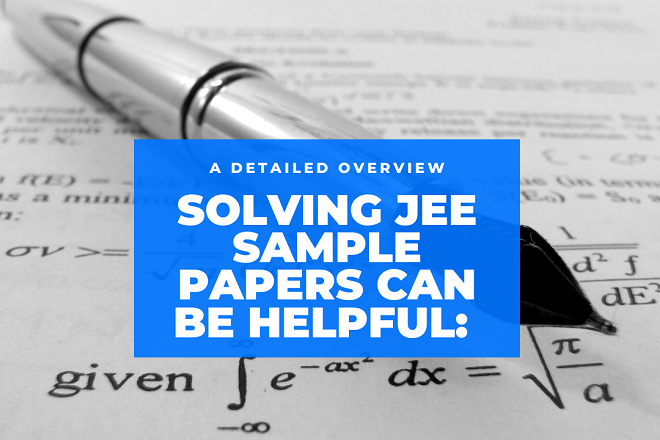 Hello, students, we are back with yet another set of the article and here we would be discussing again on JEE. Like always we have taken up the onus of letting our dear students get some valuable information & tips that are ideal for the long run. Every year we come across students who have expressed their apathy towards JEE.
To be honest, somehow they have indulged it in their mind that this all India exam is very difficult to crack. They fear that their dreams might be shattered midway. We have motivated these students & gave them proper guidance. They later wrote their exams and have got placed in reverse IIT's all across the country.
We feel proud that we can contribute in a very small way towards the development of a bright future. Today in this article we would discuss how Vedantu JEE sample paper can help aspirants to secure a seat in one of the esteemed IIT. So let us not waste any further time and get started.
Eliminating Fear Of Examination
The first & foremost things to keep in mind are keeping your head cool and remain composed. Generally, students express that there is something in the ambience of the hall which doesn't allow them to concentrate and they end up in a huge mess. This is not very true. These students who have had a negative experience are not backward; rather they did their preparation well. So what went wrong?
It is the strategy that went haywire. If you keep a well-planned strategy things will fall in place.
All we would like to say is complete your syllabi well in advancement and at least a couple of months before the exam.
Now what you need to do is start practising previous year's questions.
The more you practise question from the past the more you become competent and you gain more confidence.
At the same time, we motivate every student to go-ahead for the mock test. Remember with the paper solving and mock test, you are sure to get a maximum question in common.
Time Management Is The Key
Next, we are about to discuss time management. Remember you only get three hours to complete the examination. Now a question that arises is, are these three hours enough to complete the paper? Some would say no. But our opinion is positive and we think three hours is enough if you have a good strategy.
All problems need to be solved in three years and to do it seamlessly practise as many papers as you can. As you start practising the papers you can keep an eye on the watch. Look at the Areas that are eating up more & more time.
Try & address those sections with immediate effect & start with a fresh new set again. Like this, you are done with 10-12 test papers and some online mock test you can surely complete your paper on time.
Knowing Strength & Weakness
You can know the strength and weakness very easily. As you start practising the papers and appearing for the mock examination, you get to know the areas of strength. The areas which have fetched you good marks doesn't need more time, but you can at least revise those areas at least once in a week to keep things in mind.
Secondly, the areas that have fetched by poorly needs more & more practise. After you are done with the practice session you can again appear for the next set and see if you are repeating the same mistake or not. Like this, as you end up appearing for 10-15 mock examination & 10-15 paper solving session, you eventually end up on the winning side.
Before we conclude we would just like to let you know that there is no major rocket science or formula that can be applied to crack JEE exam. It just following our tips and believing in you. The more you gain confidence the more you are remaining one step ahead to crack the final hurdle.