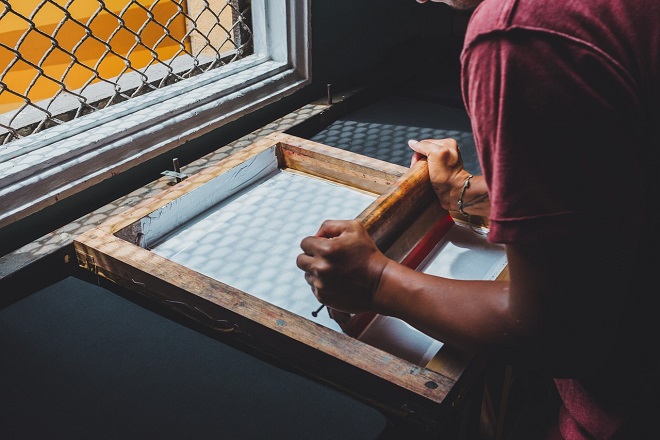 A screen printing business specializes in printing images on t-shirts or other items of clothing. There is the flexibility to operate such a business completely online or via a traditional store. Here are a few tips to start your own screen printing company.
Niche
Being more specific will help you stand out as well as better attract and market to the right audience without blowing your budget. Ideally, you want to be the only one selling what you're selling. The trick to coming up with a unique product or service is to look for unmet needs.  Marketing is perhaps more important for niche businesses than for any other type of business because consumer awareness of your product is low. Your success or failure hinges on making the connection with exactly the right type of customer or client and making them realize that they need your product.
Design
The majority of people that are purchasing graphic tees are looking for designs, graphics, and slogans that connect with them and reflect their opinions and personality. Trends come and go. But, in the design industry, the trends that tend to stick are the ones that exude functionality and practicality. Startups can capitalize on this, for example, by making sure that they are among the first ones to take up a new trend on logo design.
Online Software
Sign software was created for screen printers and decorated apparel companies. There are many questions to ask yourself when choosing a software, such as, what is my budget, what type of images do I intend to make, and of course, how difficult will it be to learn the feature set of the software. Other factors include your personal skill set, and what post-sales
training the reseller will provide. Will, you yourself be using the software or will you hire someone to do the design and production? Are you just starting out in the business or is this a shop growth decision?
Quality
The quality of the shirts you use and the prints need to be top-notch to build a sustainable business. No company wants to discover that quality issues exist in its processes. However, companies must view raising the issues that do exist as a positive thing. They should not sweep them under the carpet. Companies are all too often surprised when they routinely chastise people who raise quality concerns and then find that people hide these issues.