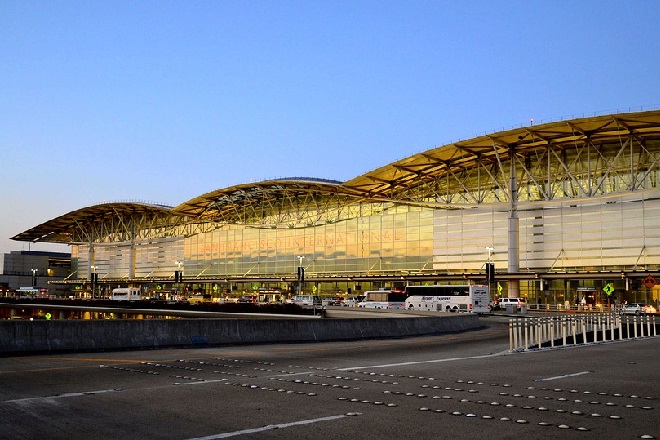 Everyone dreads lengthy layovers, whether you're traveling for business or leisure, but sometimes they're unavoidable. Luckily, if you do have a long layover, you can stash your luggage securely if you need to, and find ways to entertain yourself in any airport, including San Francisco International (SFO). 
San Francisco International Airport is in the bay area, and it's the second-busiest in California, only after LAX. In 2017 it was the seventh busiest airport in the U.S. and the 24th-busiest based on passengers.
It's one of the world's biggest United Airlines hubs, and it's also a secondary hub for Alaska Airlines.
There are four terminals and seven concourses, along with 115 gates. The gates run counterclockwise in a ring.
SFO is around 13 miles south of San Francisco's financial district, and passengers can walk between the terminals or take the SFO AirTrain, which run every four minutes all day every day.
The airport features indoor and outdoor pet relief areas and free Wi-Fi that you can use in four-hour blocks.
Beyond the basics, the following are some things to know about spending a long layover at SFO.
K

ids' Spots

Kids' Spot are areas in SFO that let kids blow off steam before a flight, according to the SFO Museum, which organized the areas.

There is a Terminal 3 Kids' Spot under Gate F18 and a Terminal 2 Kids' Spot near Gates D7 and D15.

The airport Kids' Spots feature interactive play and learning stations, and if you've traveled with your kids before, you know what a welcome reprieve that could be.
T

he Lounges

Airport lounges can be a great experience that make time spent in an airport enjoyable, or they can be disappointing, to say the least. How you feel may largely depend on the lounge itself.

Some of the best lounges in SFO include:

The Polaris Lounge at SFO is relatively new, and if you are on a long-haul United Flight or a Star Alliance long-haul flight, you may have access. The lounge is beautiful and was just built in 2018. It follows the footprint of the former international United Club and it has fantastic airport views. There's a quiet area on the lower level with shower suites, and there are sleeping rooms. The upper area is where the dining and bar options are located.
2
Virgin Atlantic Clubhouse
The Virgin Atlantic Clubhouse has some of the features of the flagship lounge at London Heathrow. It's modern with private seating and a full-service restaurant.
3
American Express Centurion Lounge
American Express Centurion lounges have been increasingly opening around the country and access is available to certain Platinum and Centurion cardmembers. You can also, if space allows, sometimes pay if you have other types of American Express cards. The San Francisco Centurion Lounge is close to Terminal 3 and also International Terminal G. There are complimentary food and beverage options and a full bar. There are daybeds and a shower suite, as well as a kids' playroom.
W

hat Else to Do at SFO

If you don't have access to a lounge or you'd like to find something else to do during your time at SFO, the following are good options:
Shopping: There are dozens of shops throughout the Airport, and in addition to the regular airport offerings you'll find some boutiques and locally-owned shops. For example, there's a SFMOMA Museum Store that's associated with the San Francisco Museum of Modern Art.
Showers: Along with lounge showers, there is an area called Freshen Up in the airport, which is pre-security in the International Terminal. You pay $25 and get a 30-minute shower as well as towels, shower shoes, and toiletries.
Spa: there are three locations of the airport chain Xpres Spa. They are located in Terminal 2 inside security, Terminal 3, and the International Terminal.
Yoga: If you want to stretch out a bit, there are a couple of locations in SFO where you can take advantage of free yoga mats. They are in Terminal 2 and Terminal 3.
Garden: Interestingly, SFO has an outdoor garden if you want fresh air. It's located through the arrivals level of Terminal 1, to the left of the pet area.
Clinic: There's even a clinic in SFO if you need it. It's located in the Main Hall of the International Terminal.
Layovers aren't always ideal, but if you map out the airport ahead of time, you might actually find ways to enjoy your time.