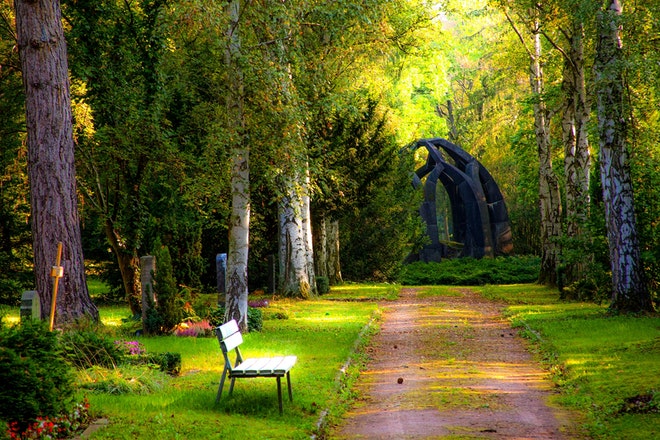 A big garden is a big joy for many homeowners. That feeling of beautiful greenery and fresh air within your home provides some inner peace necessary for a comfortable home. However, an overgrown garden can be a nightmare, especially for time-conscious people.
You probably dream of spending less time maintaining your garden and a bigger part of your life enjoying it. This is only possible if you adopt some practical ways of garden maintenance.
Below is a step-by-step breakdown of effective means of maintaining a big garden.
Go For Drought–Tolerant Plants
Plants such as succulents and pelargoniums are easy to maintain due to their ability to survive under low hydration. Shrubs are also easy to maintain, especially for large gardens. They are long-lived, don't require pruning, and are manageable in size.
Acacia, Hibiscus, Crape Myrtle, Witch Hazel, etc. are some of the best plants to have around if you wish to spend less time maintaining your garden. Most of these plants are either deciduous or evergreen, thus giving the surrounding beautiful scenery at minimal maintenance costs.
Minimal Usage of Containers
The usage of containers could be costly and time-consuming, especially if you have a busy schedule. They need watering hence task demanding. However, if there is a need to use them, you could adopt larger ones with drought-tolerant plants.
Other than that, you can practice simple irrigation methods such as the use of plastic water bottles as a reservoir. Cut off the bottom of the bottle and make holes in its cap. Dig a sizeable hole next to the plant then pour water into the container after putting it to the hole.
Simplify the Lawn
Mowing can be fun if you make the lawn more manageable. Choosing the best lawn mower for your garden is essential if you want to keep the whole process simple and tolerable.
Creating a smart path through the lawn also makes your work easier. It helps you mow around the edges and leave inner areas to grow. Mowing is a continuous exercise since the plants will keep growing, necessitating their maintenance to keep them in good shape.
Lawnmowers come in different shapes, sizes, and features. Some are tailor-made to meet your specifications. Among other features, you should look for; ease of handling and carrying, portability of the blades, battery capacity (if it uses a battery), etc.
Mulching
Weeding can be tiresome and time-consuming. Weed seeds germinate on light conditions. The protective covering of the ground around plants or flowers helps suppress weed growth, retain moisture, and prevent freezing of roots.
Mulching not only makes your garden easily manageable but also improves the soil fertility and the appearance of your bed as it enhances a uniform ground. Mulching saves time, enables healthy growth of plants, and suppresses weed growth.
Simplify Your Planting
Before planting any flowers in your garden, you should consider the cost of their maintenance in the future. Being creative in your choice of plants can make your garden easier to manage.
Hedging around your garden makes it appear less vast, concealed, and more tolerable. Hedges also protect against the wind and beautify the garden.
Shrubs require a lot less upkeep than other plant varieties. They reduce erosion by reducing flood runoff and reducing toxic materials in the waterways. They also freshen the air by filtering dust and pollutants.
You should consider more straightforward plant varieties like hedges and shrubs for your garden to make everything easier to manage.
Choose the Best Garden Tools
A gardener should ensure that the best gardening tools are at his disposal. Tools such as grass shears, spades, mowers, wheelbarrows, and rakes are essential in maintaining quality gardens.
The tools come in handy for various functions, which are inevitable since the plants keep on growing. They may help in leveling ground surface to achieve a desired landscape, collection and disposition of wastes, etc.
Quality tools are, therefore, key for any good gardener. They not only make your work more comfortable but also help in beautifying your landscape.
Enhanced Spacing
If you plan to plant fruits, vegetables, or shrubs, then you should space your garden adequately. This category of plants needs a lot of moisture, soil nutrients, and sunlight. To reduce the competition, ensure that these plants have adequate rooms to provide each with the essentials for healthy growth.
Proper spacing also allows for air circulation and portrays an organized garden hence making it easily maintainable.
Task Outsourcing
While doing the gardening yourself provides some fulfillment and joy, sometimes maintaining a big garden can become too much for one person. You may need an extra hand to help you out. Garden maintenance is not something to joke with, and some professional help may be necessary for other tasks. You may have a beautiful garden but not know about earthmoving, lawn mowing, arborist work, etc.
Though charges may apply for the services rendered, it usually is worth every penny. A professional gardener not only saves you some gardening time but also advise you on the best plants to have in your garden, depending on the soil condition.
Garden Flooring
Adding large paving across the garden provides a serene place to relax with minimal maintenance needs.
Laminate flooring is the ideal solution for garden landscaping since it is affordable, adaptable, and easy to maintain. Its structural layout suits a hard surface like a garden as it is composed of four to five different layers. This ensures that it doesn't absorb any moisture. The floor is easy to install, clean, and repair.
The beauty of laminate wood floors is that they don't absorb any moisture. This makes them the best option for outdoor environments. They blend so well with the outside environment as they simulate the excellent looks of stones, tiles, and hardwood.
The privilege of a serene garden around your home is not only monopolized to five-star hotels and palaces. Follow these simple steps, and you'll be guaranteed a low maintenance garden, plus beautiful sceneries you've always dreamed of.