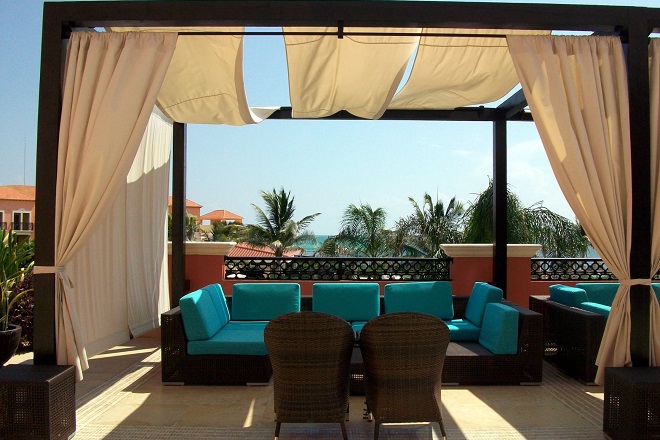 What's better than sitting on your patio chair in nice weather? You have several possibilities for a patio set, dining table, living room, or kitchen eating space. Yet, choosing the right one might take a lot of work with so many fabrics, designs, and care recommendations.
We created this comprehensive outdoor furniture guide to help you construct a fashionable and practical outside environment. Sit down, get a drink, and let's talk about patio furniture!
Outdoor Furniture Selection Guide
Whether you are looking for something conventional or modern, made of wood or metal, we will assist you in making an informed, cost-effective decision. Hence, please have a seat, and let's discuss all you need to know about choosing and keeping high-quality outdoor furniture.
There are several factors to keep in mind while shopping for outdoor furniture.
For your furniture, you should first choose weather-resistant materials.
Select furniture that compliments your tastes and the overall aesthetic appeal of your outside space. To ensure that your furniture will last for many years, you must maintain it correctly. Many factors should be considered when picking the materials for your outdoor furniture.
For your furniture, you should first choose weather-resistant materials.
Select furniture that compliments your tastes and the overall aesthetic appeal of your outside space.
Wicker furniture, for example, is often quite durable and easy to keep, but there may be better choices if you're trying for a modern look.
Aluminum furniture is often very lightweight and transportable but may not be as durable as other materials.
It is necessary to choose a material based on both its functionality and its aesthetics.
The furniture styles may range from conventional and classic to contemporary designs.
It is crucial to choose a design that suits both your own tastes and the overall aesthetic of your outside space.
Components Used in Outdoor Furnishings
Since outdoor furniture is exposed to the elements, it must be made from materials that withstand the sun, rain, and wind. Here are the advantages and disadvantages of some of the most often-used materials for outdoor furniture.
Wood is a time-honored material for outdoor furniture and may provide a warm, inviting ambiance to your patio. Wood requires extensive maintenance to preserve its appealing look. To protect it from the outdoors, you must sand and stain or paint it every few years.
Aluminum and Wrought Iron
These are often utilized to create outdoor metal furniture. It is durable and low-maintenance but may be expensive.
Wicker furniture's calm, natural nature makes it suitable for a porch or sunroom. It is made from organic materials such as rattan or bamboo, so it must be coated or sealed to protect it from the elements.
Polypropylene Patio Furniture
This type of furniture is economical and straightforward to maintain. However, it lacks the aesthetic appeal of other materials and may seem cheap if not chosen carefully.
Outdoor Furniture Styles
There are a variety of unique types of outdoor furniture available. Whether you prefer something conventional and timeless or something more fashionable and contemporary, you have options. Here are a few of the several styles of furniture available.
Is the most traditional style of furniture. The warm, natural beauty of wooden furniture compliments any outdoor scene.
Hardwood furniture is a beautiful addition to a patio or deck, but it may need more care and maintenance.
Wicker is another typical outdoor furniture material.
Teak is often used for patio furniture and may give your outside area a traditional look.
Wicker is also low-maintenance, making it an excellent option for those who prefer to spend less time caring for their furniture.
Metal patio furniture is gaining popularity due to its durability and contemporary aesthetic. Metal furniture is a fantastic option if you want something lasting for years. It is also easy to maintain and often comes in sleek, modern forms.
Plastic outdoor furniture is a fantastic choice for those on a low budget. It is often fairly light and portable, making it an ideal product.
Care and Maintenance Advice for Outdoor Furnishings
Some essential factors must be remembered regarding the care and maintenance of outdoor furniture. Depending on your furniture's material, you may need to take different precautions to protect it from the elements.
During inclement weather, you must ensure your wicker furniture is covered or stored away.
Furthermore, wooden furniture should be covered or stored in a dry area to prevent damage from moisture and sunlight.
Regardless of the material, all furniture has to be cleaned periodically.
This involves cleaning surfaces to remove dirt and debris and using a solution of mild soap and water to remove any stubborn stains.
Rinse any soap residue thoroughly with clean water to prevent further dirt from accumulating.
Also, it is necessary to regularly inspect your furniture for signs of wear and tear.
Hence, you can spot issues early and repair or replace damaged components before they become irreparable.
Your outdoor furniture might last for many years with proper care and upkeep!
How to Choose The Right Outdoor Furniture?
There are several factors to consider while choosing outdoor furniture for your home. You must first choose the material used to build your furniture. Wood, metal, wicker, and plastic are all possible substitutes.
Each has advantages and disadvantages, so choosing the one that best meets your needs is vital.
The next step is to choose the ideal furniture style. There are several possible styles, including classic, contemporary, and rustic.
Again, each has its advantages and disadvantages, so choosing the one that best meets your needs is essential.
Consider the maintenance and care your furniture will need. Some materials need more upkeep than others, while others are easier to maintain.
Get furniture that is low-maintenance and requires little work on your part.
Alternatives to Conventional Outdoor Furniture
Try using recycled or eco-friendly materials if you want alternatives to traditional outdoor furniture.
Reclaimed wood is an amazing way to give your outdoor space a rustic look without negatively impacting the environment. Bamboo is another eco-friendly material that may create elegant and durable outdoor furniture.
You still have many options if you're not interested in using eco-friendly products. Since it is both stylish and durable, metal furniture is gaining popularity.
Wicker and rattan are also wonderful possibilities if you want something unique. And if you really want to make a statement, why not utilize brightly colored plastic furniture? It may be a more traditional choice, but it will add personality to your outdoor space!
Where to Get Outdoor Furniture
There are many factors to consider while purchasing outdoor furniture.
You must pick the material from which your furniture will be constructed.
Due to its lightweight and mobility, wicker is a popular choice for outdoor furniture, although it is less durable than other materials.
After deciding on a material, you must decide where to buy your furniture.
There are further options available. You may buy furniture online, from specialist dealers, and even from certain department stores. Each option has its own pros and downsides.
Therefore it is vital to conduct research before making a decision.
If you want your outdoor furniture to last, you must maintain it properly once you purchase it. This needs regular maintenance and cleaning.
Depending on the material from which your furniture is made, this may need the employment of different processes and materials.
What is the Most Durable Material for Outdoor Furniture?
There are a variety of outdoor furniture materials from which to choose. Each material has advantages and disadvantages, so choosing the most satisfying your needs is vital.
The popularity of outdoor furniture made of hardwood stems from its longevity and visual appeal. Yet, maintenance is necessary to maintain it looking its best. To protect it from the elements, you must sand, varnish, or paint it every few years.
Metal patio furniture is also quite durable, but if not kept correctly, it may rust. Clean your metal furniture after each use and store it inside during the winter to prevent corrosion.
Plastic patio furniture is more inexpensive than wooden or metal patio furniture, but it is less durable. Despite its lack of elegance, plastic furniture is a good alternative if you're looking for something economical and cheerful. Just bring it inside during the winter to extend its life.
Wicker patio furniture is quite popular since it has a classic and comfortable aesthetic. Wicker is less durable than other materials and may fade when exposed to direct sunlight. If you purchase wicker furniture, store it someplace cool and dry throughout the winter.
Maintenance of Outdoor Furnishings
Most folks leave their outdoor furniture exposed to the elements throughout the year. This causes a buildup of dirt, moss, and mildew in the summer, which is unattractive and discourages people from seeking outside seating. Paper towels and spray cleaners must be more adequate to clean unclean and muddy patio furniture.
Cleaning of Cast-Iron and Plastic Furniture
Dish detergent ought to be enough for cleaning wrought-iron and plastic furniture. In a large pail, add dish detergent and water. Next, saturate a microfiber towel with the detergent solution to clean the furniture. Begin with the larger objects and proceed to smaller ones, such as plastic chairs. Rinse the furniture with a garden hose to remove the dirty water and soap, then let it dry naturally.
Rattan and Teak Furniture Upkeep
Wicker and teak furniture are often more difficult to clean. Several types of outdoor furniture demand a stronger cleanser and scrub brush.
Every home improvement store will have patio furniture cleaners of high quality.
This brush has gentle bristles that effectively remove dirt and grime without scratching.
Soap and water are combined in a bucket.
After washing, rinse the furniture with a garden hose to remove the dirty water and soap, then allow it to air dry.
Cleaning Outdoor Furniture Cushions
Use dish soap and water in a large bucket to clean the cushions on your outdoor furniture. Next, scrub the cushions using a soft-bristled brush. Add the cushion-cleaning brush to the bucket to apply the soapy solution to the bristles. After cleaning the cushions, rinse them with a garden hose. Place each pillow on its side and out of direct sunlight to dry.
Final Words
Outdoor furniture adds design and comfort to a patio. With the right materials, styles, and maintenance instructions, you may discover furniture that lasts and makes the outdoors enjoyable. To optimize your outdoor furniture investment, pick a material or design that suits the surroundings.