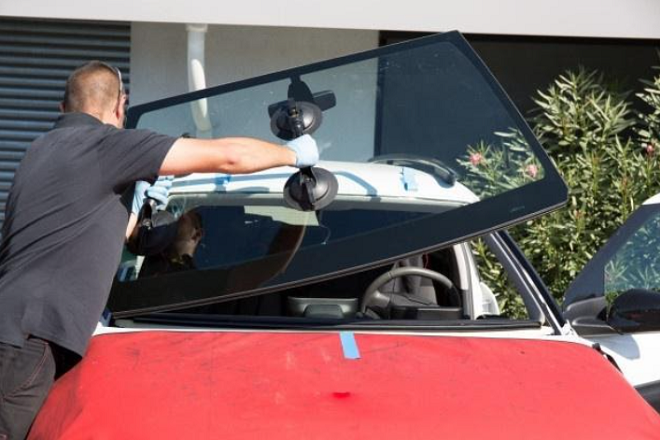 The importance of windshield glass is not hidden from anyone. Not only does it keep you safe from external elements, such as rocks, debris, rain, sun, etc., but also it keeps your car's roof from collapsing in the event of a car accident. That's why it's critical to keep it healthy all the time.
If you notice a crack beyond repair in your windshield, get it replaced as soon as possible.
There are two types of windshield glasses available in the market, namely:
Original Equipment Manufacturers (OEM) Glass
 Aftermarket Automotive Windshield Glass
It is critical to weigh your options carefully when getting a windshield replacement, as there is a massive difference between the two. In this article, we will go over the differences between OEM vs aftermarket windshields and see which one is the best for you.
What exactly is OEM Windshield Glass?
An OEM windshield is a replica of the original, factory-installed windshield that came with your vehicle when it was new. Usually, these windshields are not manufactured by the same company that made and installed the original windshield on your vehicle. However, OEM glasses are strikingly similar in almost every way to the original windshields.
OEM glass is made in accordance with your vehicle's manufacturer's specifications. This glass is of the same size, shape, and color as your original. In fact, you can even expect the same thickness and sturdiness as your original. Moreover, OEM windshields are certified by the Department of Transportation so as to adhere to safety standards completely.
Since OEM windshields are made with similar standards as your original, these windshields tend to be expensive. OEM windshields are typically 50% to 60% more costly than aftermarket windshields.
Furthermore, due to the higher cost, many insurance companies will not cover the cost of OEM parts. And if they do, they cover OEM windshield replacement cost only for newer model vehicles.
Numerous OEM vendors claim to be selling high-quality OEM parts. However, you will get to see a vast difference. You may even come across some "knock-off" parts in the market. "Knock-off" parts are manufactured and branded to look almost exactly like the original part and claim to be OEM, but their quality is far inferior to the original. Typically, these parts are made of low-quality materials. That is when you must exercise extreme caution when having your windshield replaced.
Installing inferior quality windshields can be life-threatening. Many people have had very bad experiences with "knock off" automotive parts.
What is Aftermarket Windshield Glass?
Aftermarket windshield glasses are windscreens that are manufactured by auto glass manufacturers who don't have contractual agreements with specific automakers. This implies that, unlike OEM windshields manufacturers, aftermarket glass producers don't come under contract for the automaker. Hence, they do not follow specific manufacturer guidelines.
In fact, auto glass companies are forbidden by copyright laws from producing windshields that are comparable to the original factory-installed versions. The only similarities you will find in aftermarket windshields and OEM windshields are their size and shape without which the windshield won't fit into your vehicle, and you'll have leaking or noise issues. But when it comes to the thickness, durability, and color of the tint – nothing is guaranteed.
Some auto glass companies produce high-quality glass you can use to revamp your vehicle. Some of them even manufacture more durable glasses than the original ones, adding to your car's safety. However, these glasses can sometimes be costlier than the OEM windshields. But finding these glasses can be a task as the market is swamped with numerous auto glass manufacturers, and you can't be sure who is selling the best ones with exact specifications.
OEM vs Aftermarket Windshield Glass
OEM Glass Pros
Produced by the companies that supply the carmaker. The first and most important advantage of OEM glasses is that they are manufactured by the same company that supplies the carmaker, making them a highly safe option for your vehicle.
Excellent quality comparable to the car manufacturer's standards. OEM windshields are made with the vehicle manufacturer's specifications in mind. This ensures that you will receive a high-quality glass that is identical to your original, providing you with utmost safety.
Ensures precise fit, finish, and safety. These windshields offer precise fit, finish, and safety, restoring original clarity of vision and ensuring the highest safety standards.
OEM Windshields Cons
Expensive option. OEM car windshields are typically much more expensive than aftermarket windshields. In the end, people pay 50 to 60 percent more for OEM windshield replacement.
There is no insurance coverage. Many insurance companies do not cover the cost of windshield replacement due to the high cost of OEM car windshields. This implies that you must pay for a replacement out of your own pocket, which can be costly.
Aftermarket Windshields Pros
A low-cost option. Aftermarket windshields cost less than OEM windshields. This implies that if you choose aftermarket windshield replacement, you will end up paying too little.
Much easier to get to. One of the advantages of aftermarket windshields is that they are easily available. They can be found almost anywhere in your area and within your town. Local shops offer low-cost windshield replacement, allowing you to replace a damaged or broken windshield without spending a fortune.
Insurance coverage. Because aftermarket glass is usually less expensive, many insurance companies will cover it. This is one of the main reasons why most people choose aftermarket windshields. On the other hand, car owners can pay a premium for OEM windshields. Many car owners who are afraid to risk a slightly lower quality windshield choose an OEM windshield.
Aftermarket Glass Cons
Possibility of fit issues. The most common issue with aftermarket glass is a lack of fit and finish. Because auto glass manufacturers are not required to follow the guidelines, these glasses are not always the same size and shape. People who have used aftermarket glass frequently complain about leakage and strange noises coming from the windshield. It occurs when the size of the windshield is grossly inadequate.
Different curvature and tint. Some aftermarket windshields have a different curvature and tint than the original.
Which is the Best Windshield for Me?
When it comes to choosing the right  windshield for replacement, there is no fixed answer. The decision to choose a windshield entirely depends on your preferences, needs, and your budget. The amount of money you are willing to spend on a windshield replacement will significantly impact your purchasing decision.
While OEM windshields are safer and better aligned with your vehicle's make, they are also more expensive. They not only cost nearly twice as much as aftermarket windshields, but some insurance companies do not cover them.
If cost is not a constraint, then you should definitely opt for an OEM windshield to avoid any risk. However, if your budget is low, then find the best auto glass manufacturer in and around your area. Of course, you will have to spend significant time exploring the best aftermarket windshield company.
Finding a selling providing high-provider windshield is of utmost importance. You need a glass that minimizes your expenses and provides you with immense safety comparable to OEM windshields.
Another deciding factor is insurance, or who will foot the bill for the replacement. If you have to pay the entire cost and are on a tight budget, then surely aftermarket glass is the best choice. However, if you have a premium plan under which your comprehensive insurance covers the damage, go for an OEM glass replacement.
So, it all boils down to your pocket, when it comes to choosing windshield glass for your car.
What shall I consider while choosing a car windshield?
The short answer to your question is – The safety!
Yes, you and your loved ones' safety should be your priority when getting your car's windshield replaced. The windshield is one of the most imperative components of your vehicle. It plays a crucial role when it comes to your safety. It not only protects you from external impacts like rocks and debris, but it also keeps you from getting out of the car in the event of an accident.
OEM windshields, as previously stated, restore the vehicle's factory-installed safety measures against the harsh outside environment and flying debris. On the other hand, aftermarket windshields do not always guarantee the same. They can sometimes outperform OEM windshields, but quite rarely. Some aftermarket manufacturers' safety standards may be on par with or better than those of the automaker, but others miss the mark.
Undoubtedly, with OEM windshields, you can be confident that they will provide you with the same level of safety as originals. However, if you get a good deal on better quality and more durable glasses than OEM parts, then opt for an aftermarket windshield. See, the idea is to get the best windshield at the most competitive prices. There are several aftermarket windshield companies that offer you high-quality glasses at the best prices. All you have to do is to do a lot of research.
Get Your Windshield Replaced By Experts
Whether you choose an OEM or aftermarket windshield glass, getting it replaced by an expert technician is of utmost importance. Professional technicians are skilled people who can guarantee not only the right installation but also can help you with high-quality windshields.
More often than not, people try to fix their windshield all by themselves, which is the biggest mistake they commit. Understand that it is a matter of your safety. Your car glass is not any ordinary component.
It is an integral part of your car and plays a crucial role when it comes to your safety. Hence, make sure you take it to a reputable technician to get your windshield replaced or repaired.