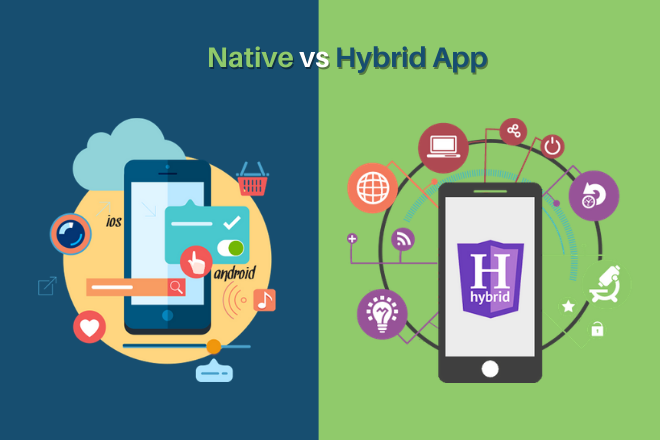 Let's debate on differences between Native Apps vs Hybrid Apps and which is the best for your business.
Every one of us is using mobile phones to do our daily routine tasks. Smartphones have become the basic need of every individual. From paying bills, travel booking, ordering tasty food to medical and health consultation everyone relies on their personal iOS or Androids mobile device. Mobile app development services are reading the market by offering user-friendly features and functionalities.
The increased demand for smartphones leads to the growing demand for mobile applications. Entrepreneurs are opting for mobile apps to maximize sales and revenue at the same time. But the biggest confusion arises when business owners plan for an innovative mobile is Native v/s Hybrid, which is the most suitable option? Entrepreneurs find it the most complex decision to choose an option that will give them maximum benefits. In this article, we will deal with such confusion and come out with the best possible solution that leads to better business productivity.
Do you know that choosing the right option depends upon your business objective and goals? It doesn't matter which option you choose, if it does not match your business specifications and deliver the market demand then it's worthless. Every option has its advantages and disadvantages, it's all about what best fits your business model.
Native Apps vs. Hybrid Apps
Let's discuss both Native and Hybrid mobile apps that will help you to choose the one that best suits your business model:
Native App Development
Native apps are built for a specific platform to perform selected tasks. Using SDK Native apps are created on certain frameworks, hardware, and platforms. For example, an Android mobile app developer uses Android SDK to create an Android Native App whereas an iOS mobile app developer chooses Swift with iOS SDK.
With huge benefits offering the Hybris mobile app have some disadvantages too. Like if anything exists, that will have both the sides pros and cons. So let's discuss some points to know the pros and cons of Native Apps.
Pros of Native Apps
High-end Performance
The main advantage of Native apps is its great usability and performance. It provides remarkable efficiency and includes relevant frameworks based on different platforms.
Client Satisfaction
It offers great speed, security, and flexibility for an awesome user experience that leads to maximized user engagement and a potential customer base. It meets the user's requirements and satisfies their needs.
Robust Security
Security is a major concern for all entrepreneurs. The native app offers great security for the safest business transaction and avoids any data leak. This is the key reason why businesses opt for native apps.
More Interactive & Intuitive
The most profitable advantage to Native applications is the unrivaled client experience. Native apps are made explicitly for a specific framework. They adhere to the rules that eventually improve and adjust the client experience in the particular operating system. Therefore, the progression of the application is more normal as they have explicit UI guidelines for every platform. This permits the client to gain proficiency with the application, for example, deleting a component rapidly. Adhering to explicit rules takes out the learning curve and permits clients to collaborate with applications utilizing activities and signals they're comfortable with.
Great Speed
Because native apps are platform-independent, they work faster!
A lot of Native app components are preloaded. The complete user-related information is gathered from the web instead of collecting it from the app. So they provide fast performance and built-in features.
Cons of Native Apps
Takes More Development Time
Native mobile app developers are required to create separate code as per different platforms that consume more time. Also, each platform has its own updates and development cost.
Now, when you are familiar with the Native mobile applications and their advantages and disadvantages. Let's move ahead and cover the lesser-known facts about Hybrid mobile apps.
Hybrid App Development
The most utilized tech innovation introduced in the market is React Native, an open-source app development framework developed by Facebook. It allows app developers to use javaScript libraries and react For developing iOS and Android mobile applications.
Some best cross-platform app development frameworks are:
Framework7
Onsen UI
Xamarin
Flutter
Ionic
Hybrid applications have the quality to perform on various platforms. You can say it's an all-rounder performer. As the name implies "Hybrid mobile applications" are a combination of web applications and Native apps. Hybrid apps offer unique compatibility to perform on different devices and platforms.
Let's discuss some pros and Cons of Hybrid mobile app development:
Pros of Hybrid App Development
Low Maintenance
It's the biggest advantage for iOS mobile app developers that they are no longer required to write separate codes as per different platforms. Hybrid apps offer the benefits of using a single code base to develop an app that can perform on multiple platforms. In case, any updates or modifications are required in the code then the developer needs to do it only once and it will be done across different mobile operating systems.
Time-Saving
Hybrid mobile apps take less time to develop as compared to native apps. Due to the single code usability benefit developers save a lot of time that they invest while developing Native apps. The app developer has the flexibility to reuse the code and designing process for different platforms.
Cost-Effective
As we know that Hybrid apps can perform on more than one platform with a single code base. It saves a lot of time and money as well. Business owners can save their money and find the most suitable options that fit their estimated budget.
Native APIs
Hybrid mobile applications offer a wide range of plugins that provides access to key features of mobile applications. It helps in delivering the user's expectations and meets their requirements.
Attractive UI/UX Design
Attractive layout and design is the key reason that drives more clients to your application. With Hybrid application development, you can offer a better UI experience and impeccable performance to the end-user. Because of its eye-catchy look on every platform, Hybrid apps are more welcomed to the app store. users find this fast performing while using it on different devices. This made it highly preferred by the organizations to accomplish complex business tasks.
Hassle-free Integration with Other Apps
As Native applications run distinctly on a similar OS, it is quite complex for clients to coordinate or integrate different applications. There will be an absence of inter-application collaboration. Hybrid apps resolved such issues. They have the potential to consistently incorporate with different applications, which is an incredible option for app developers who might invest little time in in-app integration. Hybrid applications easily associate with the systems environment much like Native application tasks, clients won't encounter inconvenience while utilizing Hybrid apps.
Native experience with simple backend
Although Native application delivers amazing client experience, a Hybrid application gives the majority of what Native UX offers alongside holding back-end structure optimized. You can decide on a comprehensive development framework to create a Hybrid app that amazingly associates with device-based functionalities. It offers users a Native mobile app experience and zeroes the difference as they switch from another device.
Cons of Hybrid Apps
Connection Limitations
Users need to be connected with the internet all the time as it does not support offline working. The Hybrid application needs to get more simplified so that it can be downloaded easily.
Conclusion
Native mobile apps v/s Hybrid mobile app development is a never-ending topic to discuss. The options hava their pros and cons and your decision will depend upon your choices, business mode, object, and goals. Also, budget is also a major factor to consider while choosing the one. If you have a low-budget business plan then you can choose an Android app or if you want to invest with open hands then you can opt for iOS mobile apps with advanced features and functionalities.
Some important factors like target audience, development methodology, features and functionalities contribute to choosing the best options. Both Hybrid and Native mobile apps offer the ultimate user experience, but you need to choose the one that satisfies your business's needs. For a successful business plan, an expert decision can do wonders. You can hire a mobile app development company for your dream application. Hiring a firm will connect you with industry leaders and get you what you expect.
You can hire an iOS app development company or an Android app development service provides, as per your requirement. Hiring a professional developer will help you to remove your business complexity and get you a feature-rich mobile application tailored to your business needs. You can hire a professional and skilled mobile app developer who has knowledge of recent tools and technologies for innovative app development.
One wrong decision affects your entire business plan, make a wise decision that opens new opportunities, and gives the right dimension to maximize your productivity.