We all know many Android games that have been published in the Google Play store, but so few have made it to the top list. The ones that do get to the top are some of the greatest. They lead examples of new age graphics and play style this is why there is the top of the list. Now without further more to do I give you the best free Android games.
Clash of Royale was built by Supercell who spent years and hours trying to release a game that could compete with own game Clash of Clans. This game soared after many fans of Clash of Clans waited calmly for another game as great as Clash of Clans. A lot were happy, others not so much they were waiting for Clash of Clans 2, but many were happy to have a game that didn't need stamina and you could play for hours at a time. This is why it deserves to be on the top 10.
INSTALL NOW ON GOOGLE PLAY!
Color Switch is by far the most aggravating and addictive game in the play store. It would be compared to Flappy Birds to 2015. It has much the same concept and even made a mini-series in the game of Flappy Bird. This game will have you playing and playing for hours and hours at the time trying to get just a bit farther each time. The different little games it has will keep you from boredom too. They keep on adding levels and new mini games so be ready for endless frustration and endless joy.
INSTALL NOW ON GOOGLE PLAY!
360 Degrees is very basic but also very complex at the same time. The object is to spin the table while a ball is bouncing around and you must avoid the spikes. Sounds easy, don't it? Don't let this game fool you; it is very complex but fun at the same time. This game will have you hooked in no time while raging at your phone.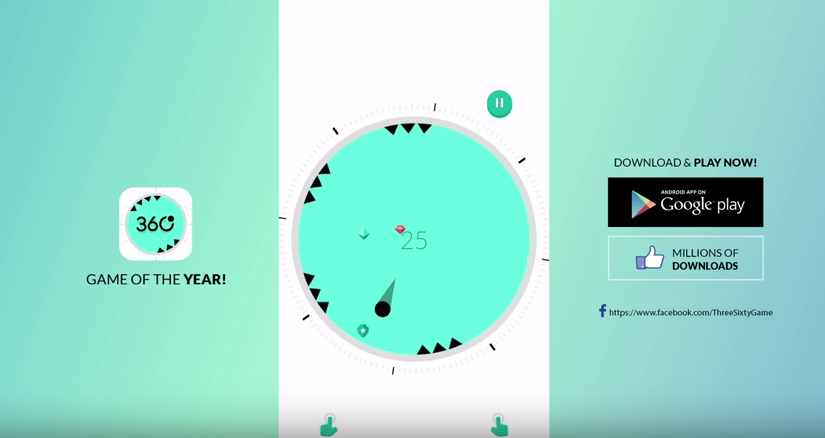 INSTALL NOW ON GOOGLE PLAY!
Mobfish Hunter is very addictive and very challenging, but also very easy to pick up on. You just have to admire the time it took to build this app and the graphics. You hunt mobfishes with grenades it's like fishing on the max. The story is based in the year 2020 when fish have become monsters and it is the job of mobfiish hunters to cut them. Very simple and quick to pick up on if you, like fishing. If you like to play the games of diving as far as you can and like killing things this game is for you. You shoot a lure down and hit a fish and fly back up.
INSTALL NOW ON GOOGLE PLAY!
Star Wars Galaxy of Heroes is a strategy game where you unlock cards to fight in a galaxy war. You can unlock both light and dark characters. There are tons of characters and they will be adding more to the game. This game will have you begging for more as you try to upgrade your characters to their max. There are many helpful features of this game when it comes to upgrading. There is a button to skip the fight if you've already gotten a three star and just have loot. This feature is very helpful when you just want to level up a specific character.
INSTALL NOW ON GOOGLE PLAY!
Clash of Clans was made back in 2015 but I think it deserves some recognition for its outstanding updates in the past year. Clash of clans as you probably already know is a build your own base type game where you are pitted against opposing players in multiplayer battle. For the longest time, you could only reach town hall 10 and then you would have beaten the game. But this year they released town hall 11 with a new hero and a new building. Its rating shot up even higher than it has been ever. Many players who had already beaten the game downloaded it and started again just to get the new town hall, hero, and building. Clash of Clans deserves to be on the top ten because of this.
INSTALL NOW ON GOOGLE PLAY!
Cut the Rope was made in 2010 but still deserves a spot on this list for being a classic game of puzzles, and without stamina, you can play for hours at a time. It has so many different versions that were added to the series later on. This game holds true to many of the original puzzle games and its counterparts in the series hold up too. While it may seem innocent this game is very aggravating it, sometimes not only relies on thinking it relies on skill in some parts. You have to be quick on the swipe and time everything perfectly to succeed in beating this game. So if you're looking for a good puzzle game, look no further than Cut the Rope and the rest of the series.
INSTALL NOW ON GOOGLE PLAY!
Crossy Roads is back with a new update Disney and Spring theme. Crossy Road at one time was the biggest game, it was a lot like Frogger, but had so many features Frogger didn't have. They have constantly updated it with a new character and with new characters come new surroundings. Altogether it is a great time killer you can play for hours and try to get the most character, or you can play to get the highest score. Though it may not be the newest it definitely qualifies to be on the top 10 list.
INSTALL NOW ON GOOGLE PLAY!
Word up is a great game for testing your intellectual skills. The object is to solve the puzzle by finding the words in it as fast as you can. Sounds simple, doesn't it. It's not it gets harder with each level pack you unlock. The concept is very easy, but the words get harder and harder as you go. This game has just been released and has just now made it to the newest games on the Play Store. This game deserves to have some recognition for bringing back games that children need. This game could help a lot with spelling and learn new words. Hopefully, kids don't see this as learning but see it has a helping hand in their spelling and expanding their vocabulary.
INSTALL NOW ON GOOGLE PLAY!
It could be seen as a failure to some and others their biggest breakthrough. It can be aggravating and it can be fun. You can be mad at it one day, then the next happy at it. This all is some of what Boom Beach is like. Boom beach was created by Supercell to combine realistic fights with a fake world. You are a commander of a small island and your job is to free the other villagers from the captivity of the evil general and eventually fight him. The only aggravating thing about this game is the fact that you can't upgrade your headquarters till your experience level is high enough. Otherwise, the troops are fun to use. You can have statues and you have backup brought to you by a warship. That you control by tapping. This game has a lot of potentials but hasn't had that many updates in a long time.
INSTALL NOW ON GOOGLE PLAY!