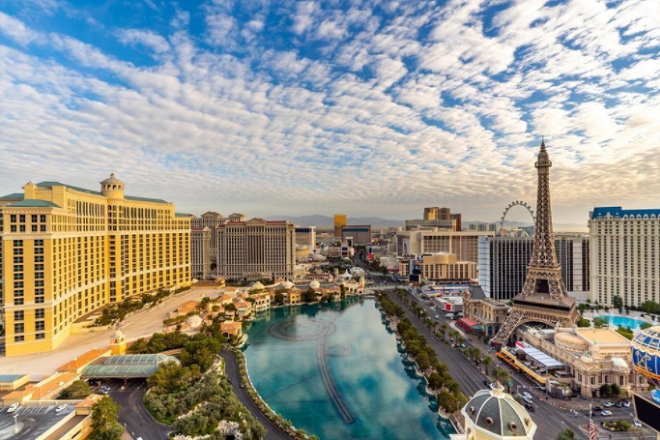 It should hardly be surprising that Sin City offers legal recreational cannabis to adults over 21 — after all, Vegas bills itself as a place where you can indulge in almost any vice with impunity.
Unfortunately, Las Vegas does draw the line at consuming weed in public; you can only smoke or eat edibles from the privacy of your 420-friendly accommodations. Fortunately, you can venture out of your lodgings to experience the city once you are good and high.
Best things to do high in Vegas
But what should you do when you are stoned on the Strip? Here are a few ideas to keep you high and happy during your Vegas vacation:
Though not technically on the Strip, Fremont Street is a can't-miss spot in Vegas for every visitor, and especially stoned visitors. For decades, Fremont Street has offered the most famous image of Vegas: glittering lights, neon signs and dozens of little casinos, hotels, restaurants and the like. Nicknamed "Glitter Gulch," Fremont Street now offers Vegas visitors a totally unique pedestrian experience with thrilling amounts of light and sound. And the experience is even more exciting when you are high.
The Fremont Street Experience is part-mall, part-outdoor show, part-casino and arcade. When you are sober, you might be overwhelmed by all the hubbub and eager to dash indoors to a less stimulating space. However, when you are under the influence of THC, the flashing lights, music, performances and more are likely to be extremely entertaining. Even better, because Fremont Street is totally free, you can amble in and out as you feel comfortable without worrying about a wasted ticket.
After an afternoon in a dispensary, Las Vegas seems like munchie heaven. Indeed, the city is jam-packed with excellent eateries, from a handful of Michelin-star restaurants to fast food on nearly every block. However, if you are looking for a quintessential Vegas culinary experience, you should look no further than the all-you-can-eat buffet.
When THC binds to the receptors in your digestive system, your hunger should drive you to the following best buffets on the Strip:
Wynn Las Vegas Buffet. Utterly extravagant, this buffet boasts 15 live cooking stations that personalize every meal, making it equal parts buffet and luxury dining experience.
Bacchanal Buffet. Located in Caesars Palace, the Bacchanal Buffet offers any dish you can imagine — literally hundreds of culinary offerings in dozens of cuisines.
Wicked Spoon. Instead of piling food in chaffing dishes, this buffet offers individual portions with beautiful, creative plating, which revolutionized Vegas buffets.
When you are ready to sink into an indica strain, you need a relaxing show with comfortable seats to keep you occupied during your high. Fortunately, there is no end to the number of shows going on during any Vegas evening. If you can score tickets to any of the following productions, your pot experience is likely to be excellent:
Mystere by Cirque du Soleil. Cirque du Soleil currently has no fewer than five shows running in Vegas, but Mystere is easily the best. With amazing physical feats and entrancing costuming, this show will captivate even sober minds.
Blue Man Group. It might be argued that Blue Man Group should only be enjoyed while thoroughly and completely high. Otherwise, the energetic yet wordless performance can be totally baffling.
Criss Angel, Mindfreak. The only time you are likely to be dazzled by a magic show as an adult is when you are stoned, so you should take advantage of Vegas's cannabis policy to experience Mindfreak the way you should.
If you tend to get overwhelmed by activity when you are high, you might need a place where you can feel totally at peace — and that is the Bellagio Fountains. This famous water show occurs every 30 minutes during the afternoon and every 15 minutes from 8 PM into the night. There is hardly anything in Vegas more soothing than the sparkling dance of the fountains in front of the Bellagio, and because this attraction is free, you could stand before the fountains for the entire duration of your high if you so please.
As long as you partake of cannabis in a private space, like your 420-friendly accommodations or a cannabis lounge, you venture onto the Strip and enjoy almost any activity well-stoned — as long as you don't interfere with the experience of other Vegas visitors or put yourself in harm's way, of course.