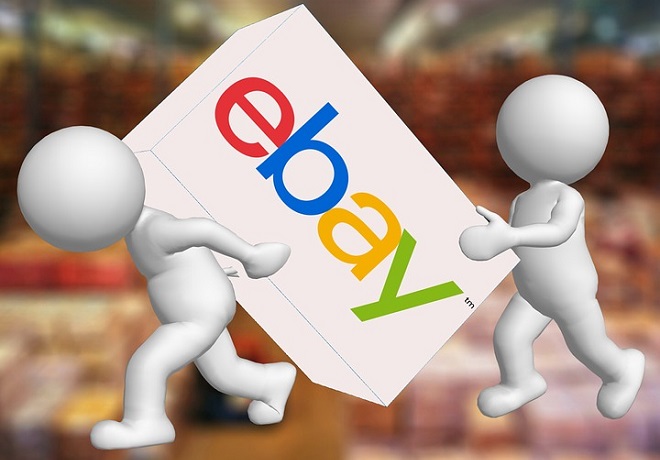 If you're looking for an online marketplace where you can buy or sell almost anything, whether new or old, eBay is the perfect option you should consider.
For over 20 years, individual entrepreneurs and small to medium scale business owners have used eBay to kick start their various online e-commerce businesses. With over 182 million active users and over 100 million new visitors per month, eBay is definitely a force to be reckoned with in the e-commerce industry.
If you're a new seller looking to sell your products online on eBay, you need to, first of all, understand the fees that you'll need to pay. One mistake a lot of sellers on eBay make is to ignore some expenses and think that they are insignificant. This is a huge mistake as these expenses can quickly add up, and you might be running at a loss without even knowing.
As a seller on eBay, you're required to pay fees that help eBay keep the platform up and running. You have to take into account every fee and see how much percentage of your total monthly sales goes into paying fees and other expenses.
When you have a good knowledge of the fees you'll be paying for selling on eBay, it'll help you to become profitable.
Luckily, through this comprehensive guide, we'll let you in on all the details you need to know as regards eBay fees, and we'll even show you how to calculate your eBay fees easily.
The Cost of Selling on eBay
So, let's take a thorough look at the costs of selling on eBay. Here are the major fees you need to be aware of;
Listing Insertion Fee.
This is the first fee you'll need to pay as a seller on eBay. The insertion fee is basically a fee you pay when you list an item or product you intend to sell on the eBay website. This fee applies to both fixed-price listings and auction-style listings.
You need to know that eBay allows you to list a particular number of items for free without paying insertion fees. Once the number of items you're allowed to list for free are exhausted, then you are required to pay insertion fees if you want to list more items.
The quantity of items you can list for free largely depends on whether you have an eBay store or not. Furthermore, the quantity of items you can list for free on eBay also depends on the type of store you have, whether its basic, premium, or anchor. Here is how the zero insertion fee listing work;
As a seller, If you do not have an eBay store, you are only permitted to list 50 items per month for free on eBay. Both fixed price and auction-style listings.
For sellers who have a basic eBay store, they are only permitted to list 250 items per month for free on eBay. Both fixed price and auction-style listings.
For sellers who have a premium eBay store, they can list as much as 1,000 fixed-price listings, and 500 auction-style listings every month, free of charge.
If you happen to operate an anchor store, you are permitted to list as much as 10,000 fixed price listings and 1,000 auction-style listings every month, for free.
Here are some other important things you need to know about insertion fees.
They are non-refundable, whether your item sells or not.
They are usually charged per listing and per category, so if you have one item in two categories, you'll pay for the other category as well.
You'll pay an insertion fee each time you re-list an item you listed earlier.
If you want to know more about how zero insertion fee listings work, check out this page.
Final Value Fees.
When your item sells, a final value fee is charged at the end of the transaction. The total amount or percentage of the final value fee depends on the purchase price of the product, as well as shipping and handling. The type of shipping method your buyer decides to choose will determine your shipping fees.
Keep in mind that the final value fee will be deducted once you sell an item, even if the buyer has not yet paid for the item. Note that there are some situations where a seller sells a product, and the seller may not receive payment for that product due to the following reasons;
The buyer did not make payments.
The buyer cancels the transaction.
The buyer asks for a refund after an issue comes up.
Note that in the circumstances mentioned above, the item has been sold already; however, the seller did not receive payment. In this situation, the seller can ask for a refund of the final value fee. One easy way to deal with issues like this is to use the unpaid item assistant. It is a streamlined process that automates the task of opening and closing cases of unpaid items.
Optional Listing Upgrade Fees.
These are fees charged on additional listing features a seller decides to use in order to help increase the visibility of their listings in search results and thereby, increasing the potential for sales. Just as the name implies, it is totally optional, and a seller can decide whether to use it or not.
Optional listing upgrades essentially deals with specific upgrades to a seller's listings such as;
Adding subtitles, or bold fonts.
Adding more pictures.
Using HTML formatting to enhance listings.
As a seller, you can use upgrades to enhance your listings in order to increase the exposure of your listings and make your listings stand out. However, they come with a small fee. To further upgrade your listings, and to add subtitles in the languages of your potential buyers, you can take advantage of translation and localization services offered by The Word Point and other brands.
PayPal Fees.
One of the most prominent payment gateways on eBay is Paypal, and it has a fee structure that is pretty simple to understand. Basically, Paypal charges a processing fee of 2.9% per transaction, plus a set rate of $.30 for every transaction carried out on eBay.
Normally, Paypal does not charge for basic transfers, which can take up to two or three days to go through; however, if you want instant transfer as a seller, Paypal will charge you a 1% fee. Likewise, Paypal charges 4.4% if a transaction is from an international buyer.
As a seller, if you deal essentially with items that have a low purchase price (like items under $12, you can use other micropayment options in order to reduce the cost of fees you pay for processing payments.
Moreover, if you are a high-volume seller, and you sell up to $3,000 worth of items per month, you can apply for PayPal's merchant rate. With the merchant rate, the processing fee is reduced from 2.9% to 1.9%.
Classified Ad Listing Fees.
Classified ads are used by sellers to boost their sales on eBay. With classified ads, a seller will get direct contact information of a buyer from eBay, and the seller can then contact the buyer directly. However, as a seller, you should be careful not to misuse the buyer information provided by eBay, as misuse could lead to the suspension or restriction of your account. A fee of $9.95 is normally charged by eBay for listing a classified ad for 30 days.
Punitive Fees.
These are additional final value fees you will be required to pay as a seller if you're performing below expectations or if you violate any of eBay's terms and conditions or you conduct a transaction outside eBay. Even if the item didn't sell eventually, you would still be charged a final value fee, which will be a total amount of the supposed sale.
How to Calculate Your eBay Fees
There are different kinds of eBay fee calculators you can use to find out all the fees you'll be required to pay for each item. All you have to do is enter the product name in the relevant box, and you'll see an estimate of fees you're required to pay.
Here is a step by step guide on how to use the eBay fee calculator.
First step: Choose a category and subcategory of the product you intend to sell. In the image below, the cell phones and accessories category was chosen.

Second step: Choose your listing information and purchase price. In the image below, a fixed listing price of $500 was chosen.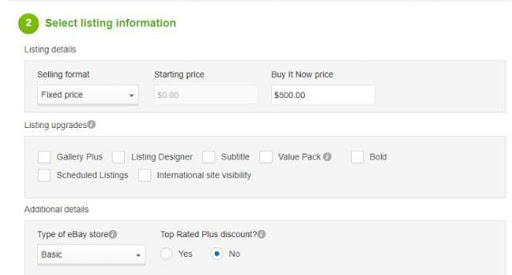 Third step: Choose the shipping method and cost you intend to use. In the image below, the free shipping option was chosen.

Fourth step: Results. Based on the product and category entered, the total estimated fees are displayed below; insertion fee = $0, listing upgrades = $0, final value fee = $30.75.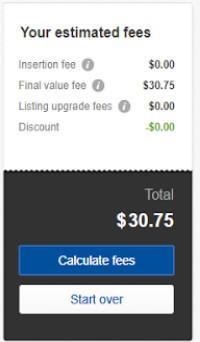 Wrapping Things Up
Whether you're a first time seller or a more experienced seller who's been on the eBay platform for a while, it is always wise to have a good knowledge of the possible fees you'll incur for selling on eBay.
Are you really making a profit on eBay or you're fighting windmills? Knowing your eBay fees will be a good way to find out. You'll also be able to fix your final purchase price at a rate that will enable you to make a profit.
Fortunately, this comprehensive guide will give you a good idea of all the eBay fees you need to put into consideration when selling on eBay.