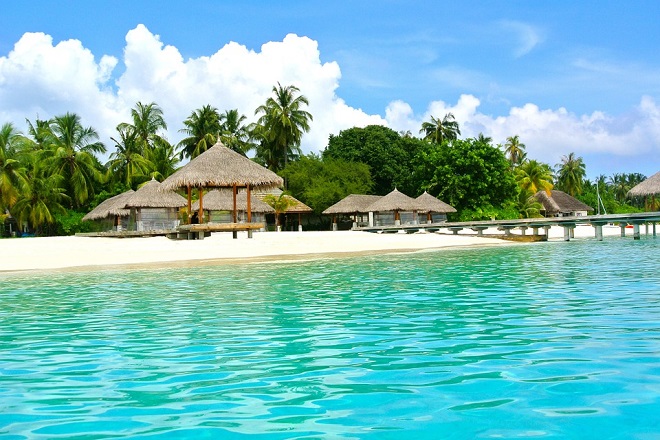 When you think of Maldives, there's just no way not to imagine the cottages on the waters, the blue sea that is very inviting, and the perfect white sand beaches where you can enjoy the sun. It's just an ultimately picturesque place to be in. However, many travelers fear that they just don't have the budget to go to Maldives and enjoy the place. Don't worry. There are several ways that you can still make the most of your Maldives trip even when you're on a tight budget.
Why is Maldives Expensive?
The flights to Maldives can really be expensive. Along with that, the resorts and hotels can also be pricey. But just why is Maldives so expensive? This is because this is a country that really counts on the travelers going to their place for their nation's income. Tourism makes up most of the country's GDP.
Another reason is that geographically, Maldives is isolated. It is far from the rest of mainland Asia where they have to import most of their goods. So, when you go there, don't be surprised if everything is pricey. Try to understand that it costs the locals a lot to bring you such conveniences.
Maldives also has so many islands that are far apart from each other. If you want to visit those islands, you have to ride a boat or a seaplane. That's going to cost you money so be prepared for that. But the great news is that you can really get to enjoy the place if you have a spending plan ready before you go.
Tips to Enjoy Maldives on a Tight Budget
If you really want to go to Maldives, know that there's nothing to stop you. Even on a tight budget, you can still visit the place. Here are some of the things that you can do to make sure that you don't go beyond your intended budget for your trip to Maldives. First, try to forget about alcohol. Instead, focus on doing fun activities such as swimming, snorkeling, and observing the bioluminescent plankton at night.
When going to Maldives, you can go to Asia first such as Bangkok or Kuala Lumpur. And from there, proceed to Malé which is the major airport of Maldives. You can get much cheaper flights if you go in this route. The only downside is that you will be spending more time traveling. Nevertheless, you can enjoy those Asian cities first before going to Maldives.
As for the hotels, the cottages on the water that you normally see on the net when you search for Maldives are going to cost you money. You don't have to stay there if you really want to save money. There are other options that are much more affordable yet they are just as comfortable and beautiful.
Look for neighborhoods in the islands. There are usually guesthouses there that are very affordable. Some may even be as low as 50 USD per night. Just compare that to the 1,000 USD for those water cottages. This is definitely a deal that you shouldn't pass up on. You'll be saving a lot of money.
You can try to go to Guraidhoo, Fulidhoo, or Maafushi. These are really great islands to visit and the guesthouses are budget-friendly. They are near Malé, too so don't worry about the transportation going to and from the airport.
Once you're on the islands, you can start enjoying the perfect beaches and just bask in the sun. Remember not to look for alcohol. Since Maldives is a Muslim country, you won't be able to find alcoholic drinks around. There are some in hotels but they'll surely put you off budget.
Saving Money in Transportation
If you choose to stay in a resort island, then your choices for transportation will be limited and expensive. However, if you choose to stay on one of the local islands, then you have more options to choose from. For example, there's a ferry system that you can take advantage of so you can visit one island to the next.
The ferry system is not expensive at all. You maybe need to prepare 10 USD for it so it's really not that bad. The only downside is that you may have to do some waiting for the boats. But when you're in Maldives, don't be in such a hurry. Relax and just go with the flow. It's the perfect time to forget about always rushing about. Let your virtual personal assistant do the work so you can forget about work for the meantime.
Saving Money on Food in Maldives
Meals in the islands are not expensive at all. The meals can be at around 10 USD to 15 USD. Some of the hotels include meals on the price you pay per night's stay. If you're staying in a hotel that doesn't include meals, then you can go to restaurants where they serve local food. It's very affordable. The meals usually consist of rice, coconut, curry, and lots of fish.
Another way to make sure that you're within budget is to take some snacks with you from home. This just ensures that you won't go hungry while you're in a boat ride or when you're waiting for your transportation to the next island that you want to visit.
You can definitely bring some healthy protein bars with you. You can have that either as a snack or one of your meals if you are really on a tight budget. But remember that the food in Maldives is not expensive and it would be a shame if you miss out on the really great food that the islands have to offer.
Takeaway
Now that you know how to save money while still having a grand time in Maldives, you should definitely visit the islands. It's one of the best places in the world that you won't regret visiting. It's a piece of paradise that's waiting for you. With the right budgeting strategy, you'll be able to make the most out of your Maldives trip.