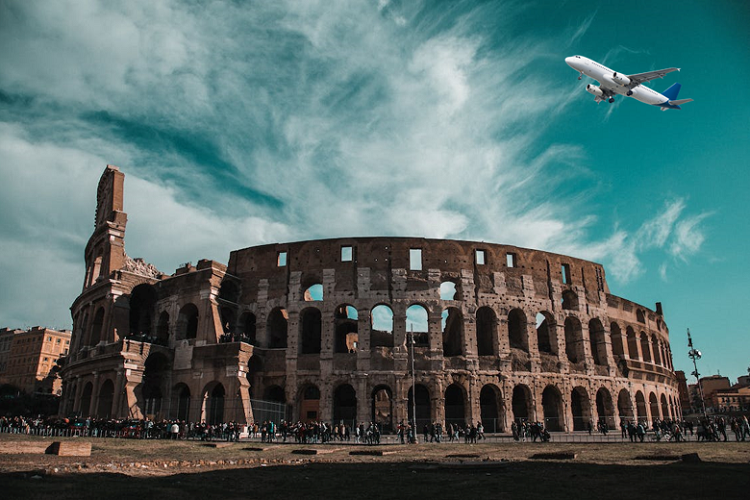 The stress of work and the hustle and bustle of life is enough to overwhelm you. You may need to take some time off to relax and recharge.
Out of the many amazing destinations available to you, you can consider visiting Rome. If you have enough cash to spare, you can even book a business-class flight to Rome.
Imagine sitting in the most comfortable, luxurious seat you've ever experienced, sipping from a glass of wine and intermittently napping on your way to Rome for a once-in-a-lifetime trip. Feels surreal, right?
Booking a business-class flight to Rome doesn't have to be just a dream. In this article, we will provide you with every detail you need to know about booking a business-class flight to Rome.
How Much Does a Business Class Flight to Rome Cost?
The cost of your flight depends on several factors; your location, whether it is a one-way or round trip, and the time of the year you book your flight.
If you are flying from areas like North Dakota, New York, etc., a business class flight to Rome should cost about $2,511.
Flying from Wyoming, Miami, Chicago, etc., can range from $2557 – $2970.
For a good deal, a round trip can cost roughly $2,604. On average, a round trip should cost $3,901.
In October, the cost of a business flight to Rome will reduce greatly to around $1,900 because fewer people are traveling that period.
In December, however, the price skyrockets to about $2,800 – $3,000 because of the Christmas festivities and celebration.
What Are the Benefits of Flying Business Class?
Booking a business-class flight to Rome comes with many perks! From additional services to more legroom and comfort in the cabin, you will surely arrive well-rested and feeling your best.
Not only can you book flights with first-class amenities, but you can also book additional services depending on your airline to make your travel more luxurious. Here are a few of those extra services:
Pre-flight Concierge
You can relax and enjoy the trip even before it starts. A chauffeur can pick you up from home or the office and take you to the airport lounge, where many airlines offer complimentary drinks and snacks for their business-class passengers.
Faster Check-in Process
You get to skip unnecessary lines — with a business class ticket, most airlines offer priority check-in lines, so you won't have to wait again at an airport counter. You can also fast-track security checks to move quickly through busy airports on their way out of Rome.
Lounge Access
You may also get access to exclusive airport lounges when flying business class on certain airlines. Enjoy food, drinks, and other perks while waiting for departure in absolute style and comfort.
Which Airlines Fly to Rome?
Some of the best business-class flights from the US to Rome are available on Qatar Airways, Delta Airlines, Lufthansa, and Turkish Airlines. They mostly offer direct flights with some layovers if possible.
If you don't mind stopping off somewhere else on your way there, then you can try budget airlines. However, remember that these budget-friendly options usually involve only economy-class seating.
How To Book Your Business Flight to Rome
When booking your flight, research and compare the cost and what other amenities will or won't be included – such as meals, drinks, and seat upgrades. With this guide, you can soon enjoy a business class experience on the way to the Eternal city!
Compare Flight Packages and Prices
Get familiar with the different flight packages and amenities, then compare the prices available. Keep in mind that saving money on a business-class flight is possible, but you need to shop around.
Start With Budget Airlines
It's always best to start with budget airlines as they offer the cheapest deals for business-class flights. These airlines typically have more stringent restrictions, so read the fine print before booking.
Use A Comparison Tool
Using an online comparison tool can help you quickly compare packages and prices from multiple airlines at once. This will give you an easy side-by-side comparison of all of the different flight options available so that it's easier to quickly spot the best deal.
Consider Forgoing Luxuries To Save Money
Lastly, consider preceding any luxuries when booking your business-class flight to Rome to save money. Don't pay for features that you won't use if money is a concern
Use Promo Codes
Many airlines will offer promo codes for business-class flights and other types of airfare. You can often find coupon codes on the airline's website or through promotional emails they may send subscribers. These codes can often save you a significant amount on the cost of your ticket.
Try Bundled Deals
Sometimes airlines and travel agents offer bundled deals that include discounts or other perks like free in-flight meals or drinks, priority boarding, access to loyalty programs, or even hotel and car rental packages. Find out what kind of deals airlines are offering for business-class flights to Rome – you might end up saving a bundle!
Conclusion
Business class flights to Rome can be an expensive but luxurious experience. With some research, you can find great deals and promo codes with airlines and get that business-class flight to Rome you've been dreaming of.