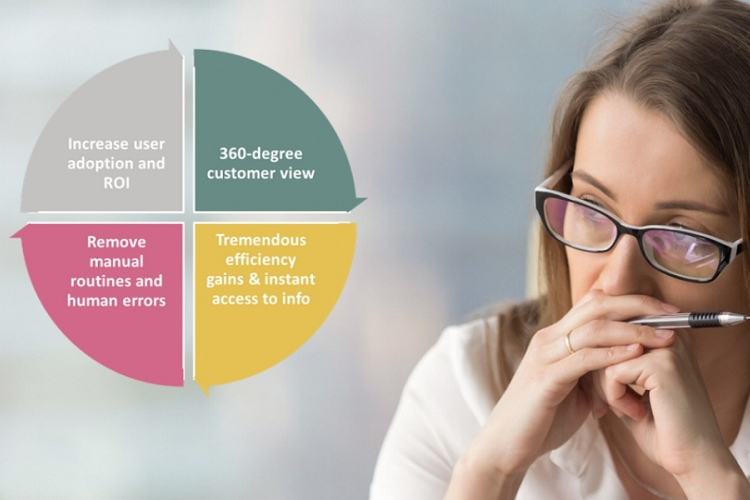 Any enterprise worth its salt is constantly looking to get and stay ahead in an increasingly competitive and ever-shifting market. Businesses looking to bolster efficiency would do well to begin with the fundamentals. For example—data. How efficient is their collection and use of data? Does an enterprise's ERP and CRM "talk" to one another? Ensuring that data collection, dispersal and implementation are operating in tandem quickly and effectively is one of the biggest challenges businesses face. Streamlining these mechanisms is an ongoing process, but it doesn't have to be a headache. Seamless and flexible integration platforms such as Rapidi's can do the heavy lifting for you. ERP and CRM integration bolsters everything from customer data analytics to business intelligence to project planning and resource distribution.
Decades of refinement means Rapidi is capable of merging almost any data technology end-points; this not only centralizes your information, but puts a stop to many data access issues that compromise your employees' ability to work efficiently. Rapidi can facilitate software-specific API integration, or integrate to databases such as Oracle or IBM DB2. The best data integration services will also be highly customizable; if none of their pre-configured solutions work "out of the box", Rapidi's platform can be altered to fit just about any need.
But what is CRM-ERP Integration, and how does it work?
So what is a data integration service, exactly? To put it simply, data integration platforms work to centralize your business operations, allowing your ERP and CRM systems to consolidate their respective data pools into a unified viewpoint.
Certain enterprises rely on single-vendor solutions for both CRM and ERP needs. However, these solutions are often more expensive and less customizable, and they're rarely as specialized as a system designed to function solely as one or the other. The downside to multiple systems is that they don't communicate with one another out of the box, meaning that integration platforms are a mandatory go-between. On the plus side, an enterprise opting for individuated CRM and ERP systems will have the advantage of each system's hyper-specialized components, with data integration platforms unlocking each system's full potential.
Data integration often begins with an "ingestion" process, which includes "cleaning" or standardization of the data, and ETL (Extract, Transform, Load) mapping to a target database. ETL mapping calibrates fields in one system to fields in another. This is necessary because each system may categorize similar data in slightly different ways; one item may be listed as "Product" in one system, but "Object" in another. ETL mapping ensures that this is understood by the target database. Data ingestion and data integration are occasionally mistaken as two terms for the same thing, but in reality, data ingestion is a phase of integration, while integration is the ongoing operation.
While there is no universal approach to data integration, long standing platforms such as Rapidi will be flexible enough to work "out of the box" for most enterprises, but retain enough flexibility to be customizable when the need arises.
Alt attribute: The end result of a successful data integration project is a 360 view that is invaluable to an enterprise's analytics and operational actions.
Data integration platforms consolidate different sources' data so that there is as little inter-department scrambling as possible. For example, an employee in the sales department will no longer have to call the Finance department in order to acquire the latest information about a customer's payment status; with the correct permissions, all relevant data is accessible via computer.
At its heart, integration is about bolstering communication and removing horizontal redundancy between a business's departments. It also allows managers to accurately assess financial risks and oversee manufacturing and supply chain operations from start to finish, and extract meaningful data points to perform relevant analyses. Integration also means no more harmful siloing; workers will have access to the most up-to-date and relevant data they need to function optimally, with minimal horizontal redundancy. With all your hard-won information at your managerial fingertips, not only can business projections be made with greater accuracy, but existing data can be amassed and considered against these projections. This scope of understanding is a massive advantage to any business looking to grow and operate sustainably. High-end integration services such as Rapidi give businesses the tools to harmonize and consolidate information in a way that maximizes efficiency in operations.
So what does all this look like in practice? While technical information can be circumstantially helpful, concrete examples are often more illuminating.
Xsens Animated by Rapidi's Seamless Integration Platform
Xsens is a powerhouse in the field of 3D motion tracking technology. Its sensor fusion innovations have revolutionized the realms of 3D character animation, motion analysis, and industrial control & stabilization. Founded in 2000, the company grew quickly into a global supplier with offices in the Netherlands, USA, and Hong Kong.
In 2018, Xsens decided to upgrade their old version of Microsoft Dynamics NAV to a newer edition. The upgrade was not without complications; it ultimately led to changes in their Salesforce implementation due to the improved and expanded Dynamics NAV system.
Jeroen Weijts, the Senior Operations Manager at Xsens at the time, saw the entire integration project through from start to finish. He notes that some companies choose single-vendor solutions for their ERP and CRM needs, such as SAP. But, he says, "although they are powerful, they are much more expensive, and less flexible. We have been very happy with our combination of NAV and Salesforce, connected by RapidiOnline."
Post-integration, most of Xsen's information flows from NAV to Salesforce, in order to give their sales team all applicable information on any given customer. Now, information regarding products, quotes, orders, payments, and sales history are transmitted to Salesforce whenever an update occurs. Accounts are synchronized in both directions, the end result being that the sales team always has the most up-to-date and relevant information at their fingertips.
The subject of data integration can seem like a daunting one. However, Rapidi's integration experts work in tandem with your enterprise towards an integration solution that is powerful, dynamic, flexible, and customized precisely to your business's needs. With over twenty-five years of success stories under their belt, Rapidi isn't content to rest on its laurels, and is constantly innovating ways to further expand its toolkit, and broaden the array of ERPs it is compatible with. If you're interested in learning more, you can visit Rapidi's website here.