We all know that Off-Page SEO is important to rank in Google. There are many reasons that Why is it important? We create Backlinks and connect with another website. We can understand the importance of Off-Page SEO. What about On-Page SEO? How are On-Page SEO techniques important? We will discuss all in detail about How On-Page SEO Techniques Can Boost Your Site Ranking?
What is On-Page SEO? Why do I need?
There are two types of SEO (Search Engine Optimization).
On-Page SEO is related to your Website. All the implementations and changes on your site are related to On-Page SEO. In Short, your Content is based on On-Page SEO. The Good SEO friendly article has more chances to rank in Google. Therefore, we focused on Content in On-Page SEO.
Furthermore, if your pages with good content can rank on Google, Bing etc, then higher chances of more traffic and ranking the site speedily. In short, all the things you do on your Website includes Meta Description, Meta tags, Keywords are On-Page SEO.
5 On-Page SEO Techniques Can Boost Your Site Ranking
1. Unique Page Title
The Title is the most important factor of On-Page SEO. Remember Page Title should be unique and should not more than 10-12 words. When Someone Search about the desired topic on a search engine, the first thing displays is a Title. Therefore, your title must be unique and well-defined according to the Topic.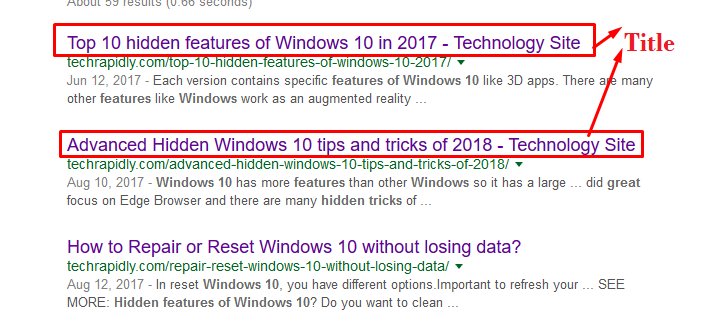 "More users click on your Post, more it will rank"
Keep these Points in your mind while writing a Page Title:
Page Title length should be in between 10-12 Words.
Don't repeat keywords more than one time in your Title.
Your Title should relate to your Topic.
2. Content (Keywords, length, Images)
Keywords: For your page to rank, you must include keywords in the body. Because to make your Content relevant to the search engine for rank in Google.
The percentage of Keyword in Content should not more than 3%. For example, you should include keywords as if your article contains 200 words then keyword must repeat 6 times. Also, to rank in Google, you have to repeat the related keywords.
Length: More the length of proper keywords and topic, more chances to rank in Google. On-Page SEO requires minimum 300 Words. But usually, for rank in Google in short time, we recommend writing Content of at least 500 Words.
Images: Images give your Content strength. Your Images must contain Alt-text, which means image title must contain a proper keyword. Keep in mind following points while inserting images in your Post:
Your Images should be Unique.
All Images must be Proper size.
Don't Copy images from other websites.
3. Meta Description & Meta Tags
Meta Description & Meta Tags are one of these On-Page SEO Techniques. Your Content must Contain a unique and proper Meta Description. Meta Description must have proper Keywords. Meta Description should relate to Content and SEO friendly Meta Description.
Google has announced that they don't take care of Meta Tags. But you have to include 2-3 Meta tags in your Post because of other search engines "Bing" take care of Meta Tags.
4. External Links
It is a great Idea to Link other Websites in your Content. We also recommend adding other sites on your page, if the information is relevant to your Post. Keep these things in mind while inserting other links in your article:
A Site you are linking must be a trusted.
Domain and Page Authority of another site must be greater than your site.
Use Nofollow links for less trustworthy sites.
For example, you are writing on features of Windows then external links should relate to trusty sites like Microsoft, Wikipedia, CNN, and etc. You can give them do-follow back links because these are trusty platforms.
5. Permanent Links
The Permanent Links are an important part of on-page SEO. Permanent Link is a unique and SEO based URL of each page. Each permanent link of a page should be unique but proper. Proper means, it contains keyword of your Content.

How was your experience with On-Page SEO? Which SEO, On-Page or Off-Page you focus?