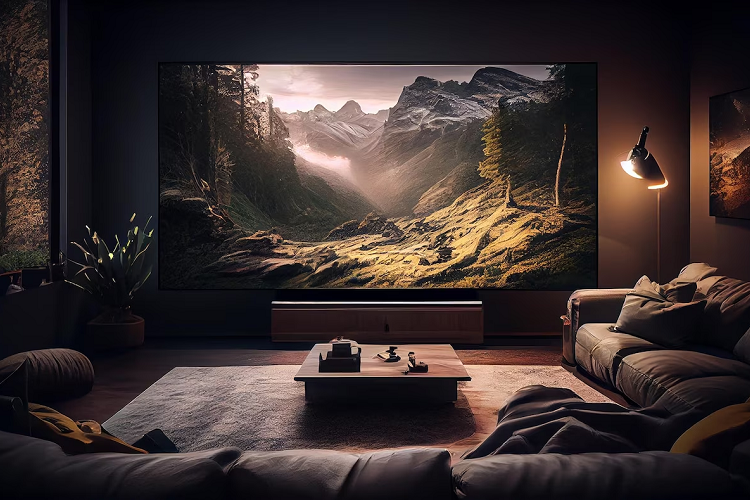 Do you dream of adding a mini movie theater to your home? Whether you have a huge luxury home theater or a smaller movie room, it is doable as long as you have some space. With the right DIY ideas, you can turn any bonus room into your own personal movie theater with ease. In this article, we have put together a list of 23 of our best home theater ideas.
Where are you putting your home theater?
You want to choose the right room in your home for your theater. Select a room that is not in any high-traffic areas of your home to help you minimize noise and distractions that can make watching a movie unpleasant.
If you have an attic or basement, whether finished or unfinished, these are optimal spaces for bringing your home theater ideas to life. Just make sure that they have good soundproofing so you are not disturbing anyone else in your home while watching movies. Basements are especially great for a home theater since they typically do not have windows, allowing you to watch movies without the pesky sun blinding your screen.
If you cannot use your basement or attic, you can convert a spare room into a home theater. You might need to add some soundproofing to the room, but that is probably the most serious modification you will need to make. Choose a spare room that has a simple shape and as few windows as possible.
What equipment do I need in a home theater?
There are many things that can be added to a home theater to enhance it, but there are just a few essentials that are a must have for any theater.
Every home theater needs to have a large, high-definition TV, so you can get the best viewing experience possible. Another option is a projector screen, but a high-quality one of those might be more difficult to come by than a big TV.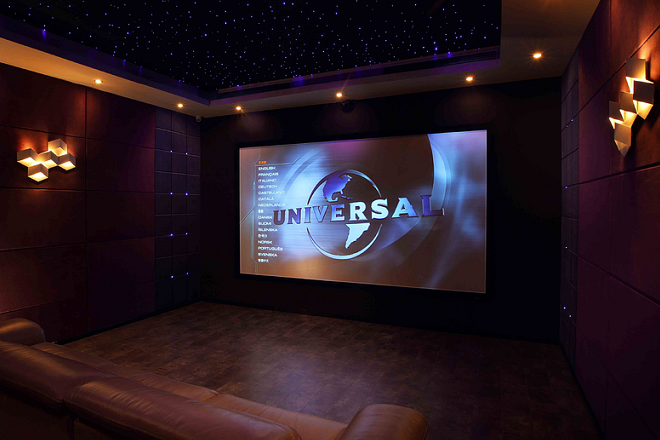 To create an immersive experience, you need to have a high-quality surround sound system. You want one with a few speakers that can be placed around the room.
Finally, every home theater needs comfortable seating. Whether this is couches, recliners, or even bean bag chairs on the floor, you absolutely must have seating that is comfortable enough to sit in for an entire movie.
Best Home Theater Ideas for Perfect Movie Night
Creating a home theater can be an exciting project. Here are some home theater ideas to help you design an impressive theater setup to give you a delightful movie experience.
If you want to create that blackout feel you get in real movie theaters, paint the walls and ceiling black. You can then add little personal touches to the walls, like movie posters or memorabilia. That can help create the atmosphere of a real theater even more.
2
Put Chairs in a Semicircle
If you are putting in some armchairs for your seating, try putting them in a semicircle instead of making them straight. While this might seem strange, it is a good way to add a few extra chairs to the room without disrupting the view for anyone.
Adding some runner lighting along the floor can allow you to get up and move around during your movie without having to turn on your actual lights or stumble around the room blindly. This will also add in some of the traditional ambiances that you can get in a real theater.
4
Frame the Screen with Sconces
If your home theater does not have a wall-to-wall screen, you might want to find a way to fill the space on the wall around the TV. To give your TV a dramatic look, you can frame it in wall sconces.
For that classic movie theater feel, get some ruby red seating with cup holders and nooks to place snacks. You will feel more like you are in a theater, though you are likely sitting in a much more comfortable seat than you would be if you were watching this in a real theater.
If you want a place to put your blankets and extra throw pillows while they are not in use, it is a good idea to invest in some storage for your home theater. You can get some baskets or ottomans that open up to offer storage space. Another great option for storage is to get some seating that offers storage in the armrests. These can be great for storing remotes, candy, and knick-knacks. It is also a great place to put your phone during the movie, so you will not lose it in the cushions.
You are going to want to have carpet in your home theater because it is great at insulating sound. You can find a cute retro carpet that gives you a classic Hollywood feel to it, with a large black and white checkerboard rug.
Adding a little contrast to the room can give it a little personality. You can get some white furniture to contrast your darkly painted walls, then add some throw pillows with a darker pattern on them for even more contrast and personality.
If you like to set out dips and finger foods during your movie nights or are watching a movie while having dinner, consider adding a small counter bar. You can set it up behind your couches and get some comfy bar stools to line it. This also will allow you to sprawl out during movie nights.
10
Add Steps to Stagger Seating
If there is space in your home theater room, build a few steps to a second seating level so there is room for more seating. This will allow you to make sure nobody's view is blocked while giving you even more seating for a big family movie night.
If there are any windows in your home theater, you will want to get some blackout curtains to cover them up. Make sure no sunlight can get in that will ruin your movie watching experience.
12
Add a Dramatic Statement Ceiling
A statement ceiling is a fun addition to any space. You want the room to be dramatic, so you can have fun with your ceiling. You can try painting it a fun color, covering it in textured tiles, or lighting it up with cove lighting. Putting tiles on the ceiling might also help you with soundproofing the room. If you have chosen to paint it black, you can still make it a statement by turning it into a starry sky ceiling.
When you are designing your home theater, think about giving it a theme based on your favorite movies. If you are a huge fan of Star Wars, for example, you can give your home theater a Star Wars theme, giving all of your memorabilia a place to be displayed proudly. This can be a fun way to give your fandom its own room.
14
Add Some Velvet Curtains
Another fun idea for a home theater is to get some velvet curtains to cover the screen when it is not in use. Make sure they are easy to open and close. You can add unveiling your screen part of the ritual for your movie nights and make the room feel even more like a real theater.
One fun addition to your home theater is to add some neon LED highlighting lights behind the screen to help draw the eye directly to it when the movie is playing. Plus, the light will give you enough to see if you need to get up to get a snack or drink.
16
Create a Grand Entrance
If you want to make the theater feel a little grander, design the hallway leading to your theater with framed movie posters. You can even get a light up "theater" sign to hang above the door. If your theater will be in the attic or basement, you can line the stairs leading to it with posters and even get a red carpet stair runner to make it feel special. For an extra special touch, you can put a curtain over the door itself, so it feels like you are walking into a real theater.
You do not just need to add chairs and sofas to your home theater for seating. You can add some beanbag chairs, big floor cushions, and more to give your home theater plenty of seating, even if it does not have very many chairs.
18
Add Some Cozy Finishing Touches
If you have pillows you love to clutch during a movie, include them on your movie watching sofa. You can even get some movie themed throw pillows for that extra special touch. Hang blankets over the back of the couch or chairs, so nobody will get cold. Make sure there are tissues within easy reach for when you watch a sad film.
19
Add Texture to the Walls
While you will not be staring at the walls the whole time you are watching your movies, you can still make them look interesting by adding a little bit of texture to them. You can make the walls have stripes, polka dots, or even choose a unique wallpaper. Another excellent option is installing faux stone on the walls. Faux stone will give your walls the texture and look of natural stone, but it is DIY friendly and significantly more affordable. You can even get black faux stone to keep with the idea of making your walls dark.
20
Build a Concession Stand
This can be as basic or as elaborate as you want it to be, but it is a fun addition to any home theater. You can build a home bar that functions as a concession stand, with a popcorn machine and a mini fridge to keep drinks cold if you have the space and the budget for it. At the very least, you can put up a little bookshelf that is stocked with snacks and have a microwave in the room for fresh popcorn and a mini fridge for drinks. This way, you will not even need to pause your movie when you need a snack or drink refill.
Faux stone could be a good addition here as well, giving your theater a cool and professional vibe. You can go rustic with it or stick with your dark theme; it can be an easy DIY project that will make your little concession stand pop and draw the eye. A fun addition that you can proudly show off to your friends when you gather on movie nights.
21
Make Things Cozy With a Wraparound Couch
A great home theater idea is to make the room cozier by getting a big wraparound sectional couch. This can make you feel even more comfortable when lounging in your theater and watching movies.
22
Separate an Adjacent Room
If you have a large basement but you want it to be part movie theater and part something else, you can section off the walls. You can get floor-length curtains, add a sliding door, or even create a hidden door with a fake wall. Have fun with it, but keep in mind the way that sound will bounce when you set up the partition.
If you have a ton of DVDs, why not turn them into decor? Hang up shelves on the wall in your home theater so that all of your movies are on display. This way, you can easily pick out what movie you want to watch right away or just admire your collection.
Final Thoughts
We hope these home theater ideas will help inspire you to design one of your own theater. However you decide to design the room, have fun with it! Since it is in your home, you can do pretty much whatever you want with it, as long as it makes you happy and is a comfortable and fun space to watch a movie in.
Remember to consider your budget, personal preferences, and available space when implementing these home theater ideas. Customizing your home theater to reflect your style and needs will ensure a truly immersive and enjoyable entertainment experience.