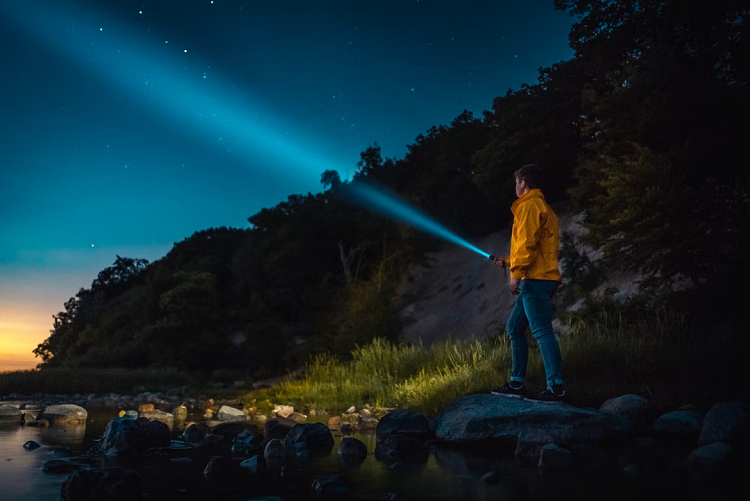 Flashlights are tools that we do not value until we need them, either in a moment of urgency or in idle practice. On many occasions, the circumstance may arise that we need something more than a mere light source or we have to illuminate long and wide distances. It is in these moments when we will need the best long-range flashlights on the market.
They are characterized by their high amount of lumens and their great durability. They are special for lighting in open places and their main uses are in surveillance, hunting, fishing and, of course, in emergencies. There are many types of powerful flashlights: LED, battery, convenient, compact, military, launcher, floodlight, zoom, modern, smart, halogen, pocket, portable, large, powerful mini flashlights, tactical flashlights, rechargeable, waterproof, with powerful, versatile, professional, manageable, impact-resistant spotlights, etc.
How to choose the best powerful flashlights?
There are many models on the market and this is precisely what makes the decision sometimes difficult. Some factors to consider before buying it.
The range of light emitted by the flashlight is critical. Depending on the use we want to give it, we will have to choose one model or another.
Rechargeable or only battery-powered: this can save us from some problem because we can carry a powerbank and be able to charge it anywhere and at any time.
Autonomy: the hours of operation of the flashlight is an important aspect.
Maximum range: there are some that have a range of up to 500 meters. We have to be clear about what we want to use it for.
Price: of course, the higher the quality, the higher its cost.
Water resistance: there are flashlights that can be used in humid climates, in the rain or even directly under water.
Dimensions: Size does matter. There are models to wear on the head, in the glove compartment of the car, in a backpack with a carabiner, in the hand, etc.
How do flashlights work?
An electric flashlight is a portable lighting device that works by means of batteries or electric batteries. It is usually made up of a casing that houses the batteries and the bulb. There are flashlights that incorporate several types of lighting in the same flashlight: a fluorescent lamp, a flasher for signaling and an optical device to obtain a directable light beam.
Types of flashlights
There is a wide range of models and different types of flashlights on the market:
Keychain flashlights
They are ideal for emergency situations or when the power goes out. They are usually designed to always carry with you, in your backpack, in your bag or in the car. They are usually quite efficient flashlights, despite their small size, because they have enough lumens to illuminate several meters away.
Hand or small flashlights
They are the most typical, easy to carry and are often used on excursions. They can be used in any activity, whether for a walk, for citizen security, surveillance, at home, in the mountains, for hiking, etc. They do not usually have more than 800 lumens and have enough autonomy.
Headlamps or helmet lamps
The use is the same as the hand ones, but they do not need to be carried by hand. They are highly recommended for hiking and all kinds of excursions in nature.
Helmet flashlight
They are specific for bicycles or motorcycles and reach up to 3,000 lumens with great autonomy. Mounts for flashlights can also be attached.
Multifunction flashlights
They are usually handheld and have, in addition to light, different aspects related to safety, such as a cutter, hammer, magnet, emergency lighting or charger.
Camping or table lanterns
They are characterized by having a base where the flashlight can be placed on a support or table in a stable way. They are perfect to use in a camping.
Work lanterns
They are equipped with a hook to hang it and illuminate an area with reduced visibility.
There are flashlights that incorporate several types of lighting in the same device: fluorescent, a flasher for signaling, an optical device…
Of the several types of flash light, today LED flashlight is the most popular!
LED flashlights are designed to be much more useful thanks to energy efficiency and high light output. They have a series of advantages that have contributed to professional development in different areas of work.
But to begin with, let's understand what the main advantages of LED technology are:
They use less power, so the batteries last longer.
They have an almost infinite useful life – between 50,000 and 100,000 hours.
They are practically indestructible since they do not present glass or filament.
In general, professional LED flashlights are made of high-resistance materials such as aluminum, steel and titanium. It is possible to find some that work with batteries or also those that do it with lithium batteries.
What uses is this technology recommended for?
When we talk about LED flashlights for professional use, we distinguish several sectors in which these instruments are essential.
On the one hand, we have the industrial and mining sector, given that in many cases field technicians must be prepared to examine equipment and circulate in low-light environments.
On the other hand, there are safety and rescue teams, as in the case of firefighters, who, due to the particular conditions of their work, require high-resistance equipment and light power.
A third category is made up of tactical teams, who need a small flashlight, easy to mount on their weapons, with a powerful and adjustable light.
And finally we can also mention specialists in outdoor activities, who in addition to the light conditions that LED flashlights can provide, require a long battery life.
How to choose between the best LED flashlights?
On the one hand, it is necessary to recognize aspects such as the duration of the power supply. Depending on the batteries or batteries that you use, we can deduce the ease with which they are replaced or recharged.
Size and weight are usually very relevant aspects in some cases, such as tactical flashlights that must provide a very specific quantity and quality of functions in a small and light object.
Undoubtedly, the resistance against shocks, water, heat and other possible special conditions are aspects that must be evaluated. For this it is necessary to know the materiality and of course its resistance levels. Depending on the type of LED there will be differences between them in terms of the brightness of the flashlight. For this, it is necessary to know how many lumens are, or the total amount of light emitted by the LED and the candelas, which refers to the intensity and the way in which the emitted LED light is dispersed.