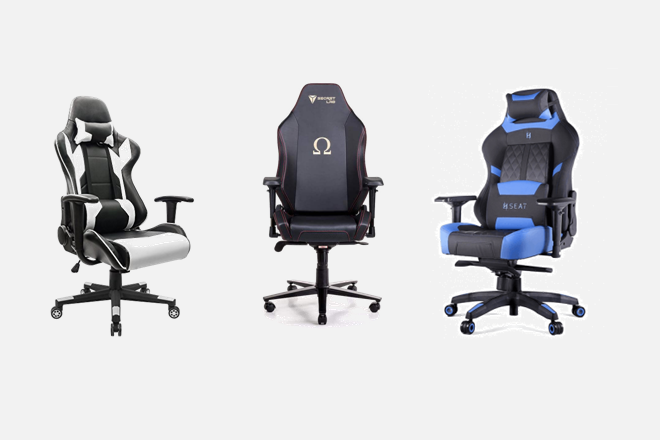 What is in a gaming chair? You may be tempted to ask this question after seeing an advert or information about varied products available in the market. Most importantly, you may want to know if you will get higher scores after spending your resources in the purchase. This article answers all your queries.
Gaming chairs come in different shapes, colors, and sizes. Different brands in the market tend to differentiate their products based on the elements of comfort, durability, ergonomic design and style. The prices offered will also be different, with the high quality and customized products being sold at a relatively high price.
It's Not Just a Gaming Chair, It's about You!
---
Gaming chairs are designed to meet the needs of a gamer to satisfactory levels. Sitting for many hours and taking different angles leaves your body in pain and fatigued. The stress on your body will eventually affect the manner in which you play. In fact, it may be one of the factors that draw you further from the activity.
The manufactures solve this problem by ensuring that the gaming chair is comfortable enough to allow you to sit for as long as you wish. Taking different positions effortlessly becomes a reality. You are at liberty to adjust the height or recline to an appropriate angle. Your time and effort will be spent in winning rather than avoiding health issues.
You Will Master the Skill Easily
---
Once your needs for comfort are met, you have the chance to learn the art of gaming at the comfort of your home. The more you play the game, chances of winning increase. You will not be worried about storing the product at home since most of them do not take away much space.
Quality products do not leave marks on the floor. If you wish to learn the skill in the office, you can go for chairs that can be used for office work and gaming. Durable products will allow you to sit for years on them as you religiously play the games. In this way, you will know everything there is to know.
A Real-Life Gaming Experience Is Created
---
If you are the type of person who wants to have a real gaming experience, there are products equipped with surround sound speakers, wireless connections, and subwoofers. It creates the type of environment is seeking for. The intense moments do not go unnoticed in your room.
Save Money & Invest in Other Gaming Activities
---
Instead of buying cheap chairs and sofas, you should buy one quality gaming chair. You save the money and invest in tools that enhance your gaming experience. A lesson from the experts in the area or being involved in a competition will also help you.
Clearly, a gaming chair has the capacity to increase your chances of winning. Some chairs are better than others and as such, you must take time to find the ideal products in the market. Here are some of them:
Kinsal Ergonomic Leather High Back Swivel Chair
The chair features a comfortable base, durable leather, lumbar and headrest pillow, and hub cap like wheels. It can support up to 280 pounds. An ID card is provided for every chair, which means that no product resembles another. You can easily get help from the manufacturers since they will easily identify the product's possible issues.
Secret Lab Titan Gaming Chair 2018
It features adjustable lumbar and highly absorb able foam. It is easy to assemble and can support up to 280 pounds of weight. The gas lift makes the product strong. The PU leather material is used, which is easy to clean. The wheels are rubber coated to ensure that marks are not left on your floor.
This is an ideal bean bag gaming chair for a gamer seeking for a product that they can easily move in their space. It is lightweight and can be refilled while on the go. A handle is incorporated on top of the chair to help you transport the product easily.  It is designed to offer maximum comfort for the user. Further, it comes with a color that blends in easily with your interior decor. The chair is relatively cheaper than other products in its category.
Ultimately, you cannot afford to use a regular chair if you desire to win in gaming. You need to find a chair that offers you durability, comfort, and necessary protection. For more information on the importance and where to buy gaming chairs, go to https://www.ultimategamechair.com/ikea-markus-chair-review/