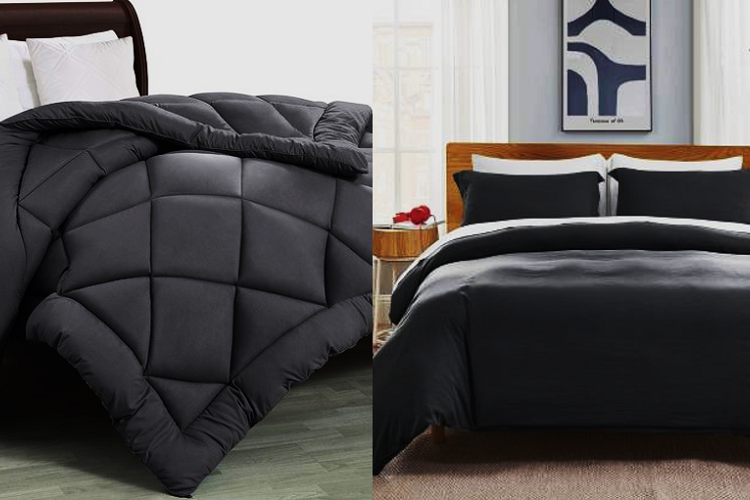 A long-standing debate is between comforters and duvets. Although each item has its pros and cons, there is only one that beats the rest. One will bring life to a room while the other might take it away.
What is a Comforter?
A comforter is first and foremost a blanket. However, this blanket brings style, warmth, and ambiance to a bedroom. It's typically filled with synthetic fibers and stitched together. Comforters are placed on top of a bed to give it a layered and comfortable look. They are very easy to maintain and one quick run in the washing machine will do the job.
What is a Duvet?
Just like a comforter, a duvet is a blanket. This blanket is filled with all types of material such as down or feathers. These feathers are protected and a cover is placed around them. Due to its use of natural products, the duvet cover is a lot warmer in the winter compared to a comforter. However, a duvet cover is bought separately from the duvet itself. It's easy to clean but harder to set the bed.
Benefits of a Comforter
Comforters are a great way to personalize a bedroom. There are many benefits to buying a comforter:
A comforter is usually bought with matching pillowcases or sheets.
Although they are made from synthetic material, they are incredibly comfortable and soft to the touch.
It has very low maintenance due to its cleaning cycle. A comforter only needs washing every few months.
Brings a brand-new aesthetic to a room. Comforters offer a variety of colors, patterns, and shapes. Many people adore the professional and homey look of a comforter compared to basic coverings.
Comforter vs Duvets
There are many similarities between comforter and duvet. However, duvets depend on the duvet cover to protect the material inside the blanket. Here are the major differences between the comforter vs duvet:
Material
Comforter:  Comforters are a bit thinner but give the allusion to fullness.
Duvet: Duvets will have a lot more material stuffed inside of them.
Covers
Comforter: A comfort does not need a cover. The design is already made into the material. Combinations are sold alongside the comforter that matches the patterns and style.
Duvet: A cover must be bought alongside a duvet for protection.
Price
Comforter: A comforter is far less expensive than a duvet. They also provide many types of styles.
Duvet: Expensive in comparison because of their use of natural materials.
How To Choose
There are pros and cons to both these types of bedding. Comforters bring comfort, style, at a low price. While duvets are simple with natural materials. Either way, each item brings its own aesthetic into the bedroom.