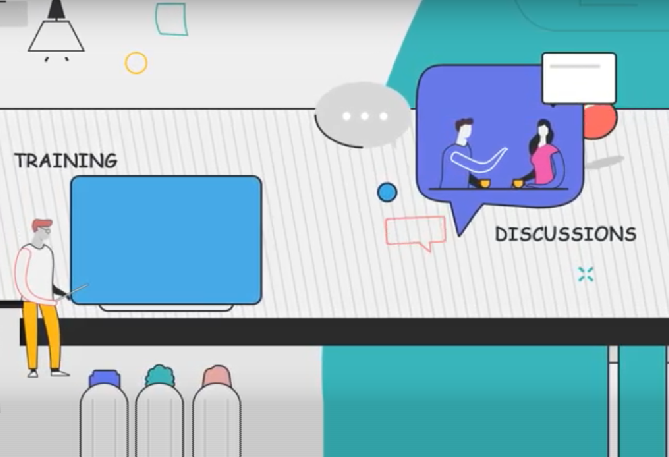 Imagine being a part of a new service launch where project engineers are at Seattle, designers at Chicago, and the advertising/marketing team at NYC. Getting each individual on one single platform can be a hectic task. However, this is pertinent for the proper execution of the tasks at hand. With technology reaching far and wide, organizational collaboration regardless of location discrepancies is much easier than it was a few decades back.
According to a survey, it was estimated that a mere 42 percent of medium and small-sized companies tend to rely on cloud applications for streamlined work routines. In order to avoid any informational clash, it is critical that your organization implements the use of real-time online collaboration tools.
What is a collaboration tool?
Collaboration tools such as Whiteboards online can be deemed as online tools that are used for real-time communication between the teams involved in a given project or the company as a whole. This involves bringing both remote as well as in-house teams on a single platform for smooth dispatch of information.
But before you go ahead and bag one for your organization, it is critical that you understand the features and feasibility brought along with the online collaboration tool.
Parameters to Confirm the Best Collaboration tool in the market
1
Determine your requirements
When you run a business, each and every member of your organization plays a critical role in the proper functioning of things that come their way. Regardless of how big or small your organization is, there is always a need for seamless communication.
Most of the time, business owners pick an online collaboration software packed with a wide collection of features that might not be needed. This is why you need to make sure the purchase plan is in conjunction with your organizational needs and nothing more or nothing less.
Not everyone in your organization has the very same device for the use of the collaboration tool. In order to ensure that the members of the organization can use the features regardless of the platform, opting for a portable variant such as Whiteboards online is advised. A tool that functions seamlessly in platforms such as mobile, web, or desktop could be your best bet. Also check whether the real-time online collaboration tool has its digital footprints across varying operating systems such as Android, Linux, Windows, Mac OS, as well as iOS.
Anything new being introduced in your organization can be a challenging task, especially when you have to manage a large team. So, when planning on introducing collaboration tools, you need to pick the ones that flaunt an easier learning curve.
With such tools, your team will learn much faster and ensure better collaboration. Also, check whether the service providers are handing out well-explained guides for a smooth transition from one tool to another.
Another critical aspect that should be noted when picking the perfect collaboration tool like Whiteboards online is to list out all the features needed by your organization. Look for features such as easy navigation, data security, emailing, instant messages, voice calling, video conferencing, etc. Apart from these, look for tools that provide features such as:
Project Management
Customer Support
Conclusion
Unless your tool comes with a broad range of capabilities for organizational networking, you might be better off with your outdated collaboration tool. When picking the best project management and real-time communication technology, you need to be smart, decisive, and opt for a lot of research, as the balance of your entire organization depends upon your selection. So, buy smartly and choose wisely!