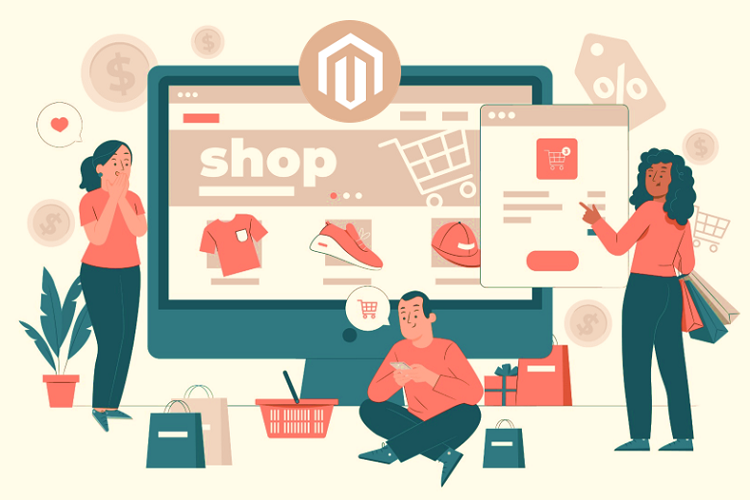 When building an online store, the smallest choices can make big differences, and choosing an eCommerce platform impacts how your business will perform. This article addresses why you should choose Magento instead of similar platforms.
Magento is an eCommerce Platform by Adobe through which business owners can develop their website to take their business to new heights of success. Unlike physical businesses, eCommerce businesses can reach anywhere around the globe and sell their products virtually.
An online platform is the best choice for a business that can sell products or services all around the globe. The whole ecommerce mobile app development process is complex, but Magento simplifies it to the extent that even someone with basic knowledge of programming can develop a website.
Magento is open-source leaving room for professionals to add features to the website based on their knowledge. There are three versions of Magento available, including Magento open-source, Magento Commerce, and Magento commerce cloud. Below are some benefits of using Magento to develop your website to help you choose a platform for your eCommerce business.
Benefits of using Magento
To begin your eCommerce business, Shopify, WooCommerce, and Big Commerce are the best choices, but they aren't the best choices for long-term use. If your business grows, you have to get your eCommerce website to grow and expand your business. Magento features a large community of entrepreneurs from all around the globe that you can join to develop your website.
Scalability
Magento has become the first choice of business owners because it is scalable and can handle all kinds of businesses. You don't have to switch to a new eCommerce platform because of the growth of your business and expand your inventory on Magento.
Open Source Software
Magento is free and open-source, meaning that you can change it according to the type of products you are selling. You still have to buy hosting for your website, but using Magento open-source version will save some money.
Rich in Functions
Magento offers many functions, including the personalization of online stores and the categorization of items. If you are offering a thousand or more products, managing each product can take a lot of time, but you can categorize them to manage a category instead of a single product. Read reviews of customers on your products to improve them accordingly.
Customizable
Magento provides entrepreneurs with customization options such as themes and templates to change how your store looks online. The core functionality and the functionality of the cart will remain the same.
SEO Friendly
The premium version of Magento is SEO friendly which means you will get organic traffic and clicks on your store. You can shorten the link by removing all those extra letters, numbers, and characters from the link. Magento also features a built-in tool to write a Meta description for your products while accomplishing other important tasks.
Compatible with Gadgets
In this digital era, you should ensure that customers can access your online store from as many smart devices as they want. You need to create a responsive website for all those gadgets, and Magento can get it done for you. If everything goes according to plan, your sales will go up by more than 70% percent because your website loads faster.
Why Build an Online Store with Magento?
Magento has many features to offer, and below are some of those features to help you decide which platform you should choose to create your online store and better up your online presence.
Better Security
Magento cares about your privacy and security because business owners trust it with their payments and customers' personal information. With regular security patches and updates, developers ensure that everything stays under control.
Extensions
If you don't have any programming knowledge, you may think that developing an online store is difficult and will take some time. But this isn't the case with Magento Development Solutions because it features extensions to take the functionalities of your store to a whole new level. Extensions for social login, navigation, checkout, carts, and other business operations are available in the collection.
Payments
By creating your online store with Magento, you no longer have to worry about payment as it can manage everything for you.
Guide to Develop Online Store with Magento
Creating an online store requires time in today's world, where online trading has become a mainstream thing. Below are steps that you can follow to make your online store with Magento.
Choose the Domain Name
The first thing you should do in the development process is choosing a domain name that stands out from the rest of the competition as customers recognize your brand with a name. Your web address will also contain the domain name, and maybe one day, everyone will know your brand by name instead of what you do.
Choose the best Web Host
Hosting is necessary for creating an online platform, and you should do your research before buying a hosting plan. The most popular web hosting companies are BlueHost, DreamHost, and Hostgator. You can compare features and price plans for each web hosting platform to get the most features at the lowest price.
Install Magento
Before moving on with this step, you need to choose the version of Magento that you want to install based on your needs. Here are the steps that you can follow to successfully install Magento and start working on your new online store.
Purchase a hosting plan and set up your account
Go to the official Magento website and choose the desired plan
Choose the desired format from the Magento tech resources page
Follow all the steps to install Magento
Install a theme
Magento comes up with an extensive collection of hundreds of professional themes, and you can choose a theme based on your category and product type. You don't have to spend any money on templates as the open-source version features some, but premium templates are better.
Customize the design
The user interface should be simple as users don't like online stores with complex interfaces as it can waste their time. Get Magento Development Services to customize the templates and save the shopping time of users so they can shop more in less time. Add details about each product along with the price. Choose a specific color and font for your brand based on what you are selling and use it on your social media handles.
Setup the product page
To give a better idea to a customer about what you are selling, add images, price, description, and reviews of others users on the product page. Categorize products into different sections to manage them and update their data with a few clicks. Here are some items that quickly sell on Magento.
Physical products
Customizable items
Virtual products and services
Bundle of items
Software and eBooks, etc.
Launch your store
After adding details to all the product pages, it is time to launch your online store in the market. Share links to your store on all the social media platforms to get organic traffic.
Tips to Manage your Magento Website
Although developing your Magento website is complex, the real work start after the development completes. You have to work around the clock to keep things running because your competitors will also implement the same strategy to get ahead of you. Here are some tips that you can follow to manage your Magento website.
Use an eCommerce CMS
Adding products to your store isn't a one-time job as you have to add new information and update the prices of products constantly. You can use a full-fledged CMS to add new pages to the website or edit existing pages.
Accept payments from leading providers
Magento lets you connect with various applications and utilities without a stretch. You can use Magento as a payment gateway by connecting it with PayPal, Apple Pay, and Stripe to directly receive payments and manage them all in one place. Customers also can pay for their order on the website directly.
Setup taxes
No matter where you are in the world, there are some businesses taxes that you have to pay except for some locations. The best thing is to talk with a tax expert to understand everything and file your tax return to avoid any issues later.
Use analytics to measure your success
Analytics is the best way to watch your performance, and Magento solved this problem with built-in analytics. You can track everything from average profit to popular products and conversion rates all in one place.
Conclusion
Various methods and steps exist for building an online store using Magento services. You can connect with professional Magento developers and share your idea with them to develop your online store professionals. Choosing Magento will multiple your sales and increase your conversion rate.