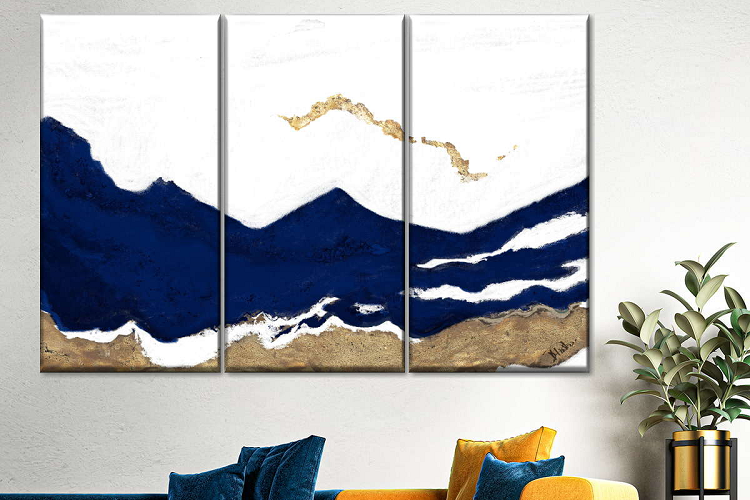 For a contemporary outlook, it is impossible to go wrong with a navy blue shade. It is a timeless technique of decoration and an adequate alternative to a black color-themed decoration. A navy blue hue adds a pop of color to your space while simultaneously maintaining a worldly appearance.
With professional decoration tips from our experts, we are excited to bring you the best navy blue wall art ideas. Wall arts are an excellent and minimalist way to transform any space from bland to a stylishly decorated area.
From classic navy blue wall decoration ideas to captivating abstract wall arts, incorporate this ageless and unique color into any space.
Navy blue can be paired with almost any color scheme and style of decoration. There is no risk to incorporating this color into an existing color palette.
The classic pairing of navy blue with white or beige is always an excellent way to go. It also makes for a great combination of used and contemporary hues. Add splashes of vibrant colors to help with its purified quality.
This color combination inspired by the art decoration era combines jewel tones with metallic hues. There is no better way to make a statement than by implementing the use of navy blue and gold wall arts. For a stylish and contemporary look, showcase a piece of artwork that combines navy blue and gold.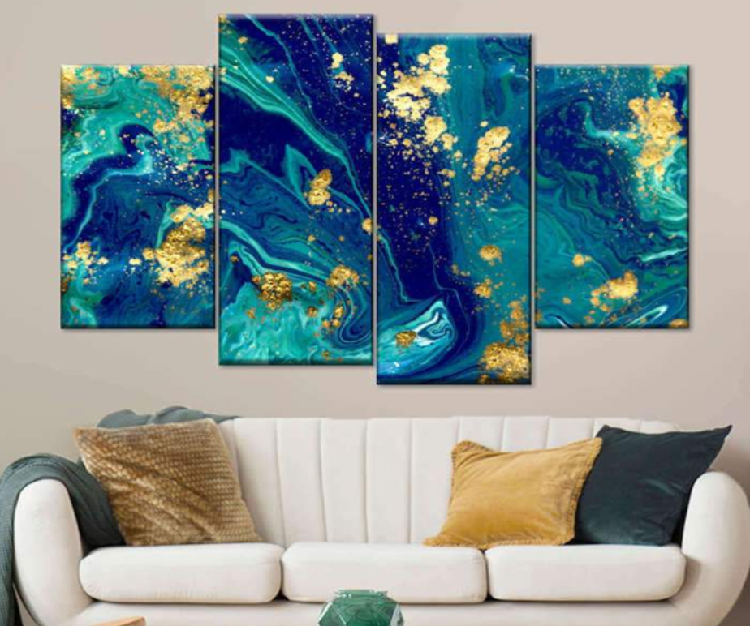 The bedroom is the perfect place to incorporate this shade. This ultra-classy color will bring a sense of style to your sleeping space. The bedroom should be a calm, composed, and peaceful area. A navy blue hue will make it look serene with an expressive and calm sense of style.
There is no better color to beautify your bedroom with. Blue is widely known to radiate peace and a general sense of ease. It elevates the feeling of a serene disposition. Light blue is often implemented, but with a new wave in modernism, choose to be stylish by incorporating pops of deep navy blue.
Colors like metallic gold, mustard yellow, bright pink, and cherry red are perfect to pair with your navy blue. It is essential for the pairings to be clear, noticeable, and vivid.
Abstract wall arts are a great fit for both a contemporary and traditional setup. Often seen as a modern style of decoration, abstract wall arts can also be easily integrated into a traditional outlook.
To make a perfect balance between the contemporary and traditional styles of decoration, we have created the perfect vintage pattern. This collection of wall arts makes a perfect bridge between the old and present styles of decoration.
Wall Art Sizes
Your wall art is supposed to stand at sixty to seventy percent of the total wall space. Follow our guidelines for choosing the appropriate angle for your large navy blue wall art.
Suppose your living room is contemporary; you can choose a sizable multi-panel canvas. For farmhouse vintage style, you can go with framed canvas wall arts. You can incorporate blue in many styles, sizes, and shapes.
The living room wall arts create a difference in any house. So, check out the fantastic range of living room wall arts that go with your blue theme. In addition, the canvas is available in all types of prints like nature, wildlife, quotes, bohemian, minimalistic, and much more. So, analyze your room style and incorporate wall arts accordingly.