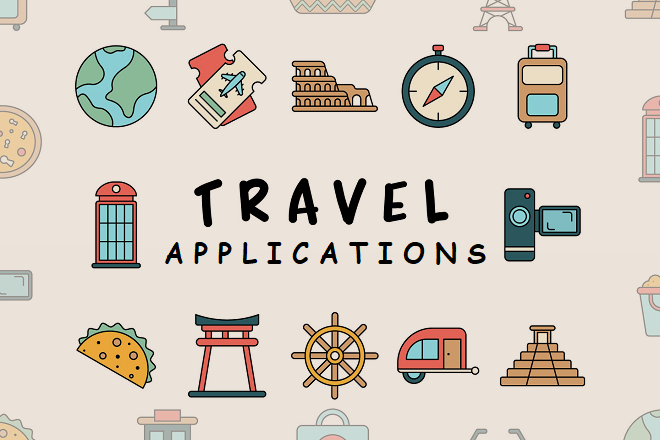 There are lots of travel apps available in the Google play store and Apple store for android and iOS devices. No one wants to install unusable apps, so we have shorted some of the best travel apps.
Whether you travel on your own or in a group, the experience of striking out of foreign soil can be daunting. Ensuring you're getting the most out of your holiday without emptying your bank account is another layer of complication. Travel only gets stickier when delayed flights, canceled trains, and booked hotels strike.
Traveling is therapy as it gives your mind fresh thoughts, and the heart is pure like the atmosphere. Everyone is a travel lover, whether it be mountains, beaches, hill stations, temples, trek, etc. we all love to have a break and are often in search of the best travel apps.
There are different travel guidance apps for Android and iOS system, but there are few excellent apps which work in both Android and iOS. This article is about travel. To make your travel comfortable and hassle-free, I have listed the top 20 best travel apps for your Android and IOS system.
Top 7 Travel Apps to Travel Better
Luckily, you don't have to travel alone. These days, there are many travel apps for everything, and travel is no exception. Here are seven travel apps to take on your next trip.
iPostal1 is one of the best travel apps that issues users with a virtual address where they can have their mail delivered, forwarded, shredded, or securely stored.
Users can view their mail remotely, whether they're negotiating terminals or relaxing on the beach. This app is a lifesaver for those wishing to enjoy their travels without worrying about missing out on important correspondence back on their home turf.
Travelling can be stressful, and never more so than in the wake of a pandemic. Even when everything goes smoothly, moving from point A to point B can be a drain.
When your trip doesn't go according to plan, you can go from exhausted to dead on your feet in the blink of an eye. It's hard to think of anything worse than waiting endlessly for a delayed plane to appear unless it's the mad scramble to rebook a canceled flight.
AirHelp simplifies the process. Now all you have to do is feed your delayed or canceled flight into the app and let it handle your compensation for you. You can even log the information while waiting to book a new flight. Whenever your best-made plans have a wrench in the gears, there's nothing better than a helpful tool to smooth the way.
Every pain another side and anxiety of getting the flight delay is another side. With AirHelp there is no such pain. Both US and EU laws have to provide you compensation in a few cases. This app helps you get them and makes the process simple. You need to enter your flight details and problems, and do not worry about the rest. AirHelp will take care of the rest.
Flights are the primary issue, and you don't know when your flights can get delayed. Hotel tonight is the most reliable app which makes your last minute deals and flights. You can look at the customer service section, which is 24/7 live, and gives you updates and help from the team.
Even with your compensation safely in someone else's hands, you may still find yourself in need of last-minute lodgings if the airline cancels your flight.
HotelTonight sorts through hotels in your immediate vicinity and offers you a selection of deals and discounts. You can skim the choices for reviews, and the company provides 24/7 customer support if you need extra assistance. It's straightforward hotel booking so that you can cross one more thing off of your list.
HotelTonight is also ideal for the spontaneous traveler. Not everyone plans their holidays weeks ahead, and now you can enjoy the serendipity of your adventure without the stress of expensive eleventh-hour booking fees.
How we travel evolves as quickly as everything else in today's world. The latest travel industry upset is in how consumers book lodgings. If hotels are too pricey and hostels aren't your style, Airbnb is an ideal compromise. Through the app, users can rent couches, rooms, or entire houses.
It has all the same features as the better-known website, but now all you've got to do is open your phone to access it. Users also find it a faster and easier way to communicate with hosts, as it's more like texting when you use the app directly.
Make your stay more like home than hotels; this is what Airbnb says. The app finds your best offerings hotel at a reasonable rate. Airbnb or sure makes your stay memorable and authentic. You can also discover the feature in the app named Trips, wherein you can choose the experiences during your trip along with local guides.
Like Google Maps, this app helps you navigate around your destination city. But unlike Google Maps, Detour allows locals to give you directions. That gives it a boost in local know-how and may lead you to discoveries you wouldn't otherwise have made.
The only downside is that the app doesn't cover more cities. As of writing, Detour offers walking directions and experience for seventeen cities.
Detour is an excellent GPS-guided map which gives you audio walk experience in 17 cities around the world. The best thing is that the locals narrate the sound walk. You can enjoy this app if you are in New York City, Los Angeles, Austin, Washington DC, Boston, Portland, Savannah, San Francisco, Charleston, Chicago, Rome, Berlin, Marrakech, London, Paris, and Barcelona.
TripIt helps them to organize the trip and manage hotels, Restaurant, flights, rental cars, and much more. There is also a pro version wherein the app finds you the best route for you to travel. It also gives intimation of any canceled or delayed flights.
Wherever you go, TripIt is an app that helps organize your itinerary. Forward any confirmation emails you receive to TripIt and let the app assemble an itinerary that keeps you and your travel companions on schedule.
If you choose to upgrade to TripIt's Pro version, it will also notify you about delays, cancellations, and alternative routes, so you'll be able to adjust your schedule around any roadblocks.
To my USA friends, we all know how boring and tedious job it is to travel within the US, especially the airport travel. You can find the section of "what to carry with you at the checkpoint?". One can request live assistance for help from Transformation Safety Administration. Check the crowd status, wait times, check delays, weather conditions, and lessen the hassle of roaming.
Are you planning to travel in a group and at a reasonable rate? Skyscanner is your buddy app then. Flights, hotels, rental cars, and much more just in an app. You can search these according to your budget and also browse the top deals from your nearest airport. You also get a list of some of the fantastic destinations at an affordable price.
Skyscanner is an app that helps you find inexpensive flights quickly. It presents you with a selection of flight options from the cheapest to the least complicated route.
Skyscanner also offers information about the days and months that make for the cheapest bookings and keeps you informed if prices trend upwards.
Kayak has been one of the most favorite apps for travelers and wanderers. Alike Skyscanner, Kayak, also search for various options to travel along with rental cars, hotels, flights, and so on. You can find exclusive deals all over the year. You can also make your trip planner wherein you can add your details in a glance. From your hotel confirmation number to your good stay feedback, Kayak takes the maximum care of yours.
The favorite of all and cheapest of all, Hopper app gives you the most reasonable rates for flight tickets. Hopper claims to save your 40% on each card by report analyses and tracking of billion flights. Hopper even claims that you can book a ticket in just 0 seconds or even less than that. Set a watch at your favorite place to stay and get an intimation when it has the lowest price.
Just Uber. Uber has become the global king in the traveling app market. You can quickly request a car or other available vehicles. Also, you will find a display of charges and no. of passengers to be accommodated at once. The best thing about the app is, it has live tracking, and it continually keeps updating the features and makes it more user-friendly.
Google, tell me the best traveling app, "Google Maps". Okay, you may be imagining the sentence at the back of your mind. But anyway, the google maps are merely fantastic. From every corner to every basement, you can track your location with the best route bifurcating the traffic. Travel by car, on public transport, on foot, a cab, or any way you can set your details and keep going.
Just like the name suggests, Citymapper is the city 2.0 version. Find public transportation and connect easily with the app. You can also be benefited from the ridesharing services, which is ultra-cheap. You get the fastest way to reach your destination and lets you check subway and train timings. Recently the app has launched a feature SuperRouter, which gives a list of floating brands like scooters, cycles, mopeds, etc.
The hostel world app is for the money savers. You can find destinations along with price rates to stay. You get full-screen interactive maps, searches, descriptions, filters, and a lot more to make your surfing easier. You also get no. Of reviews who have used the app and visited the places.
If you are the person who hates to wait at the airport and finds these process tiring, then LoungeBuddy is the best suitable app for you. I always prefer to fly on budget-friendly flights. You can enjoy the lounge seats with the help of this app as it helps you to access your seats. It is very easy to use is a free app for iOS users.
I am a last-minute traveler, and my plan is just to go on any vacation at the last minute. It seems really cool, but when it comes to reasonable hotels, It's not cool and expensive. Since I have had RoomerTravel app, there are no such worries. I can book my hotel in an emergency at a highly discounted rate.
You know traveling is fun, but not getting good food is punishment. The OpenRice app is considered to be the yelp of Asia. OpenRice shows the best restaurants of a particular selected city. Along with these, you can also compare menu, ratings, booking no. and a lot more.
Cut out the expenses with Trail Wallet. It is my easy travel tracker and helps me to organize expenses by month and sets me a daily budget to save for the trip. I'm really in love with Trail Wallet. I would suggest you that you should try this app for sure. It works in IOS only.
Couchsurfing helps you find accommodation at a lower cost and guides you with the locals while tripping. It also offers where locals allow you to stay at their place for free. If you are a budget traveler, this app is made for you.
Before traveling , the checklist is a must. Packpoint is your checklist maker, according to the weather forecast, location, and preferences, you can make your checklist. I have also re-ordered my list and kept is private. It gives intimation as we have set.
The all in one consultant for your travel life is Hipmunk. It takes care of all the resources. From booking to landing, from enjoyment to getting you back home, Hipmunk is there for you. Search by countries and cities where you want to travel and bookmark your favorite destinations. You can get up to 60% off while booking hotels. 
So if you are bored with your routine and want an emergency mini-vacation, then do browse these apps and roam budget-friendly. These apps are making your life smooth and straightforward. Even though there are apps that you can use on your daily basis to roam within the city and avoid delays and traffic.
There's no time like the present to take that trip you've been putting off. Travel might feel complicated, but with apps to help you budget everything from flights to hotels, it doesn't have to be. All you need to do is pack your bags and find your way to the airport, and your pocket computer can help with the rest.
Stay connected to know about more exciting topics, and I hope you liked these apps and will surely try these.
Keep traveling!