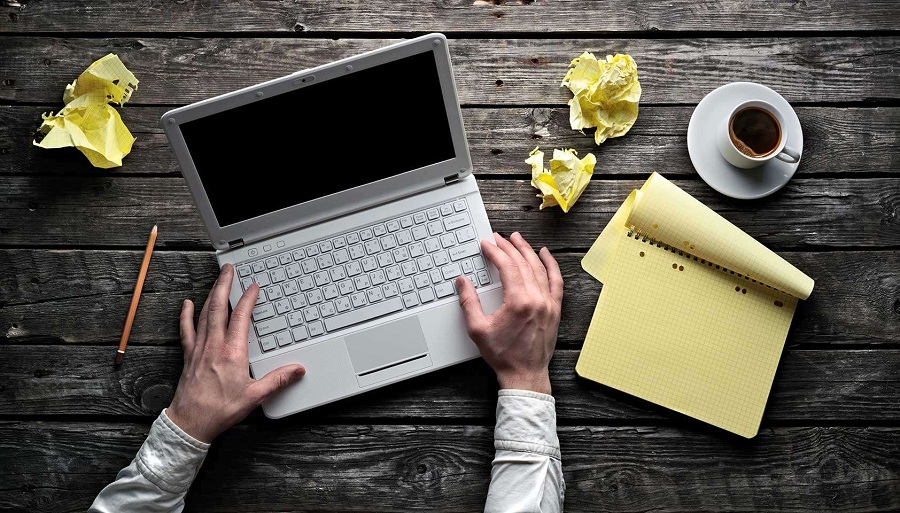 In the world of content writing, looking busy and being productive are two different things. You may need to improve your productivity if you look busy all day but accomplish very little. Today, we're looking at the best content writing tools to enhance your productivity and increase your writing output.
Best Content Writing Tools for Content Creation & Editing
There are several excellent content writing tools available that can help enhance your writing process and improve the quality of your content. Here are some of the best content writing tools.
Grammarly is one of the go-to tools for any great content writer. Most clients use it to assess freelancers' work, and so most freelancers use it too. When you put your work into Grammarly, you can choose individual goals for the intent of your writing, the ideal audience, and the formality of the piece. Grammarly guides your work in the right direction to meet your goals.
Beyond your goals for your writing, Grammarly also highlights areas where you can improve your clarity and engagement. They've also recently debuted a 'delivery' meter to ensure you balance being authoritative with being positive and confident. Grammarly has a free version that's great for newcomers to content writing.
For content optimization, you can't go wrong with Surfer SEO. Using a keyword or phrase, you can write your work in Surfer SEO and get live feedback on the optimization of your piece. It suggests relevant terms to use in your writing and how frequently you should use them for optimal rankings.
Writing with Surfer SEO can increase your productivity by including optimization in your writing process from the beginning. Surfer SEO recommends the ideal word count range, as well as how many headings and paragraphs you should aim for to boost the rankings of your writing – optimization couldn't be easier!
3
ProWritingAid Grammar Checker
Like Grammarly, ProWritingAid is a free grammar checker that you can install as a plugin in your browser. Whenever you're writing in an online format like Google Docs, ProWritingAid can make suggestions to correct your spelling and grammar. The tool has paid versions and free versions writers can use to improve their work.
ProWritingAid differs from Grammarly by being more precise and accurate in its edits. Passive voice is one of the biggest attention-killers in content writing. ProWritingAid is excellent at picking up passive voice in your writing, making it much easier to edit as you write. Using the plugin keeps your grammar skills sharp.
Google Drive is the ultimate productivity tool for content writers. You can create and organize files like Docs, Sheets, and Slides from one location. You can also share your projects with clients and others with Google Drive. Using different levels of authority, you can send work to others for them to edit or just view, depending on what you want.
You can create folders to group together however many documents you need for each project and allow others access to those folders for collaborative pieces. Google Drive also works for all operating systems, so you don't waste time converting your documents to different computers and laptops.
Ernest Hemingway is often misattributed with the quote, 'Write drunk. Edit sober.' as a mantra for good writing. In reality, Hemingway didn't drink at all while writing so he could keep a clear head. Instead, the quote is a good reflection of Hemingway's work: simple, clean-cut, and stripped-back. The Hemingway Editor app takes this spirit and helps you edit your own writing.
Hemingway Editor highlights lengthy sentences, passive voice, and words with simpler alternatives. This tool can reduce editing time massively for content writers and boost your overall productivity. Make your writing more accessible to improve your readability with Hemingway Editor.
Portent is an excellent tool for bouncing ideas around and engaging your creativity as a content writer. The Portent Content Idea Generator provides various content titles that can inspire you to take your writing in a specific direction. If you've ever struggled with writer's block, you know it can sometimes feel like you'll never get anything down on the page.
Using a tool like Portent helps you look at varied suggestions that are funny, surprising, and insightful – sometimes all at once. Kicking writer's block can take a long time, but tools like Portent make it easier to get back into the writing zone and focus on your work, increasing your productivity without much strain.
Content writers use Google Trends to conduct keyword research. A time-consuming process, keyword research is much more straightforward with tools like Google Trends. You can search terms and establish how popular the word is in Google searches during a specific period. It's easier to specify how to incorporate original and insightful content into a topic with trending data.
You can fine-tune your results to establish the popularity of a search in a specific region, time period, and type of search – e.g. images, news, etc. Google Trends can make market research much faster and easier, giving you more time to increase your output and productivity as a content writer.
Scapple is a great visual tool for mind-mapping ideas and making connections in your work. Keeping all the information together can be challenging when you're a freelance writer creating content for a range of clients. Some industries are complex, with terms that have strict definitions, and it's easy to get confused.
Tools like Scapple are especially useful for writers undertaking a big project. Keeping your thoughts in order can be complicated, but Scapple keeps it logical and straightforward. Scapple is especially beneficial for visual learners who remember things better with a visual aid like a mind map.
Answer the Public is a tool that gives content writers insight into the popular questions around their keywords and terms. Increase your writing productivity by getting relevant ideas for subheadings and topics to discuss in your work.
Insert your keyword into Answer the Public and check out the results for different questions surrounding the keyword. Answer the Public produces popular searches for questions with varying phrases like 'Can x thing make you rich', 'How to get rich with x', 'Where to use x for best results', 'When was x invented', etc.
For content writers, Google Analytics gives crucial insight into a client's website. It shows you how many hits it gets, what people search to find it, and why they're looking for it. Using the traffic data for a client's site, you can build a content plan that makes the most of their strengths and improves on their weaknesses.
Market research takes much longer without tools like Google Analytics. Because you want your writing to be optimized for the Google search engine, using Google Analytics saves you time and increases your productivity.
Staying organized is the key to being productive. Tools like Trello help you stay organized and on top of your current projects. Your Trello page features as many cards as you need, each filled with different tabs of activities. You can use tags to group tasks like 'writing' or 'editing' and make them easily identifiable at a glance.
You can keep track of your deadlines and meetings and tag other people on cards if you're working on a collaborative project. Trello can integrate apps you're using to streamline your content writing work into a single location.
Are you reading this to try and avoid a big project? Procrastinating and productivity are natural enemies, but you can strike a balance between them with these tools. Strict Workflow is a browser plugin that blocks distracting websites for 25 minutes, followed by a 5-minute break and repeat.
Using a tool like Strict Workflow forces you to focus on the task at hand, knowing that the reward of some procrastination is only 25 minutes away. You can customize the list of blocked sites to target your weak points, and you get a satisfying bell ring when it's time to take a breather. The 25/5 balance is excellent for avoiding burnout, too, especially for new writers.
As a content writer, plagiarism is a big deal. You wouldn't want someone to submit your work as their own, and it's not something you should practice either. Using a plagiarism checker allows you to submit work in total confidence that it's original and won't flag plagiarism checks your clients may have.
With the rise of AI-generated content, plagiarism checkers are crucial for content writers. If you use AI chatbots to help create your initial drafts, you risk triggering plagiarism checkers. AI content often features plagiarized snippets from pre-existing work; always check your work before presenting it to a client.
For some writers, RainyMood won't be a helpful tool. However, it's an essential tool for others. RainyMood provides a background soundscape of rain sounds to help you focus and engage your creativity when you write. It's perfect for blocking out distractions and irritating background noises.
The RainyMood app is also available for tablets and smartphones, allowing you to tune out sounds wherever you are. If you'd rather listen to something else while you work, YouTube has hundreds of options for background noise that can keep you in the productive zone.
Using a time-keeping tool keeps you focused on the task at hand. Many writers find that having a ticking clock – either with how long they have to complete a task or how long is left in their work day – motivates them to push on and produce more than working without such a scale. If you're looking for a no-frills timer, Google has one that comes up when you search 'timer'.
Choose your ideal time frame, whether that's project-by-project or how many hours you're working at once. The best thing about Google's timer is that the countdown stays visible on the tab even if you're on a different tab. You don't have to keep switching back to the timer to see how long you have left. When time's up, the mechanical beeping lets you know you're all done!
Conclusion
Remember that while these tools can be incredibly helpful, it's essential to develop your writing skills and use these tools as aids rather than relying solely on them.
These tools are all great ways to enhance your productivity. Put these tools to the test and see which ones boost your productivity. Writing is about continual improvement; which of these tools has helped you improve the most as a content writer?