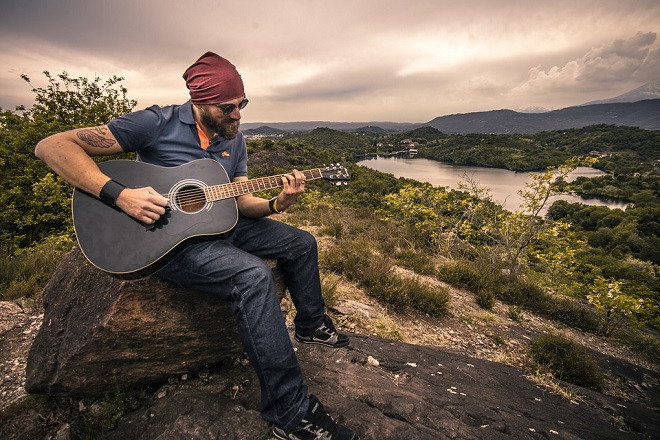 When you are ready to invest money in a high-quality guitar, it could be nerve-racking. You wish to buy something that will stand the testing of time. You have already outgrown the beginner guitar. Now you are willing to invest around 2,000 dollars for a serious guitar. For that price, you may want to look for the best whistles and bells you want. The problem is so many options exist, and it is a big challenge to sort through all of them to pick the best acoustic guitar under 2000. To make your choice easy, here are some of the best guitars under 2000.
Our Top Acoustic Guitar Picks
---
T

aylor 314ce grand auditorium

It is one of the most rounded guitars offered by Taylor. This is a sturdy, American-made guitar that makes a great choice for anyone looking to upgrade to better quality instruments. It has a Sitka spruce top with sapele on the back as well as sides. The unit is polished with a satin finish on the body as well as gloss on its top.

Also, this guitar has a Venetian cutaway and a grand auditorium shape, making it perfect for reaching higher frets. The Taylor 314ce is an acoustic-electric model that presents great sound and has standard controls. It has a bright, clear tone that fits any playing style. You get to enjoy a lot more than what you actually invest in this amazing model.
M

artin D-16RGT Acoustic Guitar

If you are looking for a comfortable model, then martin D-16RGT is the right choice. The construction of this unit makes it really comfortable to play. It features a dreadnought body shape and neck that is easy to grip. With a Sitka spruce top and rosewood (Indian) on sides and back, the guitar doesn't disappoint users in terms of sound.

The blending of construction and tonewoods creates a deep, rich tone. This is something that is really unmatched by other existing options at this price. However, users have to tune down the model too often for creating marvelous sounds.
K

remona solea artist series

Searching for an instrument with all that wonderful whistles and bells? If yes, consider the Kremona solea artist series. It is a guitar that features nylon strings. The model has a superb red cedar top with tropical cocobolo on its back and sides. To add to the beautiful construction, it has a thin glossy finish. You can expect a consistent, rich tone that is still mellow.

Aside from ease of usage, the unit projects well too. The highlight of the model is its well constructed body that allures any potential buyer to make a purchase. However, the guitar also produces sounds that can match any model in this price range.
R

ainSong Hybrid (H-OM1000N2) series Acoustic Guitar

If you want to buy a tough guitar, then H-OM1000N2 is exactly what you need. It features glass fiber and carbon fiber throughout the construction of the model. The unit is meant to withstand almost anything.

However, the quality of sound is not compromised by the unique construction. You will love the substantial range and clarity in tone on this unit. Other features include treble, great bass and volume control as well as chromatic tuner. In view of every details considered, this is an ideal option for any musician on the road.
Bottom line
Choosing the best acoustic guitar under $2000 can be a herculean chore, thanks to the existence of so many options. However, you may ease your chore by acting diligently. Just take a look at the above listed guitars in view of their features and qualities, and you could be able to make the right choice for your investment.