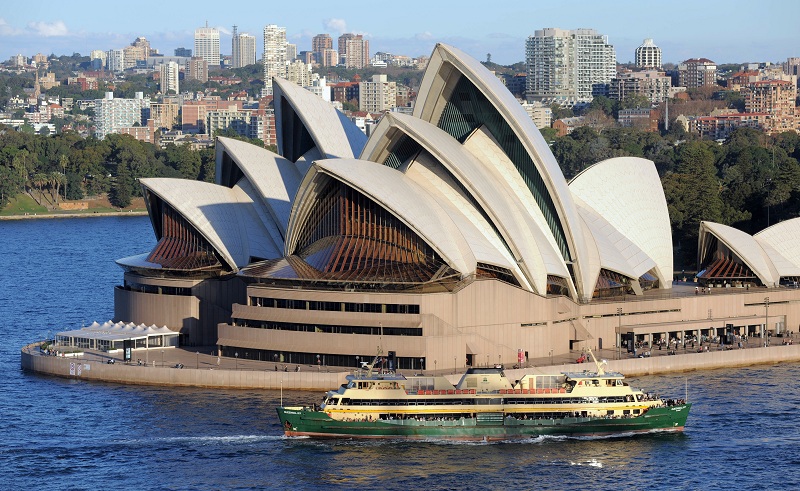 If Sydney is on your travel list this year, look up which attractions to see, activities to do, and other things to see before you board your flight. It's a charming city that will draw you into its beauty in almost an instant. Not only that, you'll meet a lot of people along the way (and learn plenty of Aussie slang).
Whether you're planning to walk the unbeaten path or where the others have traveled, there are a lot of things you can do and places you can visit down under. Now that you've booked your flight and found a hotel accommodation in Sydney, make sure you don't miss out on these things and spots when you finally visit the city.
The Sydney Opera House
When you think of Sydney, Australia, chances are you immediately envisions the iconic Sydney Opera House. It's no surprise since that's what the city is most well-known for—the beautiful architectural structure.
While you're there, take a peek inside and consider a guided tour to really immerse yourself in the city's culture and history. Also, do check out what's showing at the Opera House. Who knows your trip there is a great timing to catch a pretty good show.
Bondi Beach
Remember, your trip to Sydney wouldn't be complete without relaxing at their most popular beach—Bondi Beach.
Of course, sharing the view and the sand with flocks of tourists are expected but no worries. The beach is big enough to accommodate everyone, you'll find a spot to sunbathe and relax once you're there. Try to mingle with the locals and other tourists to make the most out of your stay there. It's already a crowd full of people, why not meet a few and make friends.
Surf and Sunbathe
You're already in Bondi beach (or whichever beach you prefer for that matter), so why not learn to surf while you're there? If you're scheduled to fly there under a sunny weather, don't let your trip swim by without getting the tan you need while you're there. Don't also miss out on sunbathing and get that natural, caramel tan. There are plenty of other stuff to do as well including paddle boarding[1], snorkeling, and beach volleyball.
Craft Beer
If you're eyeing on some local beer to try, Australia offers a range of refreshing craft beers you'll surely enjoy every sip of. The local breweries serve and deliver ales of different tastes. The local pub scene is a sure hit as well, you'll find the ambiance complementing their local beer and the people.
Newtown
While you're visiting the area, be sure to take a moment and stroll by at Newtown, it's a suburb located in Sydney's inner west. The area is a must-visit for those who want to immerse in the city's culture as well as get to know it more skin-deep.
In Newport, you'll see a blend of people dwelling the city and those who are just strolling around. Newport is one of the most amazing places to stop by for thrift shops, markets, and bars and cafés. If you're up for good fun and nostalgia, this is the place to be.
Go Take a Botanical Walk
People who go to the Opera House[2] tend to dismiss other notable sites in the area. Since you're already there, try to visit The Royal Botanic Gardens. It's just a few minutes far from the Opera House, strolls away and you'll reach the blooming garden.
It's a great destination to go to especially if there are a lot of tourists and travelers alike visiting more popular places.
Tour The Museums and Galleries
Often overlooked, Sydney hosts a lot of museums and art galleries that provoke the mind and takes you on a historical tour. A lot of them are free of admission as well so you might want to add museums and art galleries in your itinerary.
You can find the Chinese Garden of Friendship there which showcases Asian-influenced displays. There are plenty of exhibits you can visit. Make sure to check the schedules because exhibits often rotate. If time permits, you can visit two different displays in one museum in a spa of a week.

Any other sites, activities, and other things you things travelers shouldn't miss when planning a visit to Sydney? Share your thoughts and experiences with us!
Helpful Resources: