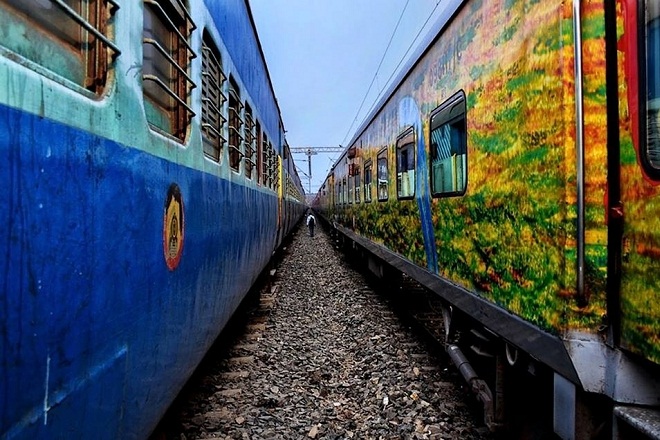 Who doesn't like travelling? It gives you much needed new air to become stress-free, exposure to meet and know people from different backgrounds, and collect amazing experiences. Everyone always talks about the places and destinations but we often forget the most important part of travelling i.e. the journey. Though there are many mediums to go places, trains have always been a major transport medium in India.
Not only travelling on a train is affordable and convenient for the passengers but also popular for the experiences it offers them. Taking you through the best landscapes expect an enjoyable and captivating ride when you travel by train in India.
Also, Indian trains are all about spending a good time with your family and bond with them in a fun way. That's superb! If you have not travelled in Indian trains yet, below are some great reasons to start travelling in them.
Enjoy the Scenic Beauty of India Like Never Before
Your journey to India is incomplete if you haven't been to the Indian countryside. And the best way to explore this side of India is through trains. Expect the best of nature, the laid-back life at faraway villages, and much more while travelling in Indian rails. They do not take you through the big cities and concrete buildings, but surely offers an exciting travel experience in the lap of nature. Don't miss the chance and breathe in the beauty of the countryside including enthralling valleys, forests, and rivers through the windows of a train.
Relish Amazing Food Services by Indian Railways
Do you have a sweet tooth? Don't resist the food cravings while travelling somewhere. Instead travel by train which provides healthy, hygienic, and appetizing meals to the passengers. Right from vegetarian to non-vegetarian, expect finger-licking dishes from the Indian Railways on longer journeys. Besides, you can purchase food items from stalls present at the stations for a short distance journey.
Buy Things at Cheaper Rates
Travel by train and you would encounter that there's a full-fledged market inside there. You can purchase a variety of stuff from a single place that too at very low prices. Expect everything from food items, water bottles, soaps, toys to Chinese mobiles and clothes in Indian trains. Buy products at cheaper rates easily in trains. Isn't it amazing?
Bond with Your Family Members
Today's busy world doesn't allow one to communicate well with their family members. In this case, a journey on a train is all you need to have for spending fun time with them. Use the travelling time by playing interesting indoor games with your siblings. Also, small kids can observe new things in the train that will increase their curiosity level plus their knowledge. Strangers can communicate with other passengers sharing the experiences of their life and having fun along the way. Expect nothing less than a complete memorable trip on a train.
Meet the Colourful Crowd at the Station
If you enjoy observing diverse personalities, travel in trains. Even on the Indian Railway stations, you can see a whole new world of a variety of people. Here you can see people from different backgrounds, speaking different languages and wearing strange clothes. You will see some groups discussing Indian politics while others may be found talking to their loved ones on the mobile phone. Travelling in trains looks more interesting all because of the varieties of people you meet there.
As they say "It's not about the journey but it's about the destination", your journey must be exciting. If you love travelling places or planning to travel across India, travel by Indian trains and have a lot of fun. For an exciting and fun-filled journey, book tickets online, grab a seat on a train and enjoy the ultimate ride.