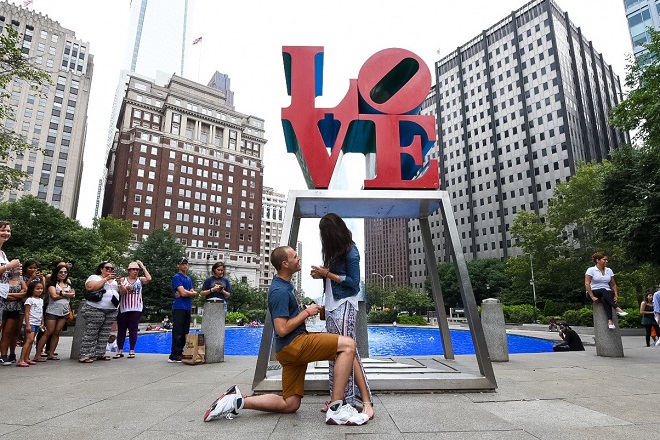 Pennsylvania is a storied state with as much history as any other in the United States. With a mixture of rural areas and sprawling cities, there are always new and exciting places for you to explore with a partner. While there is a lot of variety available in this state, there are some places more fun than others. That's why we've come up with the ten best places for Pennsylvania dating!
Love Park, Philadelphia
Love Park is famed throughout the Philadelphia area for its unique block statue featuring the word "Love" along with fountains except in the winter. It is a great place for pictures and to get the measure of the entire city with ease. You'll definitely have a good time walking in the fresh air with your partner.
Lancaster County
Lancaster is west of Philadelphia and is home to many Amish people who are famed as craftsmen, cooks, and more. Take some time to head out to Lancaster with your date for some old-style foods and crafts that you'll have a hard time finding anywhere else.
The Poconos
The Poconos Mountains have many resorts for skiing, snow tubing, and hiking that you can use at various times of the year for some quick fun. Plan a weekend getaway or even a single day on the slopes to have some fun with your date.
Gettysburg National Military Park
For the history buffs out there, the Gettysburg National Military Park is a site of remembrance and unique history dating back to a turning point in American history. If you find a date that is interested in U.S. history, this is a great place to visit.
Lincoln Financial Field (Football Games)
Home of the Philadelphia Eagles, the Lincoln Financial Field turns into a roaring madhouse from September to January when the Eagles play at home. Have a fun date with your partner while you catch a game from the stands!
Philadelphia Museum of Art
The Philadelphia Museum of Art is a renowned museum that is packed with all sorts of artistic works. You can find everything from Renaissance paintings to modern art installations in these walls. Bonus points for people who run up the stairs like local movie hero, Rocky Balboa.
Eastern State Penitentiary (For Halloween)
A former prison, this building is turned into a haunted house every Halloween. Share some scary moments with your beau and see who screams first!
Phipps Conservatory and Botanical Gardens
Any person that is interested in flowers can learn about the efforts to preserve biodiversity in western Pennsylvania. With vast greenhouses, you can find something interesting here at any time of the year.
Franklin Institute
Famous for its installations regarding the human body as well as demonstrating cutting edge technology, the Franklin Institute is a very popular destination. You and your date can learn something new with one another or check out the latest installations in this amazing place.
Concert at Wells Fargo Center
Wells Fargo Center is home to massive concerts throughout the year and if you and your date find a band that you both like, it is an amazing experience to have. Just make sure you come early to get some good standing room if you don't get seats.
All in all, Pennsylvania's variety in its land is what makes it a great place for you to take your dates. Whether you are on the streets of Philadelphia or in the rich rural landscapes of Lancaster, there are a lot of amazing places to go for dates. All you have to do is plan accordingly and enjoy this amazing state!